Clicgear 3.5+ vs Clicgear Rovic RV1S Push Cart
Clicgear is the leader in golf push carts. For good reason – they are durable, offer plenty of storage, offer a lightweight frame and have plenty of accessories you can add. Clicgear offers a few different three-wheel push cart designs.
The  most popular are the Clicgear Model 3.5+ push cart  and the Clicgear Rovic RV1S push cart. If you are looking into buying a new push cart these two should definitely be considered.
The main difference between the Clicgear 3.5 and Rovic RV1S is that the Rovic has a swivel front wheel while the Clicgear 3.5 does not. The Rovic's swivel front wheel offers increased maneuverability, making it easier to push the cart around tight corners.
Differences Between The Clicgear 3.5 and Rovic RV1S
There are a few key differences between these two push carts. 
Braking system: The Clicgear 3.5+ features a hand brake on the handle of the pushcart. The Rovic only has a foot brake. The Rovic does have a lever on the handle bar, but this lever only unlocks and locks the front swivel wheel.
Storage: In terms of storage these push carts are pretty even, however, the 3.5+  does have a mesh net that hangs underneath the console.
Fold Down Design: The Rovic folds down into a more compact size than 3.5+. 
Weight: The Rovic RV1S weighs 16lbs while the 3.5+ weighs in at 19lbs.
Price: The Rovic is a more affordable option.
Front Wheel: When the key differences between these two push carts is the front wheel.  The Rovic RV1S has a swivel wheel that  can be locked and unlocked from the handlebar lever. This swivel wheel offers increased maneuverability.
Clicgear Model 3.5+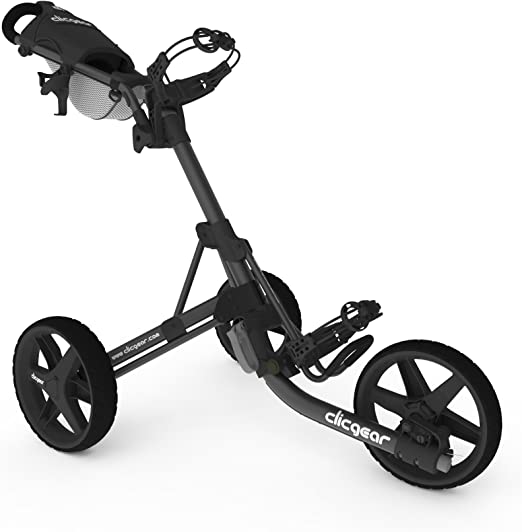 Hand Brake on the Handle/grip
Extremely Compact
Lightweight
High Quality Wheels
Tons of Storage
Closing Thoughts On The Clicgear 3.5+ vs The Clicgear Rovic RV1S
At the end of the day both of these push carts are premium models and will handle anything you throw at them. Here at bestgolfaccessories.net, we have laid out the differences in the carts as best as we could.
It is up to you as the consumer to visit your local golf shops, read reviews on amazon and visit multiple sources to make an informed decision on what to buy.
Both the 3.5+ and the Rovic have their positives and negatives.
For more a more indepth reviews of these push carts, please visit each push carts review page.
Read more golf blogs such as, how to make a golf yardage book.