Vice Pro Plus Golf Ball Review
The Vice Pro Plus golf ball is a premium golf ball offered by Vice Golf. These golf balls are most compared to high spinning, multi-core golf balls such as a Titleist Pro V1x, Taylormade TP5x, Srixon Z-star, and the list goes on.
The Pro Plus performs just as well as those balls and I would venture to say that it even outperforms them. The spin rates are almost identical to a Pro V1x and the balls themselves feel like a carbon copy.
When you take into consideration that these golf balls are much cheaper than their competition, you will ask yourself – why would anyone want to spend more money for the same performance? 
| | | | |
| --- | --- | --- | --- |
| Ball | Dimples | # of Cores  | Outer Ball Skin |
| Vice Drive | 318 | 2 Piece | Surly de DuPont |
| Vice Tour | 392 | 3 Piece | Surly de DuPont |
| Vice Pro | 318 | 3 Piece | Cast Urethane |
| Vice Pro Soft | 318 | 3 Piece | Cast Urethane |
| Vice Pro Plus | 392 | 4 Piece | Cast Urethane |
The Vice Pro Plus has more cores than any other golf ball that Vice offers. It has the most amount of dimples and the softest outer layer. This golf ball is designed for mid to low handicap players that need the distance off the tee and the control around the green.
Vice Pro Plus vs Titleist Pro V1x – Ball Spin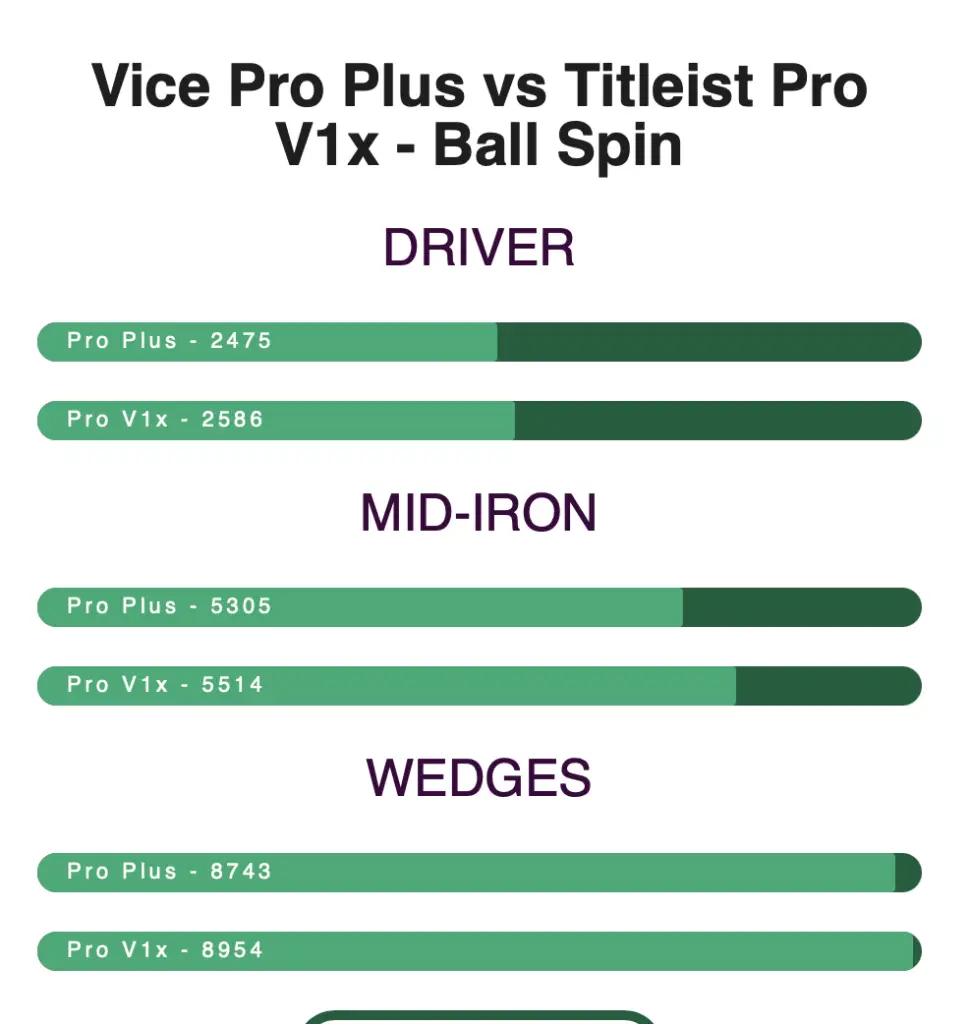 Vice Pro Plus – On Course Review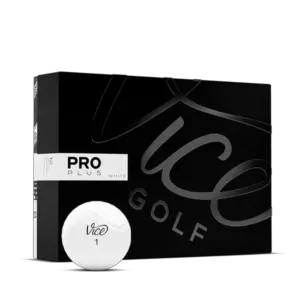 Putter
The Vice Pro Plus was fantastic off the putter face. It was similar to the Vice Pro and Vice Pro Soft. I would attribute this to the fact that they all have the same outer layer. When compared to a Pro V1x, this golf ball felt the same.
They are both softer balls in general, so it should come to no surprise that all of these golf balls feel and sound the same off of the putter face.
If we are splitting hairs here, I think that the Pro V1x is a drop softer than the Pro Plus, however, it's not something that would be noticeable.
WEDGES
Hitting the Vice Pro Plus with my wedges was fun. It had just rained the day before we were testing and the course was especially soft. Hitting full wedges into the greens would always result in the balls hitting once and pulling back a yard or two.
The balls didn't have any distinct sound to note. It sounded and felt exactly like a premium golf ball would sound and feel.
We don't say that to sound bland, rather, to note that the Pro Plus performed EXACTLY the same as a Pro V1x.
IRONS
When testing the Vice Pro Plus golf ball, our testers noticed that they were gaining a few yards (+2-3) with each iron. One of the testers wanted us to note that a well struck iron shot with the Vice Pro Plus felt better than the best shot with a Pro V1x.
While that may be one opinion – the ball did feel great off the face. The ball spin was similar to a Pro V1x and we had plenty of control of the ball flight.
The ball never felt like it was going to get away from you whenever you were trying to hit a baby draw or baby fade.
DRIVER
Off the driver this ball was extremely reliable. We felt that it would be harder to control than the Vice Pro or Vice Pro Soft, however, it felt all the same. The ball felt like you could trust it off the tee, maybe it was just the swing I had that day.
But I feel like I could always trust that the ball was going to go in the fairway and that it wouldn't overspin on me. When we tested the Vice Tour, which had the same number of dimples, one less core and a different outer layer – we struggled to control the ball.
While these ball are engineered differently, we wanted to point out that more dimples doesn't always mean that a ball is harder to control or that it will spin more.
There are so many different factors that go into the composition of a golf ball – we feel the Vice Pro Plus is a very well designed golf ball. It is comparable to a TP5x, Srixon Z-Star, and a Titleist Pro V1x.
Vice Pro Plus – Conclusion
Overall our testers enjoyed this golf ball. It performed past what we initially expected for the ball. Vice Golf's selection has been surprising for all of us here at Bestgolfaccessories.net.
We didn't expect the balls to perform bad, we just didn't expect them to perform as well as they have.
The Vice Pro Plus is no exception.
This ball performs as well as you would expect a premium golf ball to perform. You can get this ball for a fraction of the price of what a dozen of Pro V1x's cost.
If you are a mid to low handicap player that is looking for spin and control around the greens and distance off the tee – you should give a box of Vice Pro Plus' a shot.
These balls will perform as well as you expect and maybe even better.
Read more golf blogs such as, how to make your own golf yardage book.
Last update on 2023-05-30 / Affiliate links / Images from Amazon Product Advertising API