Vice Drive Golf Ball Review
The Vice Drive golf ball is one of the better valued golf balls released from Vice Golf. This ball is composed of two pieces, 318 dimples and a DuPont Surlyn cover. You can see how this golf ball compares to Vice Golf's other offerings.
The inner core is soft and provides exceptional carry and roll for slower to medium swing speeds.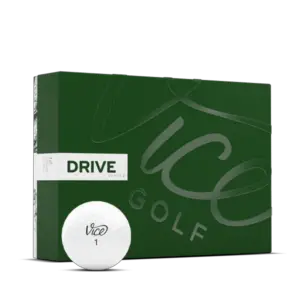 When we tested, we found that this ball was best compared to a Titleist Tour Soft golf ball.
These types of balls are designed to be more budget friendly and targeted toward seniors, ladies, and slower swing speed players. Don't get discouraged by the term "slower-swing speed player". You need to recognize that if you are a player with a slower swing – this type of golf ball will only help you.
Our surveys have shown that more often than not, golfers are using a golf ball that is NOT suited for their swing. This is especially true for experienced players that just assume they need to be playing a Pro V1 or TP5.
If you are a player with a low to medium club head speed and are looking to minimize driver spin and maximize distance off each club – this golf ball is for you.
Vice Drive vs Titleist Tour Soft – Ball Spin
The Vice Drive is comparable to a Titleist Tour Soft golf ball. This ball is designed for players that want to get the ball up in the air and stop the ball on the green, with maximum distance off the tee and iron shots.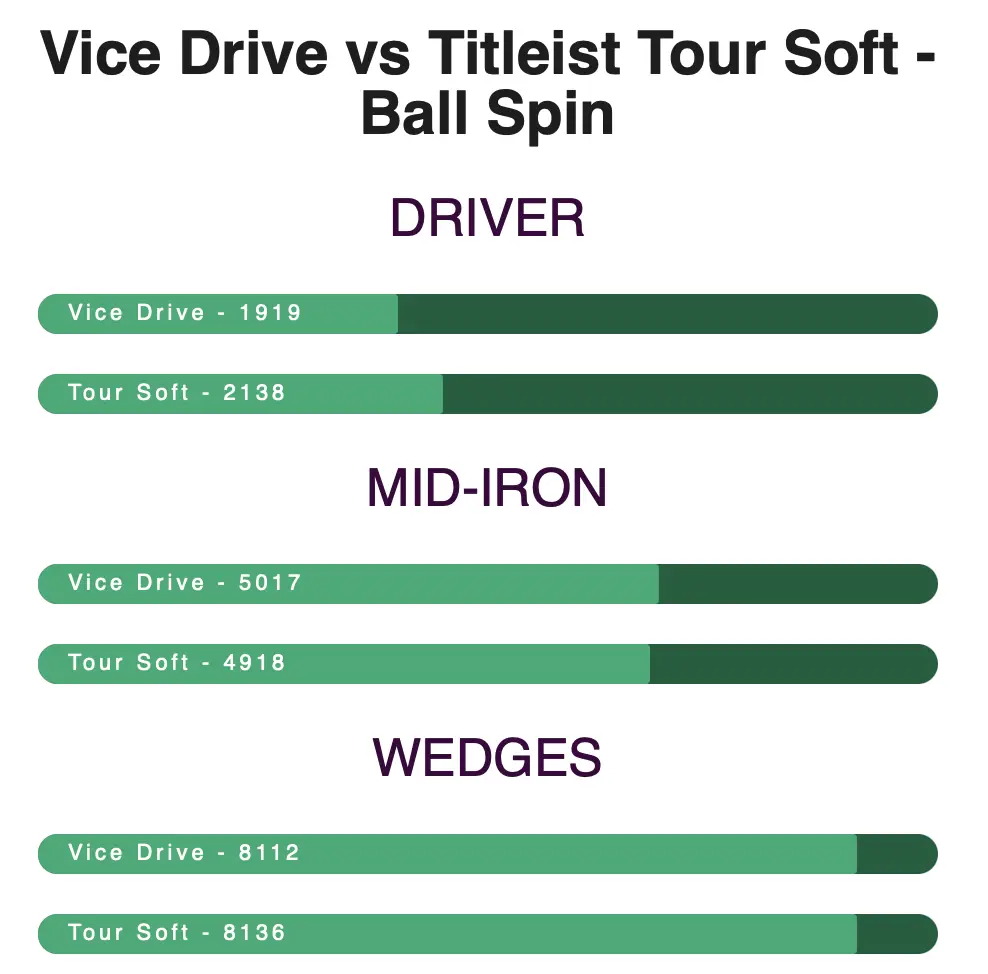 On Course Performance – Vice Drive Golf Ball
Putter
The Vice Drive review wouldn't be complete without seeing it in action. This golf ball was very 'clicky' off the face of our putters. We noticed when compared to similar golf balls – there really wasn't that much of a difference in sound or feel. The Vice Tour sounded and felt the same off – very hard and somewhat 'clicky'.
This is to be expected for these types of golf balls.
The outer layer is not made out of urethane like a Pro V1 or TP5 golf ball. Because, of this, you should expect a harder feeling roll off the putter.
Wedges
When we were testing the Vice balls for review with our wedges we found the golf ball to be surprisingly responsive for this type of golf ball. The overall ball flight was a little higher, which helped compensate for a harder outer layer.
The balls were stopping and spinning back, rather – they were going higher and rolling out a little. In our tests – we didn't find these types of golf balls to be the best ball for control, however, the higher launch angle helped improve its ability around the greens. 
Irons
Off the iron face, our testers noticed that the Vice Drive golf ball was coming off the face very fast. One of our testers noticed the ball going 5 yards further than normal.
Controlling the golf ball was not a challenge, hitting a fade or a draw was not difficult. The only difficulty we ran into, was holding the greens when we did hit them.
Even with the added launch angle (similar to what we experienced when testing our wedges) – the Vice Drive still struggled to hold the green with anything more than a 7 iron.
Our testers were having to compensate +5 yards due to the composition of the ball and then had to subtract 10 yards for a roll whenever hitting long irons onto the green.
If they didn't there was no way the ball was going to stop on the green.
Driver
Driving with this golf ball was bliss. It was pure "grip-and-rip" golf.
The ball was easy to control off the driver and would fly a mile. Some of our testers noticed that their bad shots were amplified, for example, one tester noted that "On my worst drives, I slice the ball maybe 40 yards from my starting line.
Bad shots with this golf ball were going +10 or +20 yards further offline. I don't know if it was a swing flaw or maybe this ball just didn't set up with my driver as well. It was just a shock to see."
We found that shots hit really well and were absolutely bombed down the fairway. Compared to more premium golf balls – we were seeing +17 yards in a roll.
Construction and Characteristics of Vice Drive
Vice Drive golf balls are designed to provide maximum distance and accuracy for the slower golfer. Featuring a three-piece construction, Vice Drive golf balls have a combination of two different core materials that work together to generate greater ball speed. These are their construction and characteristics:
It is constructed out of two pieces of DuPont Surlyn,
It gets the added distance off the tee out of its Soft Energy Speed Core,
It has a large 312 dimple pattern to achieve stable flight and get more distance,
It has a low compression to achieve a lot more distance, and to provide a softer feel,
Its cover is cut-resistant and extremely tough,
It provides optimal alignment with a KIL line that has sharp edges.
As you can note from the mentioned specifications, this is a perfect choice if you play only on occasion or if you are a beginner. It's specifically designed for golfers with medium or low clubhead speed, so they can achieve the maximum out of their swing.
Vice Drive Golf Ball Conclusion
Testing the Vice Golf collection was a great experience. Each golf ball had something different to offer. Aside from the Vice Tour, I also feel like every golf ball fits really well into a certain handicap or type of player.
For example, the Vice Pro is great for a mid to high swing speed player, a mid to low handicap player, and players that want a lot of control and spin out of their ball.
The Vice Drive is great for slower swing speeds, higher handicap players, beginner golfers, and senior golfers that can control the golf ball somewhat but need help getting the distance off each club and want to save some money. It offers the best value for your funds if you want to maximize the distance, with a softer ball. It provides an outstanding impact feel and control with maximized total distance off the tee, and maximized carry.
*This review was written by multiple authors at Bestgolfaccessories.net
Read more golf blogs such as, how to make your own golf yardage book.
Last update on 2023-11-27 / Affiliate links / Images from Amazon Product Advertising API