GolfBuddy Aim W10 GPS Watch Review
The Golfbuddy aim W10 is one of the best budget golf GPS watches on the market. Featuring a full-color touch screen display, green undulation and slope-adjusted distances – to give you the most accurate yardage information on the course.
With a 10-hour battery life in GOLF MODE, you should have no problem using this on a long 18 hole round.
This watch also features a digital scorecard, zoom in/out function around the green and a built-in pedometer, this watch is hard to beat. 
Read more golf blogs such as, how to make your own golf yardage book.
GolfBuddy Aim W10 Watch Faces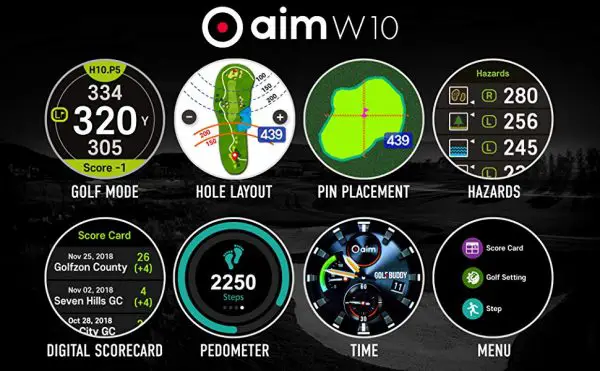 The Golfbuddy aim W10 has a few different watch faces.
Golf Mode
Hole Layout
Pin Placement
Hazards
Digital Scorecard
Time
Menu
GolfBuddy Aim W10 Golf Smart Watch Features
Full Color Display Responsive Touch Screen
The 1.3″ full color TFT-LCD display shows all of the information that you need to make your next shot. Distances to hazards, distance to carry the water, front/center/back of the green. You can move the pin placement and zoom in and out on the hole to plan your way around the course. The zoom feature helps you get a better view of the green including your location!
40,000 Pre-Loaded Courses
The GolfBuddy Aim W10 is pre-loaded with 40,000 courses in 170 countries. They come out with more courses every month and all of the updates are free. The course updates are available wireless using the GolfBuddy smart app and connecting to the watch via Bluetooth.
Bluetooth Casting to Smart Devices
When connected to your phone via Bluetooth and the GolfBuddy smart app, you can cast your yardages and other GPS functions from your Aim W10 to a smart device. Once set up, the option "GolfBuddy Smart" will be available. Press that button!
Battery Life
The GolfBuddy Aim W10 GPS watch has a 10 hour battery live when in Golf Mode. 
GolfBuddy Aim W10 Golf Smart Watch Specifications
Physical Dimensions:
Size: 46 X 46 X 14.6 mm
Color: Black
Weight: 55g
Display:
Display Type: Full-Color 1.3″ TFT-LCD
Resolution: 240X240px
Battery:
Rechargeable Li-Po/3.8V, 600mA
Battery Life: 10 Hours (Golf Mode)
General Info:
Course Capacity: 40,000
Languages: Multi-language (Up to 7)
Water Resistance: Yes (Heavy Rain Proof)
Sign up for our email list to receive the best tips, guides and reviews!EmailSend
GolfBuddy Aim W10 GPS Watch Pros & Cons
Pros
Advanced Smart Golf GPS Watch
The 10-hour battery life in Golf Mode.
Rechargeable via USB
Zoom function helps you get a better view around the green
1. 3" Full color LCD display with responsive touch screen
Preloaded with 40, 000 courses in over 170 countries with free wireless course updates via Bluetooth with the smartphone app
Color course view and dual Arc distance readings display all course information including distances to the front/center/back of the green, hazards and hole Layout
Casting to GolfBuddy Smart App via Bluetooth.
Cons
Must be connected to your phone
Only compatible with the very basic Golf Buddy App
Last update on 2023-09-04 / Affiliate links / Images from Amazon Product Advertising API