What Are The Best Golf Training Aids For Game Improvement in 2022?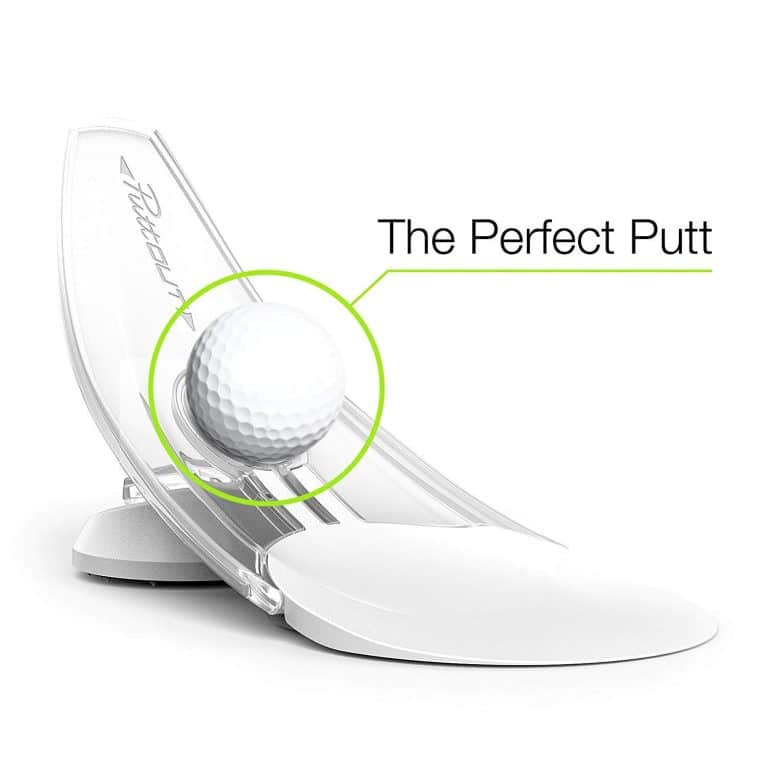 PuttOut Pressure Putt Trainer
The PuttOut Pressure Putt Trainer is our favorite training aid of 2022. This putting aid helps teach speed and distance control unlike any other training aid. For the price, all golfers should own one of these.
If you spend any time in the training aid section of your local golf shop and you will find a bunch of training aids that claim to help take your game to the next level. However, how do you know if these training aids are any good or if they are just a waste of money.
So we put this list together of all of the best training aids of 2022 (in our opinion). We spent time reviewing these swing assistants and more to create this list. 
With every golf training aid claiming that it will "cure any swing ailment" it's hard to know what to spend your money on. Hopefully this list helps. 
Read more golf blogs such as, how to make a golf yardage book.
The Best Golf Training Aids On The Market
Best Overall

Editors Choice

Best Value

Most Underrated

Best For Beginners

Rating: 4.7/5
Rating: 4.5/5
Rating: 4.5/5
Rating: 4.6/5
Rating: 3.8/5
Pros:
Our favorite putting training aid in 2020
High quality plastic
Multiple uses
Pros:
Helpful for keeping your arms connected.
Designed to align and connect your body.
Great warm up tool
Pros:
Great for eye and shoulder alignment.
Great value
Pros:
Great tool to help remove a bad slice or hook.
Can be used to learn how to draw or fade the ball.
Dual use for putting as well.
Pros:
Great tool for teaching rhythm and tempo.
Helps improve strength an flexibility.
Cons:

Cons:
Lanyard is cheap and can break
Cons:
Expensive for the tool
Cons:
Expensive
Cons:
Expensive
View Price On Amazon
View Price On Amazon
View Price On Amazon
View Price On Amazon
View Price On Amazon
Syncs your body and arms –  from the putter to driver

Helps eliminate the dreaded "chicken wing"

Provides the feeling of striking from the inside out

Helps you "get through" the shot.

Lengthens and strengthens body pivot
The Tour Striker Smart Ball is becoming a favorite training aid for all golfers on the professional tours and among some of golf's top instructors. This ultra-light and portable training aid is designed to align and connect your arms and body as you develop your ball striking skills. This inflatable ball connects to an adjustable lanyard to fit anyone. We believe this is the best body connection training aid on the market. You are able to use it flat and tuck it under either armpit or inflated between the forearms.
Pros & Cons of the Tour Striker Smart Ball
SKLZ Golf Tempo & Grip Trainer
Training grip provides assistance to create a perfect golf grip.

Great for indoor and outdoor training sessions.

Two weight adjustments for iron and wood practice.

Great for improved swing tempo and plane.
Improve your tempo, grip and timing with the SKLZ tempo & grip trainer. The advanced tempo and grip trainer includes removable weights to simulate both woods and irons. The built in grip teaches perfect hand placement and position to help you better grip your clubs. This training aid is great as you can swing anywhere. We loved using this for a warm up before teeing off. Some golfers think this aid is a waste of money and think that swinging two irons will accomplish the same goal – this isn't entirely true. However, with the SKLZ golf tempo & grip trainer, you can prepare for each round confidently. 
Pros & Cons of the SKLZ Golf Tempo & Grip Trainer
SKLZ Gold Flex Golf Swing Trainer Warm-Up Stick
Helps improve swing tempo, strength, and flexibility

Fights slices and flattens the swing

Low-impact stretch for pre- round warm-up

Fits easily in golf bag – legal to carry on course
The SKLZ Gold Flex Trainer is an ideal aid to assist and perfect your golf. swing. Every time you step onto the course you should use it to warm up before a round. With a weighted head made of durable polyurethane, and a flexible fiberglass shaft, you will build a strong swing and your muscle memory will help improve your ability to "hit through" the ball at impact. 
This aid works the fundamental core golf muscles, and helps tone your obliques with regular use. Let your perfect swing become more of a habit, and less of an idea. To use this training aid, simply swing this club. Available in either 40" or 48″ in length with a 2.5 lb. head, this flexible weighted trainer teaches a flatter swing plane and forces the downswing to be initiated by the lower body, helping to reduce a slice or open club face. 
The 48" is recommended for individuals 5'6" or taller, or those who are stronger and more advanced in their golf game. The 40" length is ideal for those who are under 5'6" or who are at a beginner or intermediate level. 
Pros & Cons of the SKLZ Gold Flex Golf Swing Trainer Warm-Up Stick
PuttOut Pressure Putt Trainer
Designed to return good putts and reject bad ones.

Made from a high quality polycarbonate, the PuttOut folds and fits into your golf bag with ease.

Build repetition into your practice to improve your pace putting and to practice pressure putting.

Great for Indoor and outdoor practice.
The PuttOut Pressure Putt Trainer is designed to simulate the exact conditions of putting into a real hole on the course by it's ground-breaking parabolic curved design. When you use the PuttOut, each successful putt is returned to the same distance it would have gone past the hole if it had missed – great feedback or getting the pace correct. This aid is designed to benefit your entire putting game. It gives you the ability to work on pace, finding the center of the cup and alignment. You will see a dramatic increase in your putting strike and feedback.
Pros & Cons of the PuttOut Pressure Putt Trainer
Orange Whip Midsize Golf Swing Trainer Aid
Patented counterweight system.
Simulates an athletic swing.
Provides instant feedback.
Created with premium materials
The Orange Whip is perfect for grooving a full swing, approach shot, and short game swings. While golf is challenging, the Orange Whip will help you lower your scores and have more fun on the golf course.  This tool can help those with hip and back problems. Swing the orange whip a few times a day to strengthen the core golf muscles that are used in a swing. This tool helps you groove your swing by strengthening those muscles, and teaching you to swing through the ball. Achieve your own athletic golf swing by improving your rhythm, timing, balance, coordination and flexibility. Play better golf today.
Pros & Cons of the Orange Whip Midsize Golf Swing Trainer Aid
Sign up for our email list to receive the best tips, guides and reviews!
Colin Montgomerie Alignment Stick
Great for developing accuracy and feel

Helps improves your short game

Multi-use – training booklet is included to show different ways to practice.
These alignment sticks are more than your average alignment sticks. with the clips an added short stick – you can do a lot more than a normal pair of sticks. These are fantastic for developing accuracy and feel and improves your short game. They help you to gain balance, rhythm and eventually power in your swing. A training routine booklet is included with purchase. When you purchase you receive 3 sticks in PVC tube – 2 x 44″ length and 1 x 22″ length. The tube lid doubles as an alignment system helping you learn to set up squarely. 
Pros & Cons of the Colin Montgomerie Alignment Stick
EyeLine Golf Classic Putting Mirror
Ensure proper alignment, eye and shoulder position.
The eyeline mirror is the base of our original putting System. The perfect tool for checking all parts of your putting alignment and setup.
The original eyeline putting mirror has been used by thousands of golfers over the past 10 years. It is one of the best training aids for checking all parts of your putting alignment and setup. Ensure that your eyes, shoulders and putter face are all square and aligned correctly. 
Pros & Cons of the EyeLine Golf Classic Putting Mirror
EyeLine Golf Speed Trap 2.0
Wide slot to make it easier to practice with your driver
Tethers that will stay closed for your next swing when you hit a guide rod.
Bright alignment stripe to help you align correctly.
Struggling with a slice or hook? Most golfers are frustrated with lousy shots and have no idea how to fix them. Not to mention that a teaching professional costs on average $50/hour. The Speed Trap guides you to a swing that promotes straighter shots in 3 easy steps.
With the Eyeline Golf Speed Trap 2.0 get the rod tethers built into the strongest base ever and upgraded design points throughout the product. Thousands of golfers have used the Speed Trap 2.0 to rescue their, game you can too.
Pros & Cons of the EyeLine Golf Speed Trap 2.0
LC-1 Golf Swing Training Aid
The LC-1 training aid connects your arms & body to mold an efficient, repeatable swing that works – round after round; Look at the before and after pictures to the left to see how the LC-1 can instantly improve your form. 
Groove a smooth repeatable swing. If your tee shots are short and off-target, and you can't seem to shake your slice. Are you constantly hitting chunked and bladed irons? Have you discovered new ways to miss-hit the ball? Then you will benefit from practicing with the LC-1.This aid trains you to make a smooth, repeatable swing and cures the most common issues that cause inaccurate and inconsistent ball flight for recreational golfers
If you struggle with a slice – the LC-1 will eliminate the over-the-top move that causes pulls, slices and fat and thin shots. You will ingrain an inside-to-out swing path, boosting your power and accuracy. This will sync your arms, shoulders, torso and lower body so your swing is connected.
This is one of our favorite golf accessories of 2022!
Pros & Cons of The LC-1 Golf Swing Training Aid