What Is The Best Golf Bag For a Push Cart?
How to Choose the Right Golf Bag For Push Carts
If you are looking to start walking the golf course with a golf push cart, you may notice the lack of comfort a golf cart may offer. Don't let this discourage you, your golf bag can offer a lot of the features you are after and with your push cart as your method of transportation, you will get more exercise and will not have to sacrifice the luxuries that you are after!
When you are looking for your next bag, you should consider the following questions when evaluating your choices:
The size and weight of the bag:

The size and weight of the bag can make a huge difference when picking a bag. If you are not using a push cart every round, you may want to consider this factor more than others. 

How much storage does it have?: I would argue that this is the most important factor in choosing a bag for your push cart. Since you are losing all of the extra room on a riding golf cart, you will want to consider how much room your bag has. You are going to need to carry all of your club, your rain gear, golf balls, tees, yardage book, gps, rangefinder, any training aids and what about drinks? Some cart bags have a small cooler built into them. Some push carts also have a cooler that can attach to the bottom of the cart. Storage is the most important factor when you are picking a golf bag for your push cart.
Is it waterproof? Make sure you get a waterproof bag. Even if you have an umbrella that can attach to your push cart, parts of your bag may be exposed to the elements. Be sure you buy a bag that will protect you valuables.
The Different Types Of Golf Bags
To start we should consider the types of golf bags that are on the market.
Stand Bag: This is the standard golf bag. They are designed to be lightweight and to distribute the weight of the bag across your back. Golf standbags do not offer a lot of storage compared to cart bags. These bags can easily fit onto all push carts and will not give you any troubles.
Cart Bag: A golf cart bag is designed to ride on a golf cart or golf push cart. These bags feature the most room for golf accessories, drinks, balls, etc. While cart bags feature more storage, they are typically heavier and bulkier than stand bags.
Caddy/Staff Bag:

A staff or caddy bag is the luxury version of a golf bag. When you are watching the PGA pros on TV their caddies are using staff bags. These bags are not ideas for push carts or for walking the course. Unless you are have someone willing to carry your bag every time you play, you may want to exclude these types of bags from consideration.
How Do I Organize My Golf Bag For a Push Cart?
Organizing your golf bag is key to reducing the weight in your bag. In the process of organizing everything, you will also clean everything out that you don't need from round to round. If you commonly use a push cart you will want to organize your bag in a way that allows you to reach the items you need the most, quickly. 
If you are using a stand bag, make sure you fill the top slots of the bag with your driver and putter. Then put your mid and long irons and your hybrids, fairway woods, and driving irons in the middle slots of your bag. Finally put your short irons and wedges at the bottom of your bag.
If you are using a cart bag, organizing your bag may vary in the way your bag is designed. Regardless, put the bag on your push cart and then put your driver in the lowest slot of the bag. Fill the rest of the slots with all of your clubs in whatever order makes sense to you. Finally put your putter in the top slot of the bag. This will protect your putter from unnecessary bag clatter.
Read more golf blogs such as, how to make a golf yardage book.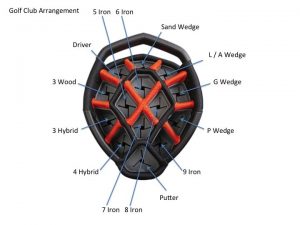 Sign up for our email list to receive the best tips, guides and reviews!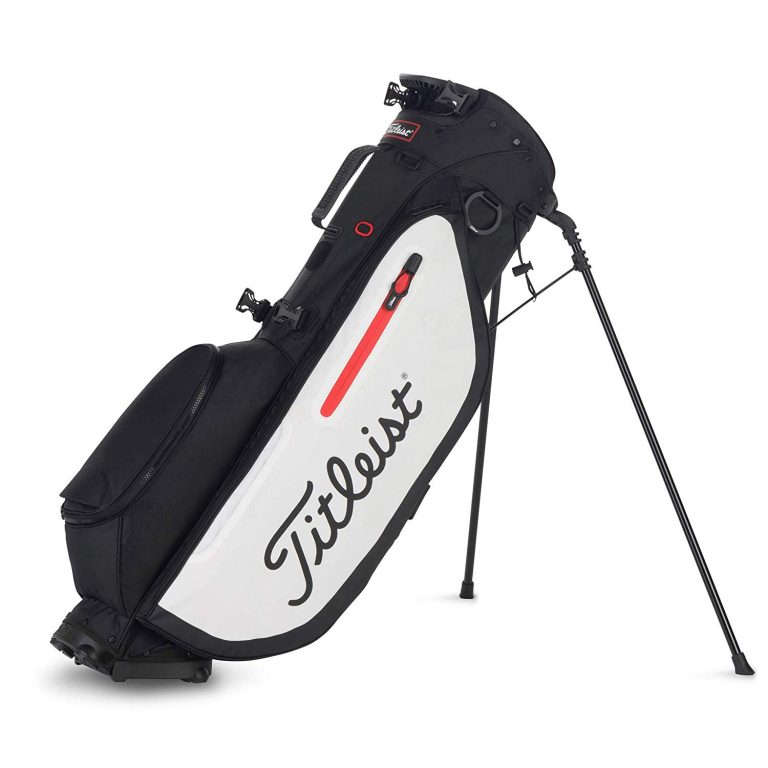 Our Favorite Golf Bag For Push Carts & Walking
The Titleist Players 4 Golf Bag is a premium golf stand bag. Featuring a four-way top cuff with full-length deviders. You will be able to easily keep your golf clubs sorted. This lightweight stand bag weighs in at 3.8 pounds. With quaility construction, design and materials – this is is a fantastic choice for anyone looking to upgrade their bag.

Follow Us On Social Media!
The Best Golf Stand Bag For Push Carts​
The Ping Hoofer Lite Carry Bag is our favorite bag that we tested. This lightweight, durable bag features a new strap connector that eases on and off when walking the golf course. The front-adjusting shoulder pads are integrated with SensorCool Technology. There is a cushioned hip pad, a roomy four way top divider, and seven pockets offering maximum storage options for the essentials and extras. You can't go wrong with this bag.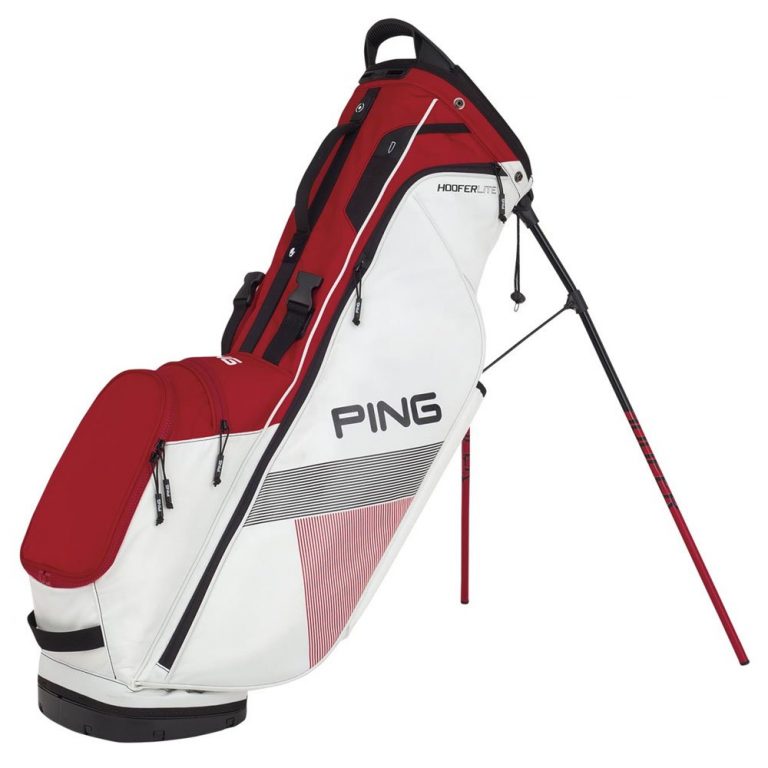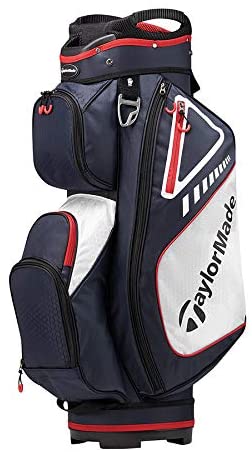 TaylorMade Golf 2019 Select Cart Bag
The Best Golf Cart Bag For Push Carts
The TaylorMade Golf 2019 Select Cart bag brings organization and durability to the table. This bag features a multi-material construction, the Select Cart Bag utilizes a 14-way padded top with full-length dividers and integrated putter well for meticulous club organization. 7 pockets – including a large apparel pocket and velour-lined valuables pocket – provide a secure place for all on-course gear.