Vice Pro Soft Golf Ball Review
The Vice Pro Soft golf ball is a fantastic golf ball, best suited for mid handicap players and low to mid swing speed players that want to have a lower ball flight and consistent feel around the greens.
When we tested these golf balls on the course, we found them to perform very similar to a Titleist AVX.
We did not struggle to hold the greens, the distance off the tee was fantastic and when putting – the golf ball performed as well as you could expect.
This golf ball (along with all Vice Golf Balls) is not for everyone, that's for sure.
If you are a player with a high swing speed or if you are playing a Pro V1x, TP5x or similar premium golf ball – you will most likely not enjoy this ball.
The ball doesn't have the same composition as those types of balls (as you can see from the chart below).
However, it does have a lot of good technology that will help a good portion of players that are playing with golf balls they can't compress or control.
We would recommend testing this golf ball if you think you fall into that category of players.
| | | | |
| --- | --- | --- | --- |
| Ball | Dimples | # of Cores  | Outer Ball Skin |
| Vice Drive | 318 | 2 Piece | Surly de DuPont |
| Vice Tour | 392 | 3 Piece | Surly de DuPont |
| Vice Pro | 318 | 3 Piece | Cast Urethane |
| Vice Pro Soft | 318 | 3 Piece | Cast Urethane |
| Vice Pro Plus | 392 | 4 Piece | Cast Urethane |
Vice Pro Soft vs Titleist AVX – Ball Spin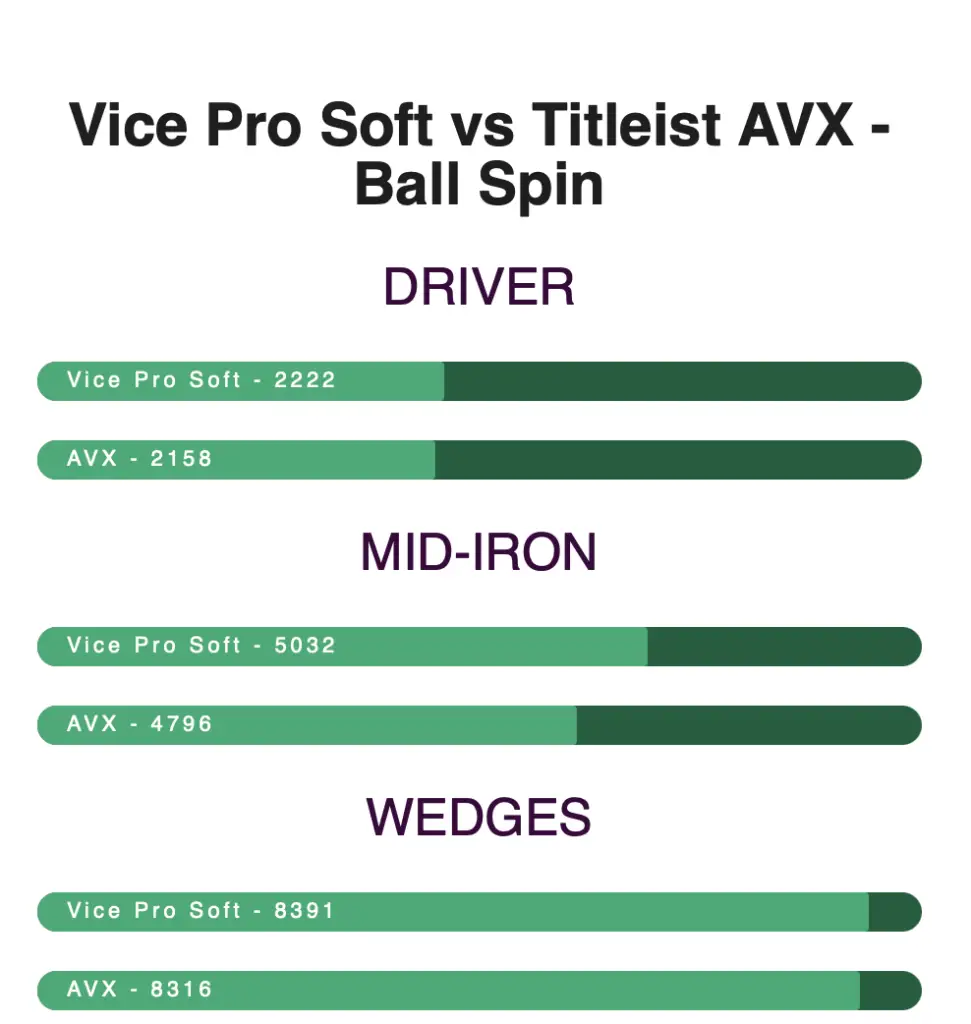 Vice Pro Soft – On Course Review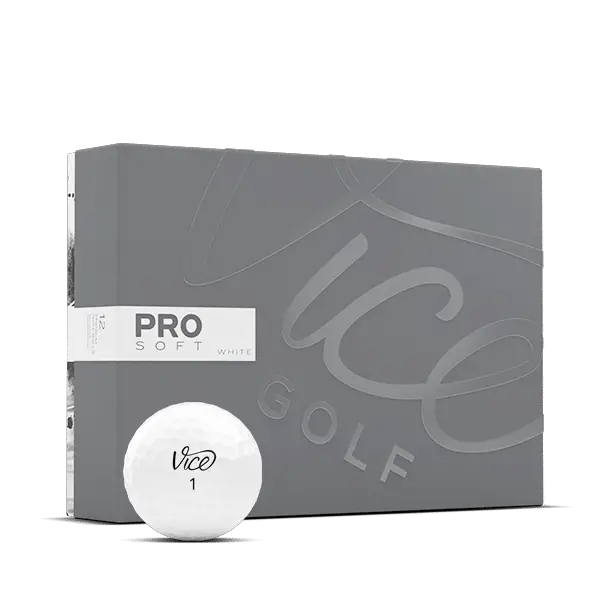 Putting
As with any other balls, Vice golf balls are best tested on the golf course. I've started with the putter first and realized it's somewhat harder off of the face. But make no mistake – it was still overall soft. Comparable more to a Q-star rather than a Q-star tour. I didn't really care for the thick line that they provide for putting assistance, however, I am sure some others would enjoy the size of it.
In my opinion, when comparing the feeling of different Vice Pro golf balls (Vice Pro vs. Pro Soft) the Pro Soft feels as soft as the Vice Pro.
Wedges
On the course, I found the ball flight to be slightly lower than my usual Q-star Tour. I played a Pro V1 for a few holes as well and noticed that the Pro Soft has a lower ball flight.
I didn't struggle with distance control or spin with my wedges. The sound off the face was not any different compared to the other balls.
I did notice that the ball was very durable. I was able to hit a few full wedges into the green and the ball didn't show any wear.
Irons
When hitting iron shots, I found the ball to be a little 'clicky' – in terms of sound.
The overall feel was very similar to a Q-star tour and AVX. I had no issues getting the ball to work left or right. The ball flight was a little lower than other balls I have tested, but I think this is by design.
I really enjoyed this golf ball for what it was.
While I think I will personally stick with the Vice Pro, I think the Pro Soft has a place in my bag for especially windy days or early season rounds when I may want to keep the ball a little lower.
Driver
Hitting the Vice Pro Soft off the driver I noticed that the ball flight was a little lower than I would prefer.
However, this is purely my preference. The flight matched up very similarly to a Titleist AVX.
It wasn't difficult to move the ball off the tee, fading and drawing the ball was not a problem. I felt like this ball was rolling out a little more than the other Vice balls I tested.
This may be because of the lower ball flight, but I thought it would be worth noting.
Construction and Characteristics of Vice Drive Pro Soft
The Vice Drive Pro Soft golf ball is a three-piece construction with an advanced core design and unique cover material. Its unique design also helps to reduce drag for longer distances off the tee. The ball has a firm feel at impact yet remains soft enough to provide an excellent greenside feel. Here are the specifications:
It is constructed out of three pieces with a cast urethane cover,
It gets the added distance and speed off the tee out of its High Energy Speed Core,
It has a large 318 dimple pattern to achieve a stable trajectory,
Its extra-thin cover made out of cast urethane provides a short game spin and maximizes the feel,
The construction provides added distance, a particularly soft feel, and great feedback off of the surface,
It has a new shiny and glossy finish,
Its KIL line has sharp edges that provide optimal alignment.
This combination of power and control makes it suitable for different levels of players – from beginner to casual golfers.
Vice Pro Soft – Conclusion
Let's end this Vice Pro Soft review with a final conclusion. The Titleist AVX golf ball is (as advertised), a Tour-designed golf ball, with a focus on distance and a soft feel.
The Vice Pro Soft is a fantastic replacement for the AVX. The Pro Soft performs just as well and is a discounted price.
If you are a mid handicap player and you feel that you are paying too much for your premium golf balls – check out Vice golf.
You will be surprised at the performance you get for the price. The Pro Soft is no different, this ball will perform on the course and you will not be disappointed with it.
This is also a good option for advanced players or occasional golfers with low to medium swings, that have the driver swing speed below 95 mph. As for beginners, this is an excellent choice because it allows them to upgrade their play for a more affordable price.
*This review was written by multiple authors at Bestgolfaccessories.net.
Read more golf blogs such as, how to make your own golf yardage book.
Last update on 2023-11-27 / Affiliate links / Images from Amazon Product Advertising API