Best Golf Rangefinders in 2022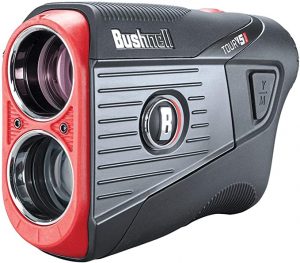 Bushnell Tour V5 Shift (Slope) Golf Laser Rangefinder
The Tour V5 Shift is one of the best offerings from Bushnell golf. This golf rangefinder packs an unbelievable features set into a compact, more efficient form factor. Change your gameplay with the ever-accurate and easy-to-use Bushnell Tour V5 with Slope-Switch Technology! The Tour V5 Shift is loaded with all the golfing features you can find on the standard version including the PinSeeker with Visual JOLT, BITE Magnetic Mount, and vivid display – but with added tour-trusted distances enhanced by the slope algorithm
Best Golf Rangefinders On The Market
Best Overall

Editors Choice

Best Value

Most Underrated

Best For Beginners

Rating: 4.6/5
Rating: 4.5/5
Rating: 3.8/5
Rating: 4.4/5
Rating: 4.2/5
Pros:
Best display
Fastest to find pin
Favorite choice for tournament play
Pros:
Lifetime battery replacement
6x magnification
Pro Slope technology
Pros:
Accurate up up to +/- 1 yard
Water and dust resistant
Best value rangefinder
Pros:
300+ yard range
Great value for the technology
Water resistant
Pros:
Great design
Strap is not very high quality
Exterior LCD display.
Cons:

Cons:
Some trouble locking onto targets
Cons:
Not waterproof
Cons:
Some customers say it is inaccurate
Cons:
Weird to hold in hand
View Price On Amazon
View Price On Amazon
View Price On Amazon
View Price On Amazon
View Price On Amazon
The Best Golf Rangefinders in 2022 Reviewed
A golf rangefinder is pretty much designed to do one thing: tell you how far away you are from a specific object, primarily the pin.
Considering it is just one relatively simple task, it's surprising at how many different models and price points there are out there. You would think it would be pretty straight forward. However, these models vary greatly. They all do produce accurate yardages, however, they perform different in different conditions. Some struggle in the rain and fog. 
This review of the best golf rangefinders was updated in January of 2022 and will continue to be updated and added onto as new technology comes out.
When we set out to test all of these rangefinders, we wanted to be sure we were testing on the same variables. We focused on three – performance, price and the features/accessories offered. We figured these aspects were what general golfers were considering when looking for a rangefinder.
Golf Buddy Laser Lite Rangefinder
Long battery life
Water resistant
6x magnification lens
Highly rated on amazon
GOLFBUDDY LASER Lite Rangefinder with Slope The GB LASER Lite includes maximum features at a fraction of the price. This compact and sporty golf laser rangefinder has slope compensation with on/off functionality making it legal for tournament use. The jolt vibrates ensure you are picking up the flag rather than the landscape behind and the 0.5-second one-click measure makes it extremely fast at picking up your targets. The carry case easily attaches to your golf bag and can be used without zipping it up. Just lock the elastic toggle and when out on the golf course quickly grab your rangefinder without having to unzip the case all the time. Great for all types of golfers, especially ladies and juniors with its small, light, and compact design. Fits perfectly in your hand making it even easier to find your target. The three different modes also give you a varied option when searching for your target including: NORMAL – with a click of the button while aiming at the target, the distance will show in the display with vibration. SCAN – useful when measuring various targets. Click the measurement button once to see the distance to each target. It can be scanned for 10 consecutive seconds and it takes one short click to start. PIN – when there are a lot of obstacles behind the pin, you can use this mode to get an accurate distance. Once aimed towards a specific target, click the measurement button, and move the unit toward the pin to display the distance.
Pros & Cons of The Golf Buddy LR7S
Leupold 119088 GX-4i2 Digital Golf Rangefinder
Legal usage in tournament play
Compact, durable design 
Fog mode feature that cuts through the weather and provide accurate measurements.
The GX-4i2 offers a rugged aluminum body, vivid OLED display and line-of-sight only measurement. This golf rangefinder also includes updated features while conforming to USGA rules. With two face plates, the GX-4i2 allows golfers to choose the best features on the course. The yellow Smart Key face plate that comes attached to the rangefinder activates the True Golf Range and Club Selector features, providing accurate ranging information that matches your personal striking distance. It then suggests which club to use. The chrome Smart Key face plate disables those features to make the GX-4i2 permitted for use in tournaments while still giving you access to other features that make the Leupold GX-4i2 one of the best rangefinders in golf.
Pros & Cons of the Leupold 119088 GX-4i2
Callaway 300 Pro Golf Laser Rangefinder with Slope Measurement
Slope feature measures angle of incline/decline and automatically calculates slope adjusted distance

6x magnification; range 5-1000 yards with +/- 1 yard accuracy.

Scan functionality allows golfers to acquire distances to multiple targets at once
The Callaway 300 Pro Golf Laser Rangefinder offers advanced pin-seeking precision in a sleek, sophisticated design. Our exclusive Pin Acquisition Technology (P.A.T.) lets you lock onto the pin from up to 300 yards away, ensuring accuracy even when trees and other objects are in the background. The exclusive birdie provides an audible 'chirp' to confirm distance acquisition to flag stick. The slope measurement technology measures angle of incline or decline and then automatically calculates the slope to adjusted distance. The slope function can be turned off with the click of a button, which makes the Callaway 300 Pro legal for tournament play. This golf rangefinder is accurate up to +/- 1 yard. Feel confident in your yardage and take dead aim with the superior accuracy of the 300 Pro Golf Laser Rangefinder to measure from 5 – 1000 yards. Scan the landscape to acquire distances to multiple targets, like greenside bunkers and water hazards at once. 
Pros & Cons of the Callaway 300 Pro
Sign up for our email list to receive the best tips, guides and reviews!
Pulse Vibration

Measures in Yards and Meters

+/- 1 Yard Accuracy

6x Magnification

Slope Measurement

Water and Fog Resistant

Protection Plan
The Precision Pro Golf NX7 Pro Slope has been designed to provide the most accurate distances on sloped or flat surfaces. The Pro Slope technology makes it user friendly and helps you select the correct golf club on each shot. The NX7 Pro Slope golf laser rangefinder is infused with Pro Slope technology that provides a "play as" distance to make club selection as simple as possible. The slope function can be easily turned off for legal tournament play. Built with crystal clear optics, 6X magnification, and precise technology, the NX7 Pro Slope Golf Rangefinder produces quick yardage of a golf ball's distance to the hole and is easy to use, even for golfers with not so steady hands. This rangefinder has a 400-yard range capacity, is water-resistant, displays 1/10-yard measurements, and can be set for meters or yards. It is accurate up to one yard and delivers a short vibration when you shoot the target. This golf rangefinder comes with a lifetime battery replacement service, with product registration. 
Pros & Cons of The Precision Pro Golf NX7
Callaway EZ Scan Golf Laser Rangefinder
EZ Mode: acquire the flagstick with a press of a button
P.A.T. (Pin Acquisition Technology) – lock on to the pin-up to 275 yards away!
5X Magnification; Range 5-800 yards
Measure in Yards or Meters
Superior Accuracy (+/– 1 Yard)
Built-in hand support strap minimizes shaking
Water/Fog resistant
Magnahold: integrated magnets allow for quick access & storage on golf carts
Exterior LCD: confirm your internal distance reading via the external display
Scan landscape to acquire multiple targets
One year warranty
The Callaway EZ Laser Rangefinder is a fantastic rangefinder. It is easy to use, well designed and performs phenomenally. The laser rangefinder features P.A.T. (Pin Acquisition Technology) where it delivers precise distance measurements while being simple and convenient to use. EZ Mode allows the user to scan the flags tick to quickly acquire accurate distances without having to be completely steady when aiming. Simply press the EZ Button and begin scanning to lock onto the pin!
Pros & Cons of The Callaway EZ Scan Golf Laser Rangefinder
Bushnell Pro X2 Golf Laser Rangefinder
Ranges 5 1, 300 yards; 450+ yards to Flags
Pin Seeker with JOLT technology
Eye Relief:16 millimeter Exit Pupil:3.5 millimeter
Fully Waterproof
Class 1 laser with less than 0.5 mW average power output
The Pro X2 is the premier model of Bushnell rangefinders.
This golf rangefinder is tour-trusted  with advanced slope switch technology that engages Bushnell Golf's patented slope technology to give the you the best distance based the hole's incline or decline. You can turn this feature off to make this device USGA-conforming rangefinder when needed.
Included in this premium rangefinder is the pinseeker JOLT Technology to eliminate any doubt that you may not be locked onto flag. All of this is wrapped in fully-waterproof metal housing to give the golfer the ultimate golf laser rangefinder.
Simply put, this rangefinder has everything you could ask for in one device. The X2 gives you the ability to avoid all display issues with varying weather by being able to toggle between an LED and LCD screen. This is the ultimate rangefinder. 
Pros & Cons of The Bushnell Pro X2 Golf Laser Rangefinder
TecTecTec VPRO 500 Golf Rangefinder
Measure up to 540 yards.
Pin sensor technology – accurate up to +/- 1 yard.
Extremely lightweight – 185g.
Water and dust resistant
Comes with a wrist strap, cleaning cloth, carrying pouch and extra battery 
The TecTecTec VPRO500 uses the latest technology in range finding. It is more accurate and flexible than any other measuring device on the market. It perfectly measures distances quickly, letting you improve your game like a tour pro. Our laser golf rangefinder even has diopter adjustment functionality to provide the perfect view. Whether you're near or farsighted, you'll be able to see the flag and measure it clearly to find its distance using this rangefinder.
The VPRO500 has three different scanning modes that are suitable for every situation on the course. It's advanced pin sensor helps you accurately measure overlapping targets and is perfect for measuring the distance to pin location, layup to the nearest bunker, or and the distance to clear a water hazard! It's measurement locking function locks onto the pin to give you the most accurate information, each time.
Pros & Cons of The TecTecTec VPRO 500 Golf Rangefinder
Frequently Asked Questions Rangefinders
What Is The Best Golf Rangefinder For The Price?
This varies greatly. We believe that Bushnell offers the best overall rangefinders for the price. There are so many different options out there it is really easy to get confused. The good news is that – there are a lot of rangefinders out there. If you are wanting to explore getting a rangefinder, you may be investing $250 to get something that is going to perform well and not break the second it is rained on. If you are wanting to upgrade to a better rangefinder, you may want to invest more money as this is a tool you will use for years to come. A rangefinder is of of the best golf accessories a golfer can own. You may want to consider investing in a quality rangefinder that will help improve your scores today!