Should Golfers Push, Pull or Carry Their Clubs?
Golfers have been debating for years over the best way to carry their golf clubs. Should they push, pull or carry them? In this blog post, we'll take a look at the pros and cons of each method and help you decide which one is right for you. So, which is the best way to carry your golf clubs?
So, should golfers push, pull or carry their clubs? Golfers should push their clubs when walking the course, as it is the most efficient way to move. Carrying your clubs can lead to fatigue and potential injury. When you need to pull your clubs, doing so efficiently will help you maintain good posture and balance.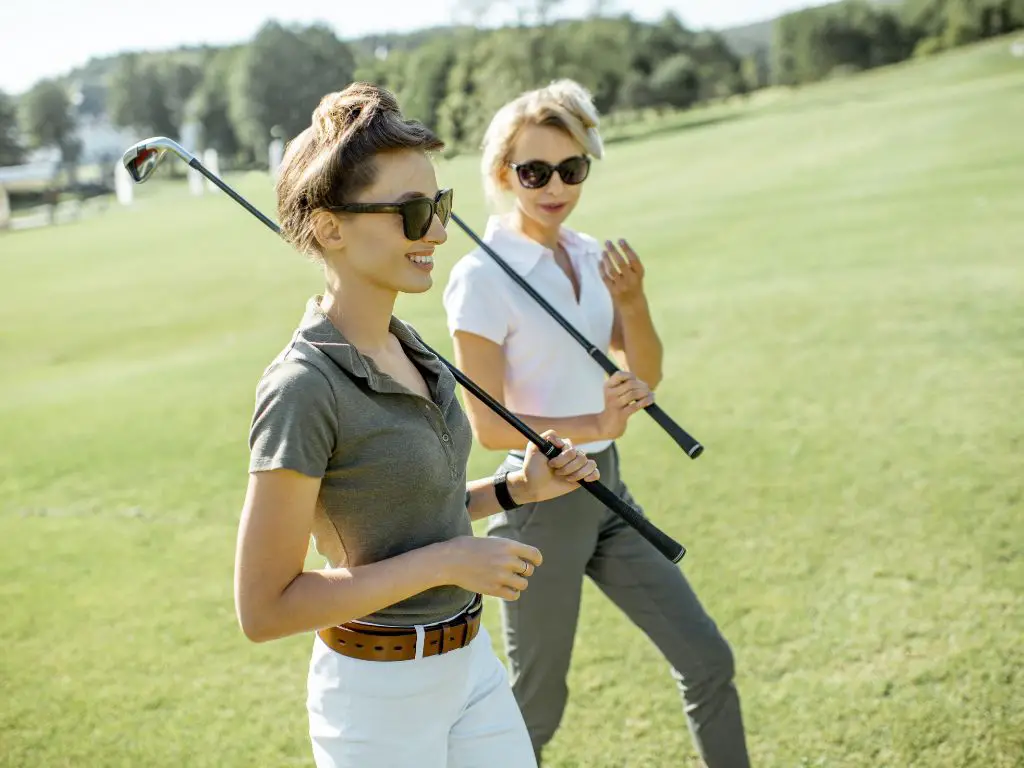 Pull, Push or Carry?
Walking a golf course is one of the best ways to play the game. Some players scoff at the idea of walking and those same players miss out on so many benefits of walking the golf course. 
From the calories your burn on course to the additional information you will pick up about the course – walking is a great way to improve your game.
One of the biggest questions that you need to answer as a golfer is if you can walk the course and carry your bag without affecting your game in a negative way. In our opinion, most every golfer will benefit by walking the course.
Truthfully, we suggest that each golfer use a golf push cart when walking the course rather than carrying your clubs in a stand bag.
Carrying your clubs adds an enormous amount of force on your spine which causes lactic acid to build up in the muscles causing you too fatigue and can lead to injuries. There is also the issue of lifting and dropping the golf bag ~90 times (or more) a round. This motion of lifting can lead to a lifetime of back or spinal injuries. 
In 2009 the American Junior Golf Association voted to change it's policy to allow non-motorized golf carts in tournament play. They made this change because of the studies that came out highlighting the benefits of using a golf pull cart during play and they did not want to force any potential injury on a junior golfer.
In the end, using a push cart gives you all of the benefits of walking without the strain or injury of carrying a bag.
We understand that not every golfer is going to want to use a push cart, there are still ways that you can improve your posture, bag weight and other factors that can help you lower your scores while reducing the chances of injury to your back.
What are The Benefits of Walking Your Golf Clubs?
There are multiple benefits to walking the golf course.
First and foremost, you will save money by not having to rent a golf cart. This can be a savings of $12 – $22 a round! The savings can pay for a new push cart in one season alone.
Walking the course offers more benefits than the monetary. You will burn more calories when walking. Some studies have shown that you can burn about 700 calories or more per 9 holes of golf.
Personally, I use the software on my watch to track my steps during the round. I was able to get out for a nine hole round and an eighteen hole round recently.
I use a push cart when playing and I played the same course both rounds.
My results were:
9 hole round calories burned: 819 total calories burned, 3.2 miles walked, 6,523 steps taken.
18 hole round calories burned: 1,836 total calories burned, 5.5 miles walked, 11,182 steps taken.
I also have found that when walking the golf course using a push cart, I am able to play most 9 hole rounds in under an hour and a half and most 18 hole rounds in under 4.5 hours.
Some miscellaneous benefits I have discovered are finding more golf balls along the walk, running into kind strangers that also are walking (or riding!), and learning the lay of the course a little more.
I feel like walking has taught me more and more where to miss and and where to not miss when playing.
While the benefits you experience may vary, walking has truly made me love and appreciate the game more.
What Is The Difference Between a Push Cart and a Pull Cart?
The main difference between a push cart and a pull cart is that a push cart has two small wheels in the front, while a pull cart has one larger wheel in the front.
A push cart is easier to maneuver, because it's smaller and has more maneuverability. A pull cart, on the other hand, is easier to tow because it has less resistance than a push cart.
Should You Push or Pull a Push Cart?
The next question is whether it is better to push or pull your golf push cart around the course.
The answer to this is straight forward and all you have to do is observe the posture of someone walking with a push buggy compared to a pull buggy. You should be pushing a push cart rather than pulling it.
The main reason is that when pulling, you are creating a twisting type motion on your spine which causes muscle imbalances. This creates more pressure on your shoulders, elbows, and knees which can lead to an increased chance of injury.
Since golf is a game that is typically played in one direction, the last thing we need to do is anything that could cause an injury.
Pushing the cart offers an alternative to the old fashioned pull cart by taking advantage of the forward momentum of walking and reducing fatigue.
Pull carts are also generally harder to control on the course.
The latest research also shows that players tend to shoot lower scores whilst using a push cart rather than a pull cart!
How Do I Carry My Golf Bag?
Walking and carrying your golf bag is a solid workout – however walking can lead to back pain. If you're feeling some pain after your round, don't give up on walking.
The way you're carrying your bag could be contributing to the problem.
Step 1: Make adjustments to the bag. You want to make sure that you adjust the bag before playing as you will want to find the right setting for comfort.
Step 2: Add all of your clubs into the bag. Don't forget to add all of the golf balls, tees, gloves, and any other things you may need during your round.
Step 3: Distribute weight throughout the bag. Take time to test where all  of the weight is sitting in your bag. 
Step 4: Play your round! 
Determining how to carry a golf bag with one strap may seem simple, but it's essential that you focus on carrying it around safely.
With the help of this guide, you won't have to worry about fatigue, even if you don't have access to a golf cart or caddy to carry the bag for you.
Sign up for our email list to receive the best tips, guides and reviews!EmailSend
Can College Golfers Use Push Carts?
College golfers can use push or pull carts during regular tournament play.
Push carts are becoming increasingly more popular among most college golfers as they are seeing less fatigue during rounds and lower scores, compared to stand bags.
Top men and women golfers from programs such as Alabama, Texas, and Georgia are all utilizing push carts to help improve their games.
Do What Works For You!
My last piece of advice would be no matter whether you push, pull, carry, or ride, at least take every opportunity you can to stay active and walk as much of the course as possible.
We should feel privileged to be able to play such a great game.
Walking the course may help you enjoy the game more than you might think. Give it a try! You may find that you like it.
Read more golf blogs such as, how to make a golf yardage book.