What Are The Golf Clubs Needed For a Beginner?
Every beginner golfer is going to need a few basic clubs. To start they are going to need a driver, a mix of fairway woods and hybrids, irons, wedges, and a putter.
One of the most exciting things about golf is buying new clubs. I am not sure about you, but I am always looking online for new deals on clubs, accessories, and any deal I can find.
My local golf stores know me by name and my girlfriend does not see my credit card statements, thankfully.
So, what golf clubs does a beginner need? For a beginner, it is recommended that you get a set of golf clubs that includes at least one driver, one fairway wood, one hybrid club, and irons. Your set should also include a putter and a bag.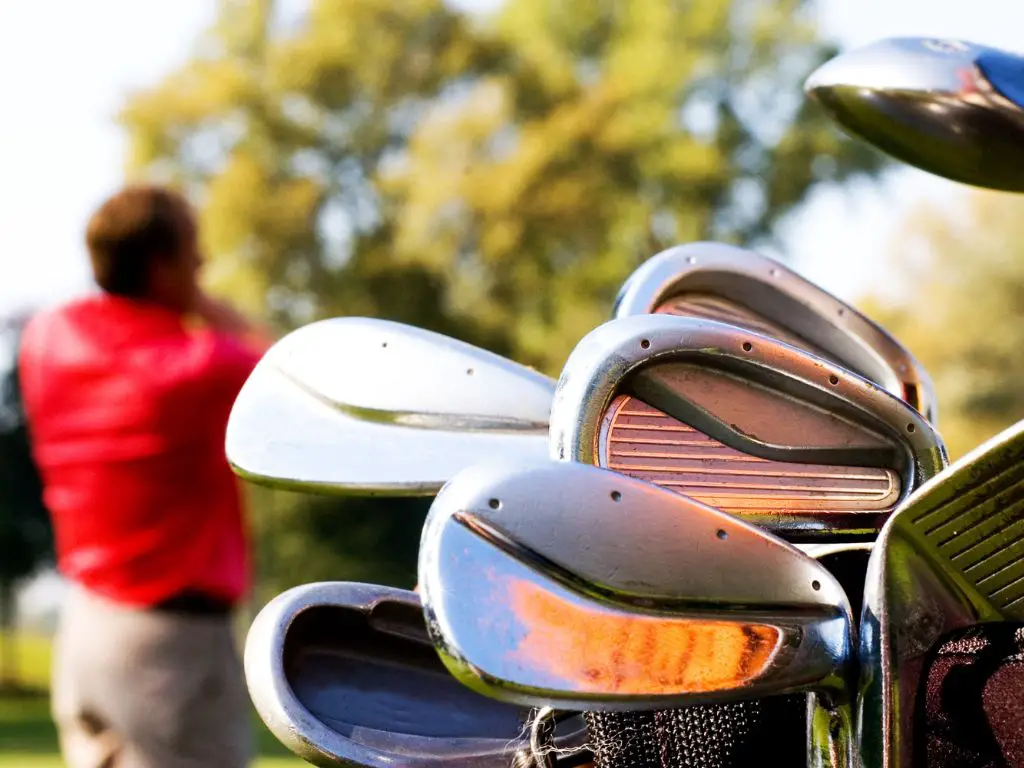 While I may go a little overboard buying new clubs and equipment, I recognize that not everyone gets into the buying process like I do.
Especially,  If you are just getting into golf.
I remember whenever I was starting out, the initial cost was intimidating. Read this guide if you are starting out with golf and are a little confused on what to buy and how to best spend your money.
What Is The Minimum Number of Golf Clubs Needed?
The USGA allows each golfer to use 14 clubs in their bag. This can include a Driver, fairway woods or hybrids, Irons, wedges and a putter.
However, you do not have to have all of these. You are allowed to play with as few clubs as you like. 
If you are just getting into golf, you should not feel pressured to buy a full set of 14 clubs at once. Most beginner club sets come with 10 – 12 clubs and can get you off on the right foot when starting out.
While you can play with as few clubs as you would like, if you decide to get more serious about golfing – adding more clubs can help improve your score by giving you more tools to use on the course.
How Much Should I Spend On Golf Clubs as a Beginner?
We recommend that beginner golfers start with a driver (around $75 or less), a large cavity back iron set ($200 or less) and a putter that you feel comfortable with ($60 or less).
Add a basic bag ($100 or less), and you'd have enough to get started for under $500.
There are also full sets that are packaged together that you can purchase to remove any of the confusion. Here is one set I recommend:
Sale
If you decide to buy everything individually, here are a few tips and some information to consider whenever making your selection!
DRIVER
Most beginners gravitate to the driver and who is to blame them?
When buying a driver for the first time, you are going to want a 460cc head. Most driver heads are this size, however, some are a little smaller – around 440cc. A larger driver head is going to give you a larger sweet spot on the face and offer more forgiveness on mishits.
Depending on your swing speed, you are also going to want to get a regular or stiff flex shaft.
Finally, if you are truly a beginner at golf we would recommend that you do not overspend on the driver. Speaking from personal experience, if you spend a lot of money on a driver and are still learning how to hit the ball, you are prone to hitting under the ball and can scratch the paint or even leave a dent in your driver.
While the driver is an important club in the bag, your money can be used better in other areas.
The Taylormade Stealth is the latest and "best" driver on the market. These drivers go for $500+.
While its great to have the newest technology, beginners may want to look into something like a TaylorMade M4 or M6. These drivers produce similar results without the major price tag.
TaylorMade Golf Stealth Plus+ Driver 8.0 Righthanded
The 60X Carbon Twist Face is encased by a polyurethane cover, featuring a revolutionary new nanotexture technology. The nanotexture cover is used to fine tune launch and spin to optimize total distance regardless of playing conditions.
The weight savings of the 60x Carbon Twist Face has allowed more weight to be positioned low and deep in the head, this will add 15% more MOI compared to Stealth Plus+.
The Inertia Generator remains the foundational source of refined aerodynamic properties. The result is a slippery-fast head shape that aids in swing speed generation on the downswing for golfers at every level.
Our most flexible Speed Pocket design engineered to maximize ball speeds and produce additional forgiveness on low face strikes.
FAIRWAY WOODS
In addition to the driver, a three wood should be considered when building your bag.
Three woods can be the most difficult club to hit for some people. However, if you learn how to hit it, three woods can be a life saver in tough rounds when your driver isn't working or the wind is gusting.
When you are buying a three wood, the only advice we have to offer is to pick a club that you enjoy looking at before hitting. Confidence is key with a three wood and if you do not like how the club looks at address, you are only making it more difficult for yourself.
Companies like Callaway, Ping and TaylorMade are offering "Max" or "Plus" versions of their fairway woods, which should help get the ball in the air.
If you are a beginner, check into these types of fairway woods!
Callaway Golf 2022 Rogue ST Max Fairway Wood (Right Hand, Tensei White 75G Shaft, Stiff Flex, 3 Wood)
Rogue ST MAX is Callaway's fastest fairway wood ever.
The new A.I.-designed Jailbreak system has been completely redesigned to promote speed and stability. The two Jailbreak batwings are pushed to the perimeter, providing stiffness while allowing the face to flex for high ball speeds.
Callaway is introducing the groundbreaking Tungsten Speed Cartridge for the first time in a fairway wood. By incorporating up to 27g of high-density tungsten, the Center of Gravity (CG) is pushed low and forward for lower spin with more ball speed.
They've applied an all new A.I. face optimization to include speed, launch and spin. This unique face pattern is customized for each model and loft in the fairway lineup.
The C300 maraging steel is specially treated through a proprietary process for high strength and flexibility, while the Flash Face Cup provides speed and spin consistency across the face.
HYBRIDS
Hybrids are a beginners best friend.
Hybrid clubs are a combination of a fairway wood and a long iron. These clubs are designed to help you with the longer shots that you need to go straight.
We see that most beginners benefit from using one to two hybrids. Using a 4 and 5 hybrid can really help take the stress off of hitting your long irons.
Be sure to try a few different lofts and head sizes until you find what looks best to you at address. Don't be pressured or turned off by buying two different hybrid brands.
A 3 hybrid is most likely going to have a longer shaft than a 4 or 5 hybrid. This small increase in shaft length makes all the difference and you should feel comfortable with the head at address. 
Callaway Golf 2022 Rogue ST Max Hybrid (Right Hand, Graphite Shaft, Regular Flex, 4 Hybrid)
Featuring an allnew A.I.-designed Jailbreak system that's been completely redesigned to promote speed and stability. The two Jailbreak frames are pushed to the perimeter, providing stiffness while allowing the face to flex for high speeds.
From their high strength 455 Face Cup, we've applied an all new A.I. face optimization to include speed, launch and spin. This unique face pattern is customized for each model and loft in the hybrid lineup.
Up to 24g of precision tungsten allows for precise Center of Gravity (CG) locations, delivering optimal launch with even more ball speed.
The Rogue ST MAX model features iron-like shaping, with a refined sole for better turf interaction. The slightly stronger lofts and wide range of models are perfect for the game-improvement golfer looking for breakthrough hybrid performance.
IRONS
Most beginners often overlook the irons as they think they will all do the same thing. This could not be further from the truth.
When you are first starting out, you will benefit from having a larger iron head that features a thick top line and a large cavity in the back. This is going to give you the best chance to hit the ball and get it into the air, while offering you plenty of forgiveness on off hits.
If you are a beginner, we would suggest looking into the Callaway Apex line of irons. These irons offer exceptional forgiveness and workability. This would be a good set for a beginner to grow into.
Be sure to check into Callaway Pre-owned or your local pre-owned golf section for a used set of these clubs.
Callaway Apex 21 Iron Set (Set of 7 Clubs: 4-PW, Right-Handed, Steel, Regular)
Apex is the first forged iron designed with A.I. and it's engineered to deliver superior performance with iconic feel on every swing. There's nothing like our best…and that's Apex.
The unique A.I. architecture in each iron creates high ball speeds and increased spin robustness across the face. They're engineered for impressive distance and pinpoint control.
For the first time, we've implemented our Tungsten Energy Core into an Apex Iron. With 5x the tungsten of Apex 19, we can precisely position the Center of Gravity to promote outstanding launch throughout the set, and more forgiveness on off-center shots.
For the first time, we've implemented our Tungsten Energy Core into an Apex Iron. With 5x the tungsten of Apex 19, we can precisely position the Center of Gravity to promote outstanding launch throughout the set, and more forgiveness on off-center shots.
WEDGES
Beginners should use caution when building a set and incorporating wedges.
Most mid to low (15 to 0) handicap golfers use three wedges in their bag. This is not always encouraged for newer golfers and high handicaps.
If you are new to the game, stick to two wedges in total – a pitching wedge and a sand wedge. This will give you another club you can use elsewhere in your bag – such as another hybrid or long iron.
If you are looking for a high quality sand wedge, take a look into the TaylorMade wedge line. A sand wedge is usually between 54 and 56 degrees of loft and will have an average bounce of 8 degrees. 
Sale
Taylormade MG3 Chrome SB
Wedge technology has evolved. The new Milled Grind 3 features RAW Face Micro-Ribs, engineered for added face texture to deliver more spin around the greens, especially on partial shots.
The face rusts over time to preserve consistent spin while the rest of the head maintains its original finish. Omitting plating from the face and grooves allows Milled Grind 3 wedges to have more precise groove geometry, optimizing spin and feel.
Raised Micro-Ribs are positioned between full grooves for added texture on the face. They are designed to increase spin and improve performance on shots around the green.
Milled Grind soles ensure precision where it matters most. The milling process maximizes consistency, maintaining tolerance levels difficult for a human to repeat.
Sharper, deeper, narrower grooves, with radii engineered for more greenside spin and optimal spin in wet conditions.
PUTTER
Putters are all about preference. There is always new technology that comes out with new putter lines, however, it is all pretty similar at the end of the day.
When you are looking for a new putter, test ALL of the putters that are available.
Most putters are between 33 and 35 inches in length and come in a few different head types. Play around with what feels comfortable to you and makes you feel like you are going to putt the ball straight.
While Scotty Cameron putters are fantastic, Odyssey putters are usually a bit cheaper and offer the same quality.
We would HIGHLY recommend going to a local golf store to test the putters, before purchasing. Putters are 100% preference and you should always pick what feels and looks the best to your eye.
Don't get distracted by the fancy and crazy designs (were looking at you TM spider). Also, be sure to make sure you get a good putter grip that feels comfortable and gives you confidence over every stroke.
Odyssey Golf White Hot OG Putter (Right-Handed, Seven, Steel, 33')
Odyssey White Hot OG Putters feature the original White Hot formulation, feel, sound and performance in one exceptional two-part urethane insert.
This classic name is synonymous with legendary performance and the unique design properties that Tour players and golfers love.
Odyssey engineers have combined a rich silver PVD finish with fine milling on the surfaces.
Available in a premium stepless steel shaft or our Tour proven, multi-material Stroke Lab shaft in a new candy apple red.
Both of these stock options are precisely fitted with a gray DFX Rubber Grip for a classic look and feel.
Should a beginner get fitted for golf clubs?
Some people debate weather or not beginner golfers should be fit for their clubs or not.
The simple answer is anybody who wants to play golf should be fit for their clubs. The benefits of custom fitted golf clubs eye opening for all golfing levels – even for beginners. 
However, if you are a beginner golfer and are serious about improving – you may want to plan when you are going to get your clubs fit.
If are brand new to the sport and you buy new clubs, understand that you may need to be refit the next season as your swing advances and you learn how to control the club face better while generating power.
Do more expensive golf clubs make a difference?
Yes and no.
More expensive clubs will typically be built with better materials, but that doesn't always translate to your handicap.
Just because a club brand spends a lot of money marketing their product does not guarantee that there will be any benefit to your swing. We recommend testing a few different brands of clubs and asking someone to help fit you to the best club. 
Every club off the shelf is going to perform difference and pre-owned clubs may have had a number of things done to the club that could have helped it's previous owner, but will hurt your swing.
Be sure you spend time hitting each club and looking at the data as much as you think and consider the feel of the club. 
Do Golf Clubs Really Make a Difference?
The types of clubs you use really does make a difference especially to the weekend golfer.
The technology put into golf clubs has advanced every year and so much in the last 20 years that golf courses are literally having to change their designs to be playable for some of the long hitters.
However, no matter how pricey your clubs may be, you have to know what you're doing with your swing to make the club perform correctly.
What Golf Clubs Do Beginners Need?
If you are just getting into golf, remember that you are limited to 14 clubs, but you are not required to have 14 clubs. A basic setup for a golf bag is a driver, a mix of fairway woods and hybrids, irons, wedges, and a putter.
How you set up the bag is entirely up to you.
Some players play with multiple fairway woods or hybrids, some players play with 4+ wedges, and Scotty Cameron plays with 2 putters!
Do what is going to be best for your game and lower your scores.
Last update on 2023-11-18 / Affiliate links / Images from Amazon Product Advertising API