How Much Does a Golf Cart Cost to Rent?
Folks who wish to build up their golfing skills and spend time off hitting the tees should also consider renting golf carts. But how much does a golf cart cost to rent? It depends on various factors, and we'll look into them here.
On average, renting a golf cart costs between $55 and $110 per day and between $15 and $25 per hr. These prices heavily depend on the center where you're renting them, as well as their size and the amount of time you plan to use them.
I looked into some of the best and most affordable places to rent carts and got surprised at how some companies priced theirs. Sure, an entire world of these remains to be discovered, but they're rarely used for anything other than taking golfers from one hole to another. I found affordable, high-quality rentals.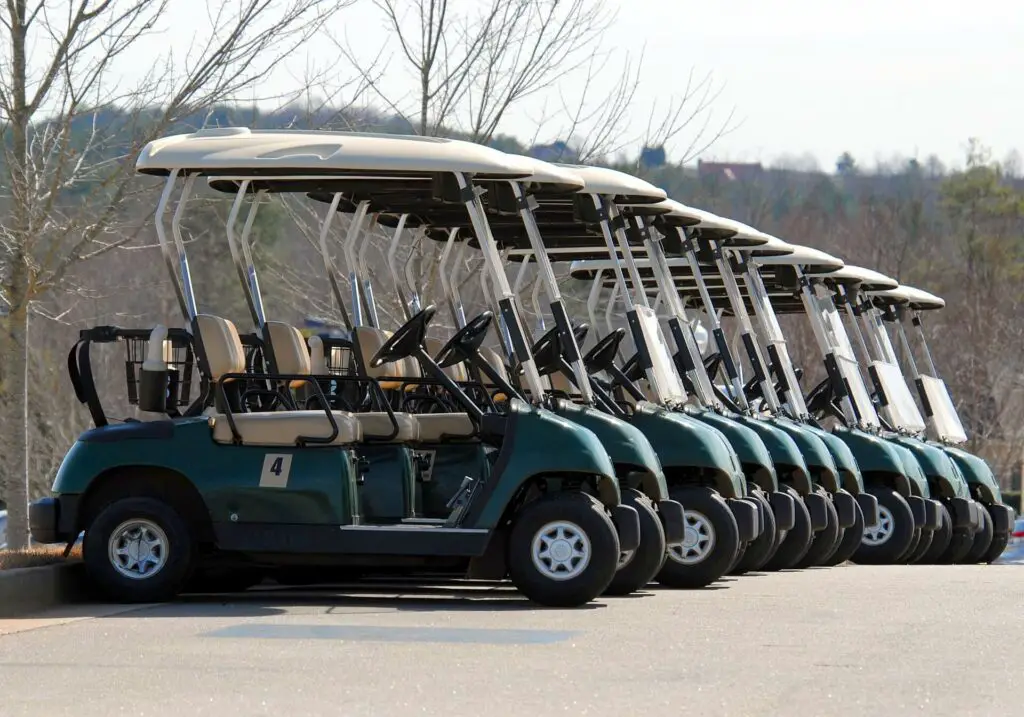 How Much Does a Golf Cart Cost to Rent?
Based on multiple sources, renting a vehicle for the whole day pays off much more than getting it for just 60 minutes. Renting companies reap more benefits when people pay for daily use because there's minor damage to cars, less gas expenditure, and more options for other customers.
Many companies also do weekly and monthly rentals, so you can use your vehicle for an extended period. I've taken price examples from three different companies located primarily around the Midwest and East Coast.
The company Put-In-Bay from Ohio has the most representative prices of the three listed. Their rates are the most similar to the national average, so you can take these costs as a sort of unwritten rule on golf cart renting. Their rates are:
4-seater: $15 per hr and $70 daily on weekdays; $15 per hr and $80 daily on weekends,
6-seater: $20 per hr, $80 daily on weekdays; $20 per hr, $100 daily on weekends,
8-seater: $25 per hr, $120 daily on weekdays; $25 per hr, $140 daily on weekends.
The downside of this company's fleet is a lack of two-passenger vehicles, but it's generally much more affordable and efficient to bring more than just two people along for the ride. This downside doesn't take away much from their overall quality and rates.
The next rental company is Myrtle Beach Golf Carts, from Myrtle Beach, South Carolina. This East Coast-based service has steep prices but considerable differences between their hourly and daily rentals. They make it easier to use a vehicle for 24 hrs than just take it for a 60-minute spin. Their rates are:
4-seater: $115 per hr, $215 daily in season; $75 per hr, $155 daily off-season,
6-seater: $175 per hr, $315 daily in season; $125 per hr, $205 daily off-season.
This company is way more expensive than the first one from Ohio, but they have off-season offers. Their vehicles hold only four and six passengers, and you can get them for periods from one to eight hours, where the price rises by $10 with each additional hour.
There's even the option of renting a cart anywhere between one day and one month. Monthly fees for standard 4-seaters are $1,400 in season and $600 off-season. For 6-seaters, the monthly cost is $1,500 in season and $750 off-season.
The Galveston Golf Carts rental service from Texas has the most inclusive range of cars, from 2 to 8-passenger vehicles. Overall, they're similarly priced as the company from OH, but they don't allow renting cars for periods shorter than two hours.
This isn't bad, essentially, since most rides don't take less than two hours anyway. It's better to fulfill this minimum requirement with some good times. The rates they offer are:
2-seater: $68 for two hrs, $180 daily; $505 per week,
4-seater: $79 for two hrs, $185 daily; $505 per week,
6-seater: $101 for two hrs, $225 daily; $617 per week,
8-seater: $124 for two hrs, $241 daily; $729 per week.
Why You Should Get a Daily Rental Instead of per Hour
Realistically, 60 minutes isn't that much time on the greens. If you wish to use the vehicle for playing golf, you'll likely spend the entire day going from hole to hole. Additionally, when you get an hourly rate on a cart, you have to come back after that hour and pay more for an extension anyway.
If you expect, as you should, to stay on the course for at least a couple of hours, it'll pay off more to get a daily quote. If you wish to use your vehicle for cruising around the beach or even smaller roads, you must factor in the traffic conditions and density.
If the four of you wish to get a 4-seater, $70 for the entire day is not a lot. Prices often depend on the class of the cart, so even if you have to give more than $150, it'll pay off more. Two hours is enough time to get around the beach, but not for playing a fun game of golf.
Carts Require More Charge and Maintenance During the Season
The season in question is the period between May and October. The vehicles are primarily designed for driving in sunny and dry weather, so driving them during winter is typically discouraged. Some companies may have customized short-term renting for off-season periods. In places like California, there's no such thing as winter, so renting is likely possible throughout the year.
If the vehicles are battery-powered, charging is easier with daily renting, and if they're gas-powered, it's cheaper to load the tank once instead of after every run. Renting companies don't typically offer gas-powered vehicles, anyway, so you'll likely be cruising around on a battery-powered cart, which has a long lifespan but needs regular maintenance and charging.
Generally, expect a vehicle to be in much better condition if it's rented out daily. There's less wear and tear, and the fewer people ride them daily, the better the carts' performances are. That's why renting companies have large fleets instead of just several cars.
If four passengers ride for an hour, and then the other four come to take over, and so on, the chances of the cart getting damaged increase. Companies amp up the hourly rates to encourage customers to get 24-hr (and longer) renting for that reason.
One-Hour vs All-Day Rental Prices
Take a look at, for example, the most affordable renting company on this list, Ohio's Put-In-Bay. Their rate is $15 per hr and $70 for 24 hrs. If you do the math, you'll see that the daily price is five times more affordable. If you paid $15 every hour for 24 hrs, you'd leave without $360 in your pocket. This way, you only leave after a good day of only spending $70 on the vehicle.
Similar math could be applied to other companies, like the Myrtle Beach rental. Their in-season $115 per hr rate amounts to a whopping $2,760 for 24 hours; within context, you can see how $215 daily would be affordable; in fact, it'd be cheaper tenfold.
My honest advice is to pay for 24 hrs and use the cart without any rush. If the four of you divide the fee into equal parts, it'll be around $17 per person with Put-In-Bay, or approximately $53 with Myrtle Beach.
The Rent Price Will Depend on the Passenger Number
You can see by now that vehicle renting depends on the time factor, but it also relies on the number of passengers. The least amount of people that can get in one vehicle is two, and the highest is typically eight, although some companies make custom cars for celebrations and events that can drive more than eight passengers.
While the costs are higher for more passengers, the chances are that it'll be more affordable in the long run. If you have a party of eight and the company you're renting from has 8-seaters, you can just split the cost amongst yourselves and roll out.
You can also combine two 4-seaters for better comfort if the cost suits you. Overall, the price of two four-seaters and one eight-seater for 24 hrs is a bit higher, but not too much. A lot depends on the needs of your group, the individuals' weights, and the general comfort of the cars.
Probably the most inconvenient and difficult to justify is the 6-seater. There's no way to divide and conquer the cart logic, so you must take one that fits the exact number of people (or five). Technically, you could pay for three 2-seaters, but that'd be a waste of money.
How Much Is a Two-Passenger Golf Cart?
2-seaters are the most affordable cart type, so naturally, they'd be the cheapest. However, only two can fit in this vehicle, so it's, realistically, only convenient when your group consists of you and another person.
Out of all the examples here, only the Galveston company has 2-seaters. They charge $68 for 2hr rides because shorter rides aren't available. Again, their daily price is miles more affordable than the hourly rate, so I recommend the former.
Additionally, if there are four of you in a group and want to get two 2-seaters, you'll pay double the price that way. Galveston offers 4-seaters for an almost identical fee for a 24-hr renting period.
How Much Is a Four-Passenger Cart Rental?
Generally, the most used and the most affordable are the 4-passengers. The more people use the cart; the costs are higher but also easier to split and get a great price per person. Groups of four are the most common renters, as many companies don't actually have 2-seaters in their fleets.
Besides those for two people, 4-seaters are the easiest to maneuver – there's less bodyweight to move around, and they're shorter than six and eight-seaters, meaning the physics of driving them are much more tolerable. You can't go wrong with a 4-seater.
Two people sharing a 24-hr ride with Galveston will pay $90 each. Four people at the same company, for the same period, will pay for the 4-seater around $46 each (their 24-hr renting fee is $185).
I'm not saying you shouldn't just get a transporter for two, but if you plan on doing so, make sure to bring more friends and relatives along, so this adventure can turn out less expensive and more enjoyable.
How Much for an Eight-Passenger Cart?
Many companies offer this vehicle for a large group, and while they're pretty convenient, they look slightly ridiculous.
The 8-seaters are ideal for tours around town and bachelor and bachelorette parties, for example. They may not be that convenient for golfing, but it's rare to have parties of eight people conquering the greens at the same time. When is it your turn?!
Out of the example companies listed above, Put-In-Bay and Galveston have these types of vehicles in their fleets. Again, $120 is more affordable for 24 hrs, but if you want your event to be mostly sightseeing-based around town, you may not need it for the whole day. Two to three hours of sightseeing is enough.
How to Rent a Cart
The best way to rent a cart is to contact the company you're interested in and ask about their fleet, rates, and rules. Many companies have strict rules and limited mileage their fleet can cross. For example, Galveston requires insurance and takes deposits for drivers under 25. You need to pay a $250 deposit if you're over 21 and under 25.
All the companies require the renters to have a driver's license and agree upon renting that the carts are motor vehicles that must obey all traffic laws. Most companies also don't allow for same-hour renting; they need time to count their available cars and get them in shape.
Same-day reservations are possible, but approximately three to four hours before the actual time you wish to take the cart for a spin. Most of these same-day reservations are non-refundable because they're made on short notice.
Most companies offer the option of booking online. Myrtle Beach offers you to specify the type of cart, the period you wish to use it for, and dates and times of arrival and departure; there's even a delivery option. You can take care of the entire reservation process online without having to contact them via phone or in person.
The Best Places to Find Cart Rentals
This depends on your location and preferences. I've used Put-In-Bay from Ohio as a standardly priced company, and their rates aren't far from the national average. When you look for a rental company on the map, prioritize the ones labeled "certified." This way, you're more likely to get a decent-quality vehicle and fair prices when renting.
Costs depend a lot on the location and kind of vehicles, so it's more than crucial that you do additional research and find the most suitable place. With that being said, here's a longer list of places where you can rent carts nationwide:
Golf Cart Sales and Rentals Houston, TX
Bettis Garden & Equipment Rental, OK
Golf Cars of NWA, AR
Miami Beach Golf Cart Rental, FL
SunFun Rentals, NC
Elite Golf Cart Rentals of Maryland, MD
LBI Carts, PA
Golf Cars Unlimited, NY
Down Bay Carts, ME
Colorado Golf and Turf, CO
Highland Golf Carts, UT
Prestige Golf Cars, NV
Escondido Golf Car Center, CA
Yamaha Golf Cars of California, CA
Venice Cart Rentals, CA
Foursom Golf Cars, OR
Salem Golf Car, OR
Puetz Golf Seattle Superstore, WA
Alexander's Golf Cars, WA
Your Golf Game Will Go Faster and Improve With Cart Renting
Whether you want to rent a cart for a daily game of golf or sightseeing, there's no lack of rental service companies offering them. They're available in most states and can be customized to fit the occasion for which you're renting them.
However, if you plan to go golfing, you'll likely be provided with a vehicle and the golfing or country club you go to play in. They have in-home transporters and caddies to help players manage their game better and achieve high scores.
Whichever part of the US you're from, you'll likely find a cart renting company to make your day a little more entertaining. It's an excellent way to cruise around most island locations and beaches and the best vehicle to use when playing golf.
You can increase your mileage when sightseeing and not get tired from walking around the course all day. Overall, renting a golf cart is worth it.