How Much Is a Golf Club Membership?
Golfing is a popular sport, but it's often a lot more than just that. Players get to spend time in nature and improve various skills. If this sounds interesting, you should find out more about golf associations. How much is a golf club membership, and what kind of clubs are there? Let's see.
Golfing clubs and lodges charge annual memberships from $1,000 to $10,000. Besides the annual costs, there are initiation fees, food and beverage costs, and miscellaneous amenity charges. You can join a private or semi-private club, pay for one of five possible memberships, and get the optimal price for your wants and possibilities.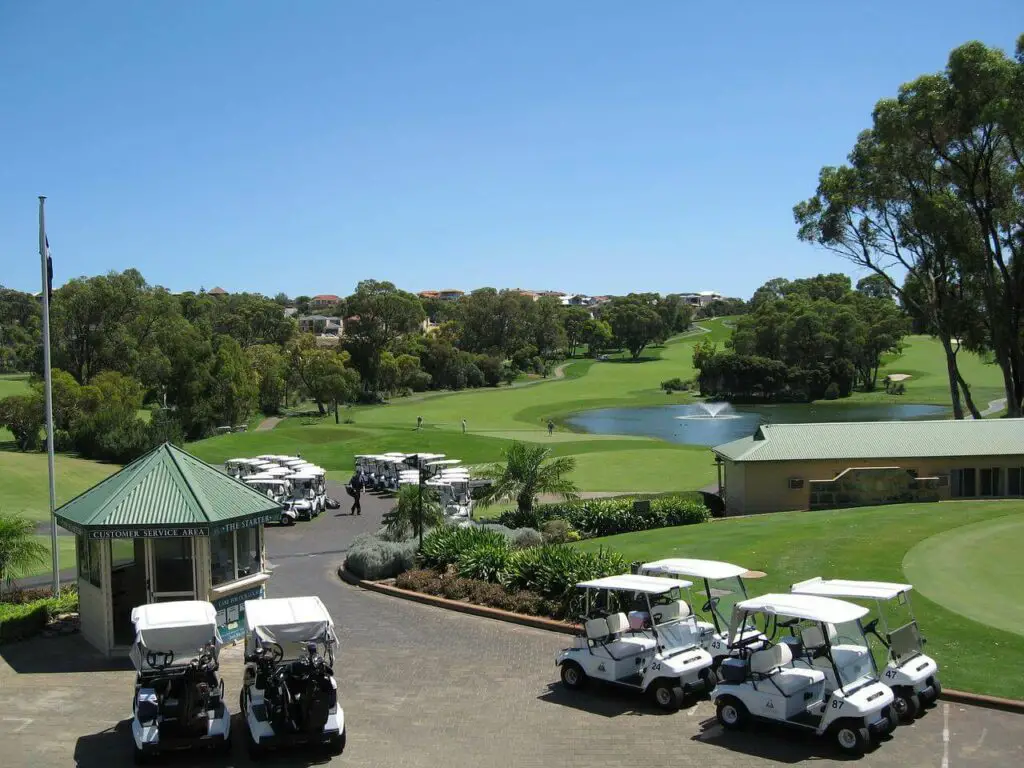 Here, you'll also learn about the five best American lodges you could apply to. Maybe one will get your attention and boost you to start golfing.
So, You Want to Be a Member of a Golf Club – Here's What to Know
If you've fallen in love with golf and want to be a member of an elite group of folks working on improving their handicap away from home on the weekends, you must learn some things about golfing associations before joining.
Who Can Join a Golf Club?
Families and individuals can join most golfing and country clubs (also known as lodges), but most people already know that their members' age ranges from 50 to 65. A recent study shows that the average members' age in the US is 54, which could discourage younger crowds from applying.
Most places like this don't mind the age range of their members, as long as they pay, but some associations actively work on becoming more appealing to younger folk, especially those between the ages of 30 and 40.
For example, some golfing associations use the following system to rank members:
Junior members – aged 21 to 34 (they pay lower initiation and annual fees),
Full members – ages 40 and up (paying full admission costs),
Transitional members – aged 35 to 39 (they pay similar prices as juniors).
If you see special memberships categories, don't rejoice too much. This mainly applies to clergy, founders, and investors. You likely won't fall under this category, but good on you if you aim for it.
The Types of Golfing Clubs You Can Apply to
Did you know there's a small difference between a golf and a country club? They are typically synonymous, but not in every case. Golfing associations focus primarily on the sport and have courses and practice facilities.
Lodges are more amenity-oriented than golfing associations, offering memberships to those that like to live the high life. They're perfect for a weekend away from home, where members enjoy spa treatments, brunches, lunches, and drinks and access various sports courses.
If you think an exclusive lodge is more expensive than a golfing course association, you're right. More amenities imply higher costs, but the prices of memberships alone aren't naive, either.
Besides these two options, you can also choose between private (or exclusive) and semi-private lodges. Exclusive, members-only lodges are generally harder to get into since they often require potential joiners to invest loads of money into their organization.
The Kinds of Memberships Most Clubs Offer
Exclusive or not, most lodges offer five kinds of memberships. They are:
Family – giving access to the facilities in full to the entire family. Whether or not you pay an additional fee for each family member depends mostly on the lodge, and their dues.
Individual – an individual member gets full access to most, if not all, facilities. Some age-related discounts may apply, while the organization can ask for additional payments when entering pool facilities.
Social – perfect for those who prefer to work on their social rather than golfing skills. A social member gets full access to facilities, the shop, the restaurant, you name it, but their access to each course on site is limited to once or twice per month.
Out-of-state – a special membership option for non-residents of the club's home state. If an individual or family lives far away from the facilities, they get a special price.
Corporate –  similarly to family memberships, the corporate ones offer individual initiation costs and dues. This also gives access to meeting rooms and business facilities for free.
How Much Is a Golf Club Membership?
Now, down to the real facts – the costs. This may not come as a surprise, but the fees for golfing association memberships are steep. In most lodges, initiation costs (one-time fee) start at $2,000, while some are known to request up to $500,000, like the prestigious Augusta National in Georgia.
Until you reach Augusta National, try looking into memberships at some more inclusive clubs, where your initiation fee mainly starts at $1,000. Say you're 30 and wish to apply individually. You'd belong in the Juniors age group (flattering, huh?) and pay half of what those with full memberships pay.
Not all is so grim and expensive, after all. There are excellent examples of affordable golfing organizations with clubhouses, courses, and amenities. The Golf Club of Dallas in Dallas, TX, has unlimited golfing, preferred tee times, and an Olympic swimming pool included in their monthly fee. Full members can join for $300 monthly, while juniors, ladies, and non-residents are charged $200.
A lot depends on your location, preferences, and how much you're willing to give monthly. Many organizations will reduce their costs if you pay for a full year in advance, like the Bear Creek Golf Club, where you pay $99 per month or $65 per month if you pay an annual fee.
Lodges usually ask potential joiners about their preferred activities and reasons for joining before offering them memberships and discussing costs.
Membership Fees Cover Lots of Other Services
As you may have noticed, lodges have initiation and annual fees. This is standard practice, but it's not the full cost. There are other mandatory costs, and they either go into the annual fee or are paid separately in monthly installments.
Here's a chart of fees in most exclusive and semi-exclusive clubs.
Type of fee
Private
Semi-private
Frequency
Initiation
$2,000 – $100,000
$1,000 – $25,000
One-time
Annual
$3,000 – $10,000
$1,000 – $5,000
Once a year
Food & Beverage
$50 – $150
Typically not required
Monthly
Miscellaneous (locker rental, storage, and alike)
$20 – $50
If applicable: $50 – $100
– Monthly (exclusive)
– Annually (semi-exclusive)
Private vs Semi-Private Clubs – Does It Matter Where You Play?
Going to a fully exclusive lodge depends mainly on your financial abilities. It'd be tough to imagine anyone other than the nation's 1% joining elite lodges with a one-time admittance of half a million dollars.
We live in nicer times now, and golfing is much more accessible than before, despite the older generations still enjoying it the most. For beginners and those who prefer more affordable and flexible memberships, semi-exclusive lodges are perfect.
If you want more than going to play 18-hole courses only on Sundays, be ready to lose a heftier sum after swiping your card at a lodge. The good parts about being a member of such a facility are the amenities, such as fabulous lunches, a spa, a pool, and an occasional tennis match.
Since your needs determine the type of membership and association you'll join, it's important to search for a place that has it all. The US is a big country and counts approximately 9,500 different golfing associations with privately owned courses.
The 5 Best Privately Owned Clubs in the US
According to several sources, the nation's best exclusive lodges are Pine Valley in New Jersey, Augusta National in Georgia, and Bear's Club in Florida. You can read about them anywhere, but don't count on getting in. They're elite and exclusive, making them expensive and hard to get into. New people join Pine Valley only via invites.
Instead, here are five great, accessible, privately owned US golfing lodges:
Manhattan Woods, New York – 35 minutes away from midtown Manhattan is this lovely 18-hole course with a clubhouse and exclusive amenities. It overlooks the NYC skyline and is one of the top 100 courses to play on, according to Golf Digest.
The Outlaw, New Mexico – this lodge has stunning views and is located at the foothills of Alto mountains. You can even move within the Outlaw territory in Lincoln Hills and live and play as a full-blown member.
Montclair, Vermont – they have a program called "Member for a day" in which they introduce new and potential players to all the amenities they have. They also have wedding venues and events nearly every day.
Black Bull, Montana – Montana is a state of stunning scenery, and this course in the middle of a historic ranch shows that the best. You can also buy real estate on Black Bull land.
Klinger Lake, Michigan – this lodge has a challenging 18-hole course that's ideal for anyone looking to practice their skills and enjoy socializing later.
It's Easy to Find a Suitable Course and Lodge for Your Needs
Golfing and country clubs are known for being pricey and exclusive, and golfing is generally an expensive hobby. Some of these associations still overprice their services and demand a lot, but we can see more inclusive memberships being offered across the country.
As long as you have good reasons for joining and some money saved up to invest in a new hobby, you'll be able to find a suitable lodge and membership for yourself and your family and friends.