Seminole Golf Club Membership
If you are a golf lover, playing at one of the most prestigious and wee-known golf courses in Florida is no less than a paradise. I mean, wouldn't you love the lush green view at the Seminole Golf Club? But can you play without a membership?
Only members can play at the Seminole Golf Club. The initiation fee to become a member is rumored to be about $100,000. This hefty charge is to maintain the exclusivity and eliteness of the course.
Here is a detailed blog post about the prices at Seminole Golf Club.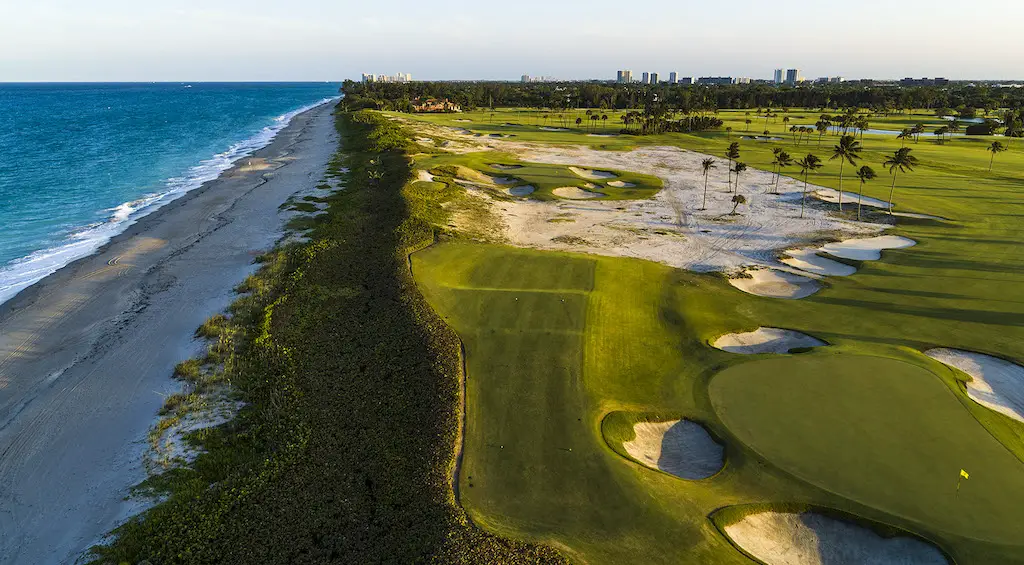 In the rest of the blog, I'm here to tell you exactly how you can gain membership to one of the most beautiful Golf Courses. Because, well, there's no harm in wanting to be part of the selected few!
How To Get a Membership at Seminole Golf Club?
Are you excited to be let in on a little secret?
Membership at Seminole is by invitation ONLY. Read that again! And the process is typically initiated by a current member of the club.
But if you are still vying for a spot, there's hope!
There are a few steps you can take if you are interested in becoming a member:
Know someone who is a member: Having an inside man always helps. Membership at Seminole is by invitation only. And the best way to become a member is to know someone who is already a member. They can nominate you for membership and guide you through the application process.
But what happens when you have no contacts on the inside? No worries! I have a solution for that as well.
Visit the club: If you don't know anyone who is a member, you may be able to visit the club and get to know some of the members. Mix and mingle and make a few friends. But keep in mind that the club is private and not open to the general public. So you'll need to be invited or have a sponsor arrange a visit.
The sweet moment when you do have someone who extends a warm invitation, you will have to:
Submit an application: If you have a connection to the club or have been invited to apply, you can submit an application for membership. The application includes personal and professional information, as well as references from current members.
Finally, all you can do is sit and wait. After submitting your application, the membership committee will review it and decide. If you are approved for membership, you'll need to pay the initiation fee and any other dues or fees associated with membership.
What Are the Eligibility Criteria at Seminole Golf Club?
This highly selective club is bound to have eligibility criteria that you will have to meet in order to get your membership approved. The waitlists are long but totally worth it!
The eligibility criteria for membership at Seminole Golf Club are not publicly disclosed. But me being me, I have made a few deductions.
As an exclusive private club, membership is generally limited to individuals who are accomplished in their fields. They have significant personal or business connections. And most importantly. A reputation for integrity and good character.
The membership committee carefully evaluates all candidates. They see whether they align with the club's values and their potential to contribute to the club's community.
So networking is key if you are interested in becoming a member. It will also help to show off your achievements and credentials a little. After all, everyone wants a winner on their side!
What Are the Benefits of a Membership at Seminole Golf Club?
The beach-facing view, the lush green grass, and the exclusivity already sound like great pros. But if you'd like to know more, then here are the few benefits you can expect from the Seminole Golf Course.
1. Access to a World-Class Golf Course
Seminole Golf Club is one of the most prestigious golf courses in the world. It is renowned for its challenging layout and beautiful scenery. As a member, you'll have exclusive access to the course, which is maintained to the highest standards. Talk about living it large!
2. Privileged Access to Other Private Clubs
The club has reciprocal arrangements with many other private clubs worldwide. The benefit? Its members can access these clubs and their facilities when they travel. So you not only get an in-house but a global experience even!
3. Social Events and Activities
Seminole Golf Club hosts a range of social events and activities throughout the year, including golf tournaments, dinners, parties, and other gatherings. You will find yourself mixing with people who can provide an opening to a myriad of opportunities.
Here you can network, socialize, and build relationships with other members. Who said business couldn't also be pleasure?
4. High-Quality Amenities
The club features world-class amenities, including a clubhouse, locker rooms, dining facilities, and other services, all designed to provide its members with a luxurious and comfortable experience. It's like living amongst royalty with the way they maintain the club.
5. Exceptional Service
This one goes without saying, Seminole Golf Club is known for its exceptional service, and the staff is dedicated to providing members with personalized and attentive service at all times. They are courteous, polite, and ready to assist you in whatever you may need.
Final Thoughts
Here are a few quick tips. It's important to note that the club has a strict dress code and rules for behavior on the course, so be sure to familiarize yourself with these before applying. 
Oops! Another thing. Only 300 people can join. And they get full access to the club's renowned golf course, tennis courts, swimming pool, and dining options.
But don't hesitate! Everyone deserves to be pampered.
So if you love the lush & luxurious and chase behind the finer things in life, then a membership at the Seminole Golf course will be the perfect fit for you.
Happy Golfing!