Have you taken up golf recently and are starting to love it absolutely? Maybe you want to dive deeper into the world of golf but are thinking of speaking to a professional. Well, then, you may have come across the term 'Golf Pro.'
In the U.S, a pro golfer is usually part of The Professional Golfers' Association (PGA) of America. Approximately 27,000 golf professionals are PGA members, according to the PGA website. Many of these professionals work in golf businesses or management sectors, while others fall under the umbrella term "golf pro."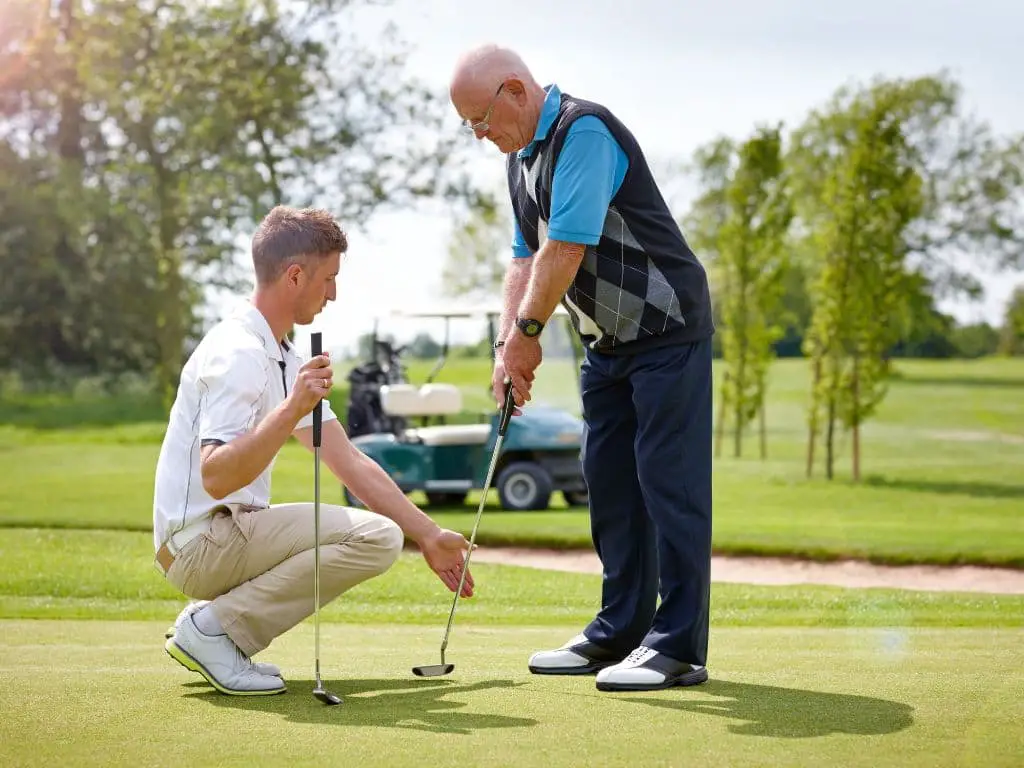 In this article, I will tell you exactly how to spot a golf pro so that you don't fall prey to impersonators.
Who Is a Golf Pro?
Those who pursue golf as a profession are referred to as "professional golfers." Golf professionals are talented and passionate about the game. They could be a golf club manager, a licensed golf coach, or a touring pro who makes a living by playing the game.
So if you earn money and list your career as a golfer, you are a golfer pro. A golf pro has a different definition than a professional golfer, who receives compensation for their abilities and reputation.
Although it can also refer to a golfer, this phrase is mostly used to describe individuals who instruct or coach the game of golf.
The primary categories into which golf professionals can be divided have their own specifications, obligations, and levels of technical expertise.
For you to understand better, they are divided into these three categories:
Touring professional
Club Professional
Instructor
Who Is a Touring Professional?
These are the ones you see everywhere, the most famous and talented of them all. Be it in magazines, on TV, or signing a million-dollar brand collaboration.
Professional golfers who compete in major golf events on television are known as touring professionals since they frequently travel abroad. They engage in international competitions and receive funding from sponsors.
Touring professionals become well-known and appear in advertisements for their sponsors in magazines and on television.
You can be called a touring professional only if you are the absolute finest and most gifted golfer of the lot. You must devote years of your life to the game to reach this level.
A few well-known personalities you may have heard of are:
Jack Niklaus
Tiger Woods
Arnold Palmer
Bobby Jones
Gary Player
Tom Watson
Tony Finau
Cheyenne Erin Knight
My question is: Are you going to be the next name on the list?
Who Is a Club Professional?
Next, we have the Club Professionals. They are the ones actually running the show on the golf courses. The day-to-day operations of the club are overseen by the club professionals.
They might be responsible for managerial responsibilities like:
Managing the workforce
Advertising
inventory control
Accounting
Besides maintaining the course, they sometimes have to advise other golfers on what equipment to use.
The golf club pros are often seen as the "face" of the business. These golf professionals are also entrepreneurs who serve as the public face of their companies.
Club professionals arrange charity events and tournaments to raise money for local communities. Especially in the case of resort owners. They also manage press releases and take part in public events or fundraisers.
Basically, they are the backbone of the industry as they handle above and beyond the sport.
Who Is an Instructor?
Golf teachers might work for a club or resort as employees or independent contractors. These golf professionals have a thorough knowledge of the sport and the technical abilities necessary to play the game.
They often have great success. But is that all they have? Well, no! They also have the skills necessary to explain techniques to their students. They are the guiding guru to the other golf players.
To help students improve their game, the golf instructor can read their personalities and offer advice when they need it most.
Additionally, golf instructors who work at golf resorts or clubs may also manage the club. This could involve anything from managing the on-site golf shop to supervising the assistant instructors.
Remember: A well-rounded instructor is always a great instructor!
What Are the Skills Required to Become a Golf Pro?
Now that you know what is a golf pro and who all fall under that category. Would you like to know what all skills are required to become one?
Becoming a professional golfer requires a combination of physical skills, mental skills, and a strong work ethic. Here are some of the key skills you will need to become a golf pro:
1. Excellent Golf Skills
This is the most obvious requirement, isn't it?
It includes a combination of physical abilities like hand-eye coordination, strength, and balance. As a pro golfer, you should also have a good understanding of the technical aspects of the game. These include swing mechanics, putting, and course management.
2. Mental Toughness
It's no surprise that golf is a mentally challenging sport. And a pro golfer needs to have the mental fortitude to overcome pressure, disappointments, and distractions. This requires the ability for you to stay focused and bounce back from setbacks.
3. Communication and Interpersonal Skills
As a pro golfer, you will also need to have excellent communication and interpersonal skills. Why? To interact with sponsors, fans, media, and other players. This includes the ability to articulate their thoughts clearly and to develop good relationships with people.
4. Business and Marketing Skills
You will also need to manage your career as a business and market yourself effectively to attract sponsors and endorsements. This will require you to know about marketing, branding, and financial management.
5. Passion and Dedication
Becoming a pro golfer requires significant time, effort, and dedication. It is a long-term goal requiring a passion for the game and a willingness to work hard and make sacrifices to succeed.
So do you think you have got it in you to go PRO?
Final Thoughts
Now you know all about becoming a golf pro, you can look into it as a viable career option. Fun fact; there is a lot of money involved. After all, they call golf the 'Rich Man's Sport.'
But don't limit your dreams. Pick up your golf club and take a swing! You never know; we may have the ultimate golf pro waiting in line, just about to realize their true potential!