Do Tour Bags Fit on Golf Carts?
Some golfers are lucky enough to have staff to carry their bags and equipment. Professionals need caddies because they often have tour bags, which are typically bigger than others. But does a caddy always have to carry them? Do tour bags fit on golf carts? Learn more about that here.
Tour bags don't always fit on golf carts because most are too narrow for them. The best way to carry these bags is by using shoulder straps or doing it like the pros – paying for a caddy. Some golfers have friends helping them with this stuff, too, but you probably need some really good friends to carry your clubs.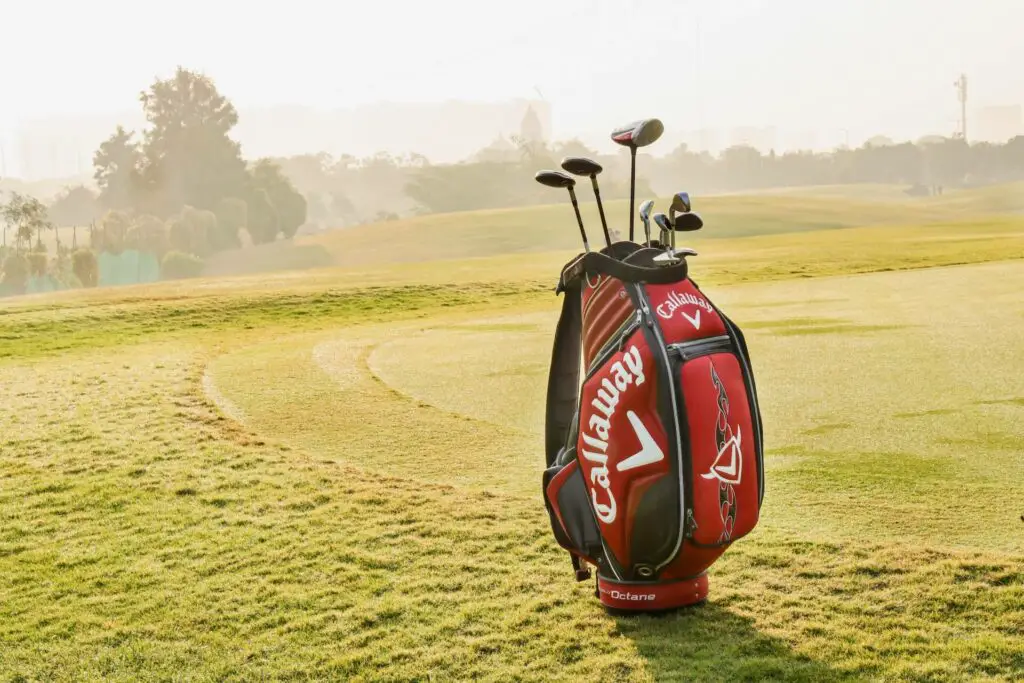 Do Tour Bags Fit on Golf Carts?
Unfortunately, tour bags don't fit on golf carts because they're too big for the cart beds. Regular golf bags are for push carts, so you'll likely need a sturdy trolley to fit bigger ones.
Since tour bags are primarily professional tools, we know the one thing every pro has – a caddy. They might be the best solution for moving these up and down the fairway, but that could also be considered hard physical labor.
Different types of irons can be pretty heavy, not to mention sand wedges. Add some extra equipment, and you have a 35-pound bundle of costly equipment that needs to be lugged around for hours. You'll need the right solution anyway.
What are Tour Bags?
Tour (also called staff) bags are the Cadillacs of golf bags. They're large equipment holders with compartments and pockets for clubs and other stuff. Professionals use them during an important tournament, as they can't always carry everything alone or pace back and forth to the golf cart for a new iron.
The best tour bags are by Titleist, then TaylorMade, Ping, and Mizuno.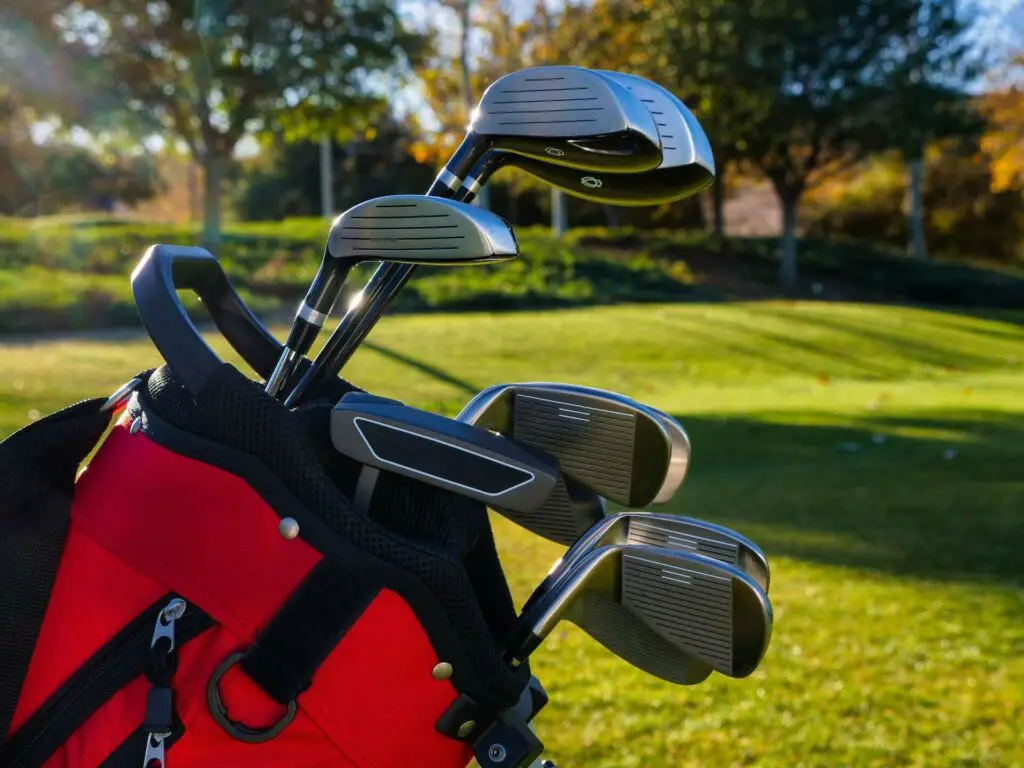 How to Set a Staff Bag on a Golf Cart Safely
If you want to safely set a staff bag on a golf cart bed and avoid using the legs or a trolley, here's how to do it.
Learn which golf cart to rent. If you have a large tour bag, maybe a cart meant for two or more people will have enough room for it in the back,
Once you've rented the cart, pick the bag up from the ground and put it on the cart bed or trunk,
Lean the bag onto the back part of the bed, diagonally, if possible; if not, make it stand as straight up as possible,
Use the straps attached to the cart's back part and strap the bag in tightly.
If these instructions are unclear, here's a quick video on how to put a golf bag on a cart safely.
How to Carry Staff Bags if They Can't Fit on a Golf Cart
Most staff bags are carried by a person, as they're often too bulky and oversized to fit on carts. However, even holding them can be taught and learned because it must be done safely.
Tour bags usually have leg stands, which make picking out clubs effortless. Take out the leg stands and lean the bag onto them. Grab the shoulder straps and pick the bag up by one side.
You can carry it on one shoulder, although that's a lot of pressure. That's why it's best to pick up the other strap and put the bag on both shoulders. This will lower fatigue levels significantly.
Find and Pay for a Reliable Caddy
If you think you can't carry a tour bag safely, caddies are trained and know how to do it without getting hurt. You might want to hire one for the day for professional assistance.
A caddy will also likely show you the possibilities of setting and strapping the bag to a golf cart, which you can remember for later. If you work with a lot of equipment, caddies' help is often precious and worth the money.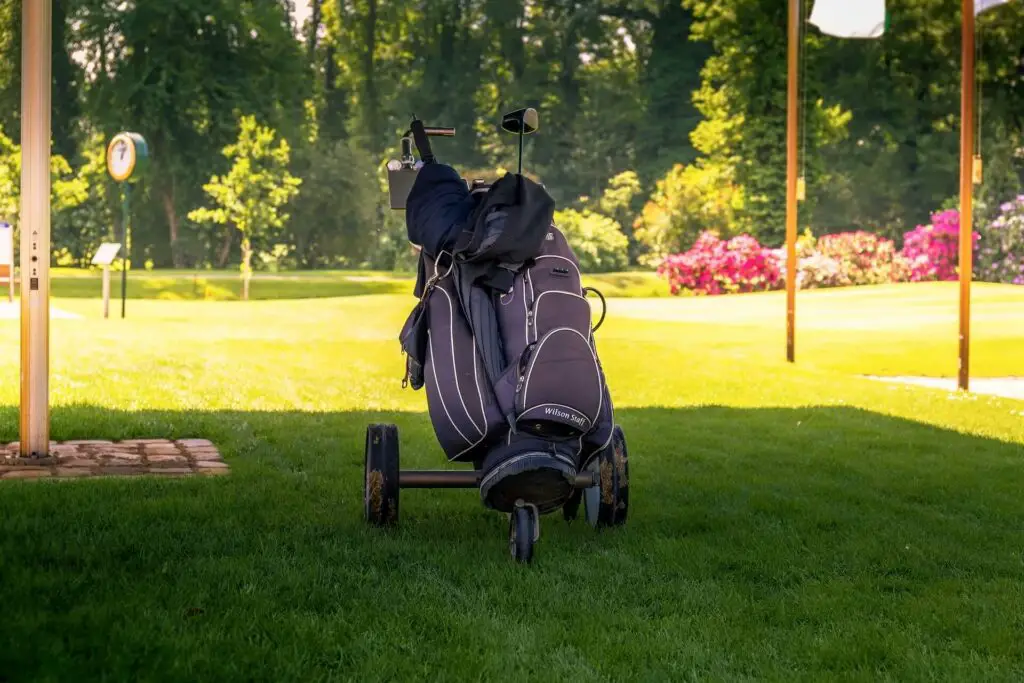 You Can Buy Mounted Bag Holders for an Easier Gameplay
Mounted bag holders are like baskets for golf bags that you can attach to the golf cart and drive around. They're safe and fantastic solutions for such difficult situations and are pretty easy to install and use.
Weigh the pros and cons of investing in such a piece of equipment. You have other options for carrying your bag, but firstly, try packing it on a golf cart to see if it'll work because it might.