Mitsubishi Diamana S+ 70 Titleist 816 H1 Review
The combination of Diamana S+ shafts made by Mitsubishi Chemical America Inc. and Titleist 816 H1 hybrid make perfect golf clubs that are known to every serious golf enthusiast. Mitsubishi Chemical America Inc is a leading manufacturer of golf shafts.
With over 30 years of experience, they have made thousands of shafts many professional golf players use. In early 2012 they launched the Diamana S plus series of shafts, which was between the second and third generation of the Diamana line.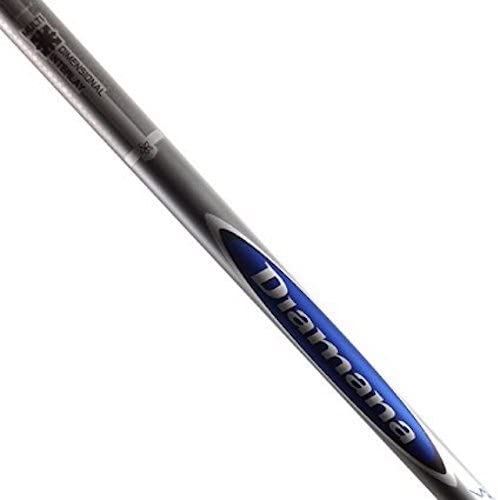 The S plus shafts combine materials from the original Diamana series and manufacturing techniques from 2nd generation. Currently, Mitsubishi has a D plus limited edition, but S plus series can still be purchased through their website. Mitsubishi Chemical America Inc has authorized online dealers, a group of custom clubmakers, and partners that sell their equipment. If you are interested in purchasing one, all you have to do is to type in your location, and the nearest producers will appear on the map.
These shafts were most popular with Titleist 816 h1 hybrids made by Titleist. Titleist was founded in 1932, and it is one of the most popular golf equipment producers. They have become eminent in golf circles as the best producer of golf balls, clubs, and other equipment. In 2015 Titleist launched two new hybrids, 816 H1 and H2, that combine an active recoil channel (ARC) and ultra-thin face that produces high speed and low spin for long distances.
Both products are great separately and together, and you can purchase them on eBay and in golf shops. If you are interested in finding out more about Mitsubishi Diamana s+ 70 and Titleist 816 H1, then this is an excellent review for you.
Is Mitsubishi Diamana S+ 70 Titleist 816 H1 For You? 
Diamana S+ shaft is among the most famous out there. Mitsubishi has changed the name of its product, and the previously known Blue Board is now called S plus. These shafts are excellent for drivers and fairways, whether you take wood or hybrid. These shafts are smooth, soft, and stable. They feel lighter through the swing, with a higher balance point than D series shafts.
The balance point in S+ has been raised to match the shaft's versatile profile. These shafts are made with Mitsubishi's M.D.I. Technology and progressive torque in addition to an adaptive balance point and Tough-QURE resin system. Diamana S plus 70 or 80 are excellent for drivers but can be used for fairways as well.
Diamana S plus and Titleist 816 H1 are hybrid clubs every golfer should have in their bags. The 816 H1 with active recoil channel technology allows clubs to flex at impact, which then generates high speed and low spin, excellent for long shots. On the other hand, an ultra tin face delivers speed, while MOI design gives high speed on off-center hits.
These clubs are great for players with all abilities, but in essence, they were designed for a higher launching and softer landing.
What We Like About Mitsubishi Diamana S+ 70 Titleist 816 H1?
The thing that we like the most about Mitsubishi Diamana S+ 70 Titleist 816 H1 is their stability and precision for long shots, fairways, and wood. The Diamana shafts with a higher balance center combined with a High-MOI design of 916 H1 with a low center of gravity provide incredible precision for golfers of every caliber. The 816 delivers improved long game yardage gapping that allows golfers to perform better and overcome the gap between the longest iron and the fairway wood, with loft choices that come from 19 to 27 degrees.
The other thing we like about these clubs is their price. For clubs of this caliber, the price is pretty affordable, around $120 on online shops such as SidelineSwap or eBay. And even though these clubs are used, their performance will not disappoint.
On the other hand, if you wish to buy new shafts, then you can purchase some of the new Diamana shafts or the new hybrid series offered by Titleist. One thing is for sure – these clubs are some of the best out there, and the 816 H1 hybrid is probably the best one, suitable even for golfers of lower caliber. And with the Mitsubishi Diamana S plus shaft, you will most certainly get better precision and stability that will bring your game to another level.
What We Don't Like About  Mitsubishi Diamana S+ 70 Titleist 816 H1
Even though 816 H1 has precision for long shots, it still doesn't produce high enough launches, and the forgiveness maybe seems smaller to amateur players. Still, even with this in mind, we do believe that the 816H1 hybrid is suitable for many players, even though it was created for a higher launching and soft landing. But with the SureFit sleeve, you can increase or lower the loft  to fit your game and make conditions that you prefer on the given day. Even though this hybrid is not the longest one, that is not the main goal. The purpose of this hybrid is to have clubs that can do both long shots, fairway, and wood with ease when needed. 
Pros and cons
| | |
| --- | --- |
| Pros | Cons |
| Excellent for long, wood, and fairway | Lack of alignment aid on the crown |
| Active recoil channel technology make clubs flexible | Wood shape |
| Produce high speed and low spin | Heel hits can produce unpredictable outcomes |
| Soft landing | Forgiveness is small |
What's Included?
Even though the only available clubs are used ones, once you order them, you will get the best shaft and hybrid there is. Here is what is included if you order one from Swingpoint:
Shaft: Diamana S+ 70
Titleist 816 H1 Hybrid
Headcover: TS Included
Grip: Golf Pride Tour Velvet Midsize 360
Technical Specifications
| | |
| --- | --- |
| Brand | Titleist |
| Shaft Model | DIAMANA S+ |
| Golf Club Type | Hybrid |
| Handedness | Right-handed |
| Shaft Material | Graphite |
| Flex |  Regular |
| Club Length | 40,5″,40″, 39,5″, 39″, 38,5″ |
| Loft | 19, 21, 23, 25, 27 |
Diamana S+PLUS 70 specifications 
| | |
| --- | --- |
| Flex | R |
| Length (in) | 46.0 |
| Weight (g) | 69 |
| Tip O.D. (in) | 0.335 |
| Tip Length (in) | 3.0 |
| Butt O.D. (in) | 0.604 |
| Torque (degrees) | 4.6 |
| Kick Pt. | MID |
Features
The Diamana S+ Series features a higher balance point
It is one of the most versatile mid-launch shafts
MDI Technology or Multi-Dimensional Interlay creates stable and stiff shafts
Tough-QURE Resin System uses high-modulus fiber in the second layer that strengthens the tip section giving it a more stable feel at impact.
Progressive torque system produces the lowest torque flex.
The 816 H1 Titleist hybrid has excellent length for stability
Playability is extreme. It can move shots left or right, up or down
Final Breakdown
9
If you are looking for a hybrid that will improve your performance when obtaining height with your long irons, then look no more because the Titleist 816 H1 hybrid combined with the best shaft Diamana S plus 70 will help you achieve that and much more.
These clubs are simply the ones every golfer needs to have in their bags. The design of 816 H1 will give you high launches with a soft landing, while Diamana shifts will give you precision and better performance for long shots. And even though forgiveness is small, it is still one of the best hybrids out there you can use. However, the stability and precision of this club is something we must think about, and the fact that H1 comes in different loft choices of 19 to 27 degrees, you can overcome gaps many golfers have between the longest iron and the fairway wood.
We gave 9 out of the ten score only because the 816 H1 Hybrid doesn't produce enough high launches, which they should, considering their design and size. On the other hand, a low center of gravity provides incredible precision.
No matter if you are looking for new clubs or not, the Titleist 816 H1 hybrids and extraordinary Mitsubishi Diamana shafts are something every true golf enthusiast must test. Take these clubs for a ride and try them for yourself. And once you get a hold of this graphite masterpiece, we are certain they will be on the grass with you every time you wish to perform a stable and precise long shot or fairway. And even though this might not be the longest of the shots, it will be speedy with a soft landing. 
Last update on 2022-10-01 / Affiliate links / Images from Amazon Product Advertising API