Titleist DCI Black Oversize + Irons Review
A well-known American brand Titleist (established in 1932) focuses on the design of golf clubs and balls. Their golf equipment has been improving in quality over the years since they want to create clubs and balls that would fit any golfer's game.
Titleist DCI oversize irons were first introduced in 1995 with models such as Lady, Senior, and Oversize Plus irons. All DCI irons are made from 431 stainless steel. First oversize + irons came out in the gold version and then the black version.
The Titleist DCI black oversize + irons have better improvement features than the original DCI Black irons. They are equipped with a larger club head and a deep cavity back. Also, DCI black oversize + irons add the advantage of perimeter weighing to reduce the chance of twisting on off-center hits and provide the player with additional forgiveness.
We've tested the Titleist DCI black oversize + irons out and succeeded at hitting the ball with more accuracy. If you want to find out if this golf club is a great upgrade to your bag, read our review.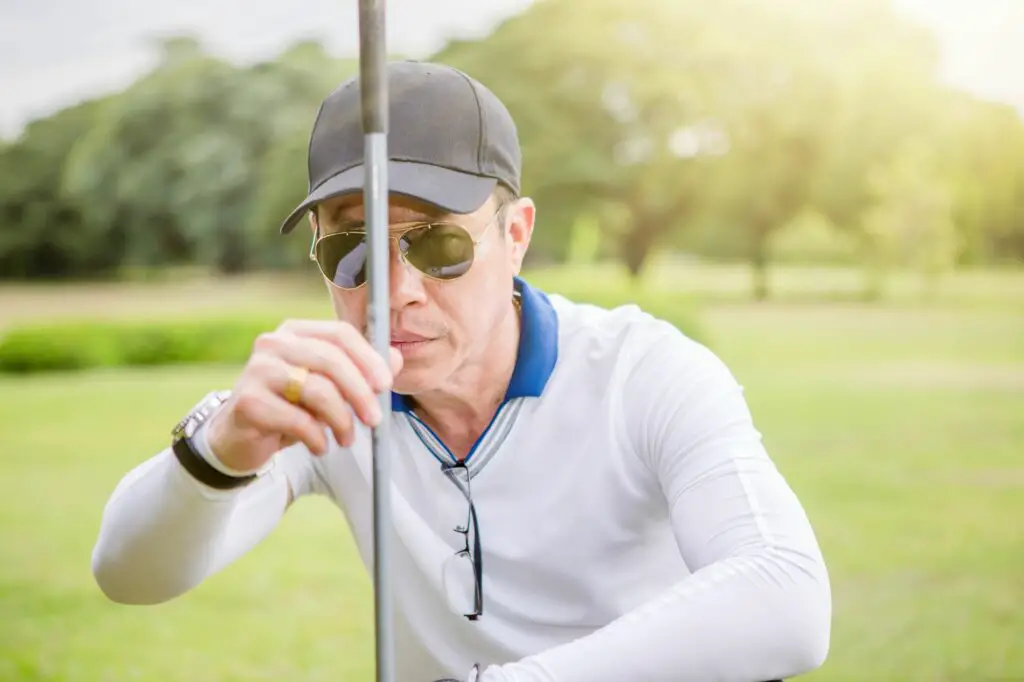 Is Titleist DCI Black Oversize + Iron For You?
The Titleist DCI Black Oversize + Irons have stood the test of time. They are an outstanding addition to the club collection for professional players who want a moderate oversize design. With a good amount of offset and good workability, you can easily hit the ball. They can also be a backup for when you need more forgiveness.
The oversize heads and low center of gravity of these clubs can help you have more distance control. The center of gravity is specifically placed in each iron to transfer the most energy from the iron to the ball. They are more durable and heavier because of the steel shafts. The player will also benefit from the progressive offset throughout the set.
We recommend this model for any advanced player who wants a forgiving set that is also inexpensive. Even though they are an older model, the irons are still available as a custom order. However, one can find used clubs that have very few traces of wear and tear for a reasonable price.
What We Like About Titleist DCI Black Oversize + Irons
These clubs will provide you with forgiveness and accuracy. They don't have any insignificant decorations or features to dampen the sound when playing. We were surprised by the feel and consistency the clubs provide. While playing with them, you can definitely increase accuracy and build confidence in your swings.
With a large face and a deep cavity, golfers could improve their game to a degree. The stepped steel shaft is also an advantage of these irons since they are durable. You can play with them for a long time.
These classic clubs are great for someone who shoots in the 80"s and the 90"s. It's easy to precisely hit the ball, and you can even cover up a bad swing. Even though they are longer and oversized, the workability is solid.
Since they were designed and introduced in 1995, you will be able to purchase them for a low price. Getting reliable and high-quality set irons for as much as $100 is definitely a positive side of this classic model.
What We Don't Like About Titleist DCI Black Oversize + Irons
This classic model was made during the era when golf clubs were not equipped with any addition to reduce the clacky sound while hitting the ball. Since the design is plain and predictable, there isn't anything impressive about these irons from the collector's standpoint. We assess that they aren't visually exciting.
The Titleist brand with this model focused primarily on creating a game-improvement iron that would increase forgiveness and overall performance. However, they neglected the overall look making it a mundane iron that doesn't stand out from the rest.
Already used DCI oversized black clubs are easy to find and cheap to buy, but if you want to buy brand new or repair your old ones, it wouldn't be possible since they are no longer manufactured. The only option of getting new clubs is through custom order. It is safe to say that this model is useful as a backup iron when the golfer needs distance control.
Pros & Cons
| | |
| --- | --- |
| Pros | Cons |
| Easy to hit | Boring design |
| Great forgiveness | The model isn't produced anymore |
| Good distance control | It cannot be repaired |
| Steel shafts | It is suitable for more advanced golf players |
| Larger club head | You won't get the feeling like with a nickel plated club |
| Straight and accurate | |
What's Included?
Here is what you can expect from a Titleist DCI Black Oversize + Irons set:
Nine 38-inch long golf irons (length measured is 5-iron length),
Nine are numbered, and one is a pitching wedge,
The material is stainless steel,
Deep cavity back,
DCI and Titleist logo engraved in the cavity,
Stiff shaft flex,
Dynamic Gold Sensicore S300 shaft,
2- PW club type
And a bag.
Technical Specifications
| | | | | | | | | | | |
| --- | --- | --- | --- | --- | --- | --- | --- | --- | --- | --- |
| Irons | 1 Iron | 2 Iron | 3 Iron | 4 Iron | 5 Iron | 6 Iron | 7 Iron | 8 Iron | 9 Iron | PW |
| Length | 39.5" | 39.25" | 38.75" | 38.25" | 37.75" | 37.25" | 36.75" | 36.25" | 35.75" | 35.5" |
| Loft | 17° | 19° | 22° | 25° | 28° | 31° | 34.5° | 39° | 43° | 47° |
| Lie | 58° | 59° | 60° | 61° | 62° | 62.5° | 63° | 63.5° | 64° | 64° |
| Offset | .240" | .230" | .220" | .210" | .200" | .190" | .180" | .145" | .110" | .100" |
| Swinging Wt | D2 | D2 | D2 | D2 | D2 | D2 | D2 | D2 | D2 | D2 |
| Bounce | | | | | | | | | | 6° |
Features
Titleist DCI Black Oversize + irons are shaped more like a traditional blade irons,
Help the ball fly straighter,
They don't have a bulky feel of cavity backs,
Great grip quality,
Game-improvement irons,
Large forgiving head,
Good workability,
Perimeter weighted design
A set with 1-9 iron and a golf pitching wedge.
Final Breakdown
This model receives a 9 since it is an old model that is solely a game-improvement club. Golfers who want an old-school club designed like a traditional blade iron would benefit by purchasing and playing with the Titleist DCI Black Oversize + irons.
Even though the design isn't aesthetically pleasing, and the clubs don't catch the eye of collectors, they can definitely help any golfer improve their game and provide them with more forgiveness and accuracy.
Another important aspect that should be pointed out is the fact that this iron model is no longer produced and can be easily bought for a low price. Overall, this classic model shines the brightest when it's used as a backup club when the player needs more distance control and forgiveness.