What Is the Mass of a Golf Club?
Being a passionate golf player implies that you'll be on the move at some point, traveling to try out some new golf course. However, since you'll be bringing all your favorite golf clubs, it might prove to be useful to know what is the mass of a golf club.
What is the mass of a golf club? A single golf club weighs less than 1lbs on average, 0.73lbs to be more precise. A full set that contains 14 clubs will weigh 10.22lbs. However, keep in mind that each club weighs a bit differently, and drivers will each mostly weigh more than a 7 iron. On average, it's good to presume they all weigh around 1lbs.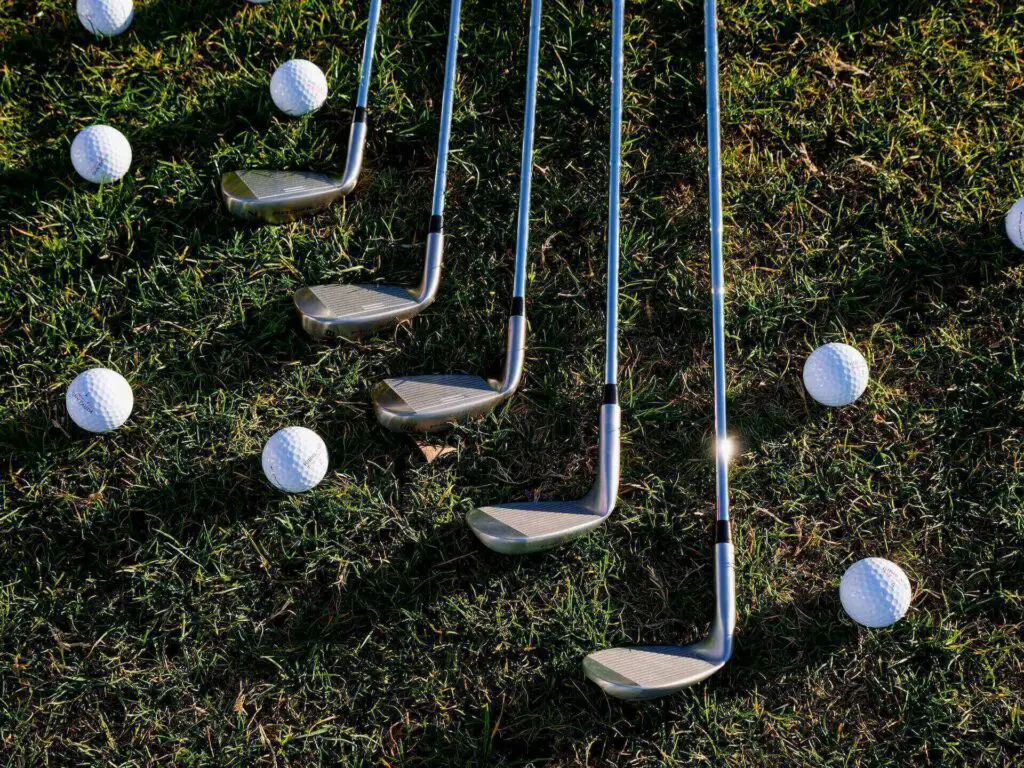 Although the average weight of each club is around 1lbs, you should understand that there are many factors that can affect the total weight of a golf bag.
What Is the Mass of a Golf Club?
Whether you want to travel and bring your golf set with you or ship the club set to a destination, knowing the total mass of your package will be important. It may also be crucial to know this information so that you can arrange your golf clubs in the bag properly. Although many of us passionate golf players will use three-wheel and four-wheel golf push carts to carry the weight, traveling will include some carrying.
On average, a professional golf club weighs 0.73 lbs, so it's safe to say that they are around 1 lb each. The exact weight of your clubs will vary based on a number of factors, such as the material of the shaft, the brand, and the type of the club. The driver weighs more than what a 7 iron weighs, and different irons will vary, too.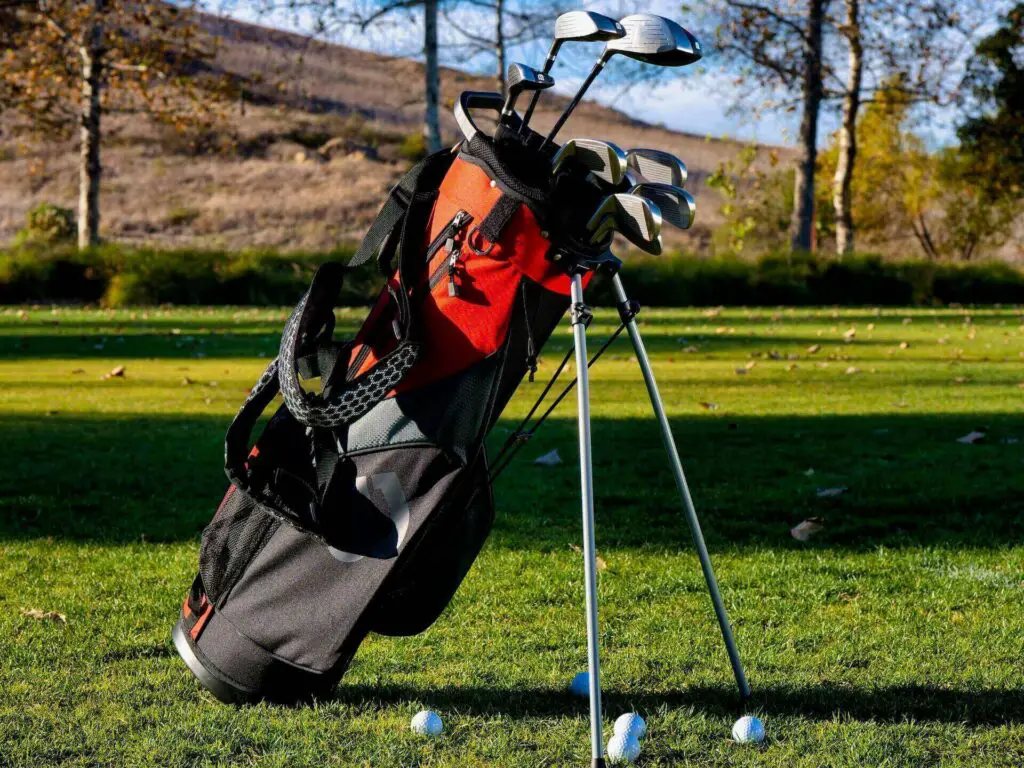 The Average Mass of Each Iron Will Affect the Overall Weight
There is no playing golf without irons, and a typical set will contain from 9 to 11 of them. Since each set will vary based on the player's preference, you should know how much each of the irons weighs.
| | | | |
| --- | --- | --- | --- |
| Club type | Weight in pounds | Weight in kilograms | Weight in grams |
| 3 Iron | 0.88 lbs | 0.40 kg | 402 g |
| 4 Iron | 0.89 lbs | 0.41 kg | 407 g |
| 5 Iron | 0.90 lbs | 0.41 kg | 409 g |
| 6 Iron | 0.92 lbs | 0.42 kg | 417 g |
| 7 Iron | 0.93 lbs | 0.42 kg | 422 g |
| 8 Iron | 0.94 lbs | 0.43 kg | 429 g |
| 9 Iron | 0.95 lbs | 0.43 kg | 434 g |
There Is a Significant Difference Between Graphite and Steel Shafts
If you've got your hands on the best golf bag out there, but don't want carrying to be the backbreaking work, you can try clubs with graphite made shafts. They make a club as light as possible and can even increase your distance by 5 yards. They are also somewhat easier to swing since they are lightweight, and each shot produces less vibration. However, keep in mind that you should expect up to 20% higher price for graphite than for steel.
The Mass of Your Set Can Depend on the Type and Brand
The total mass of the bag will depend not only on the different types of irons you are bringing with you but also on the brand. For instance, if you are interested in getting a Cobra 2018 F-Max One Length Golf Iron Set, the complete set will weigh around 10 lbs. However, if you are aiming to buy a Callaway Golf Men's Strata Complete Set as your default beginner set, here's what you can expect:
Driver is 0.74 lbs,
3-Wood is 0.87 lbs,
5H is 0.95 lbs,
6 Iron is 0.97 lbs,
7 Iron is 0.98 lbs,
8 Iron is 0.99 lbs,
9 Iron is 1.01 lbs,
PW is 1.02 lbs,
9 Iron is 1.01 lbs,
And the Putter is 1.17 lbs.
The total weight of this specific brand is 8.72 lbs.
Some Advice on Shipping a Club Set
If you are not taking your set with you but instead plan to ship it, there are a few steps you should take to secure them properly. First of all, you shouldn't ship your set in just any box – instead, use a specialized golf shipping box designed for this type of shipment. They have a double corrugated wall and are a safe way to ship your set.
Take each club and use bubble wrap to envelop the shaft tightly (so the wrap doesn't slip). The separate piece of bubble wrap will go around the head. The packaging tape should go on top to keep everything in place. Position them in the box, and fill the remaining space with packing peanuts so you can avoid any damage. The peanuts should also be spread on the bottom before you start placing the clubs. Add another layer on top of them before you close the lid and seal it with tape.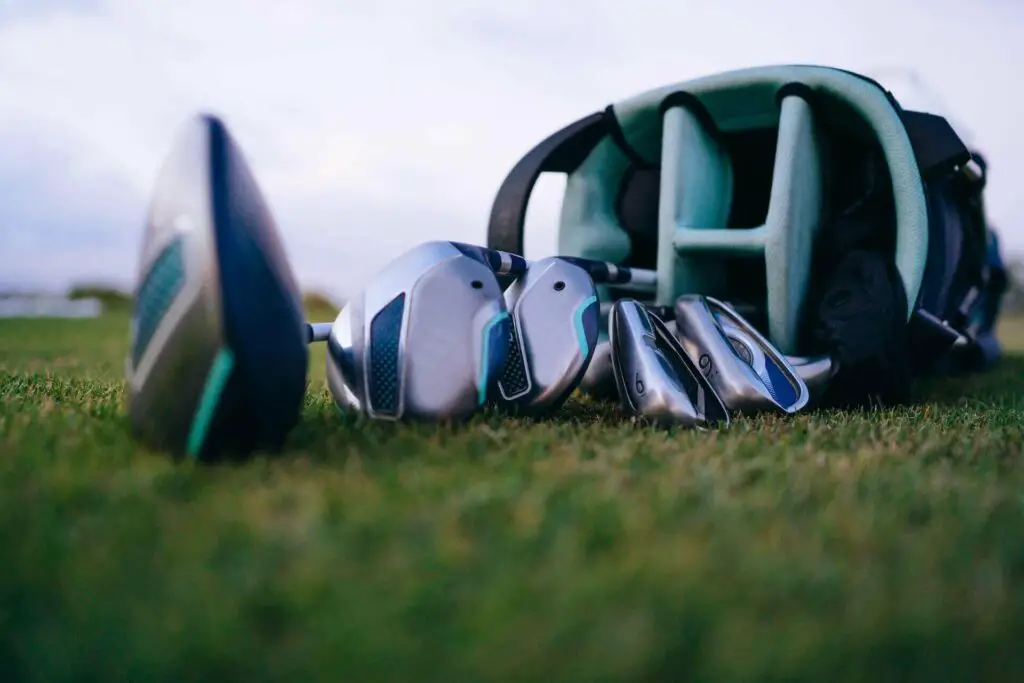 Carrying and Shipping Your Set Shouldn't Be Taken Lightly
When it comes to carrying your golf club set, there are a few things you need to consider. First and foremost, you need to make sure that you have a bag that is comfortable to carry if you plan to keep them with you in a bag. There are a variety of different golf bags on the market, so finding one that fits your needs should not be too difficult.
If you are going to be carrying your clubs for a long period of time, then you may want to consider getting a push cart. This will make it much easier to transport your set from one location to another.
In the end, shipping is also an issue if you are not aware of the weight of your set. Before you send the whole set in a package, you will need a high-quality specialized box properly prepared for shipping heavy items. Also, ensure the package is sealed tightly so there's no damage to your set during the shipping process.