Armour Golf Clubs Review – The Most Forgiving Golf Clubs on the Market
When golfing legend Tommy Armour lent his name to the Tommy Armour Silver Scot back in the '80s, it was obvious the line of clubs would enjoy enormous popularity with golfing hobbyists.
Over the years, the Tommy Armour line has changed owners (Dick's Sporting Goods currently owns the brand) and featured newer releases, including the Atomic and 845 series.
The Tommy Armour 845s share their name with the original 845 Silver Scot clubs, though similarities between the two products end there. Boasting high-quality engineering and a wallet-friendly price tag, the 2020 edition of the Tommy Armour 845 offers the best of both worlds while being accessible to beginner golfers.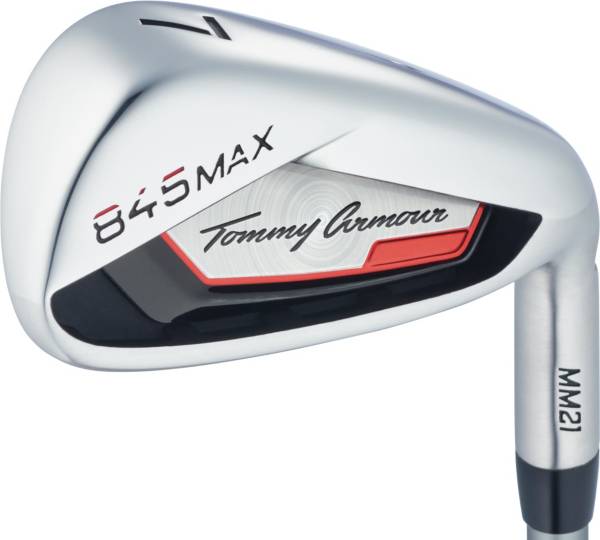 We reveal what makes these irons an awesome option for beginner golfers, so keep reading if you're curious about them.
Is the Tommy Armour 845 Golf Club for You?
Are you new to golf? If so, you might want to check out the Tommy Armour 845 Irons, one of the most affordable improvement irons on the market.
The Tommy Armour 845 golf club is designed for players with a moderate to fast swing speed. It has a stainless steel head that delivers good distance and accuracy, and it comes with a graphite shaft that provides a responsive feel. Overall, the Tommy Armour 845 is a good choice for players who are looking for a club that can provide distance and accuracy on off-center shots.
These clubs are an excellent way to build confidence at a low cost, as they're forged with excellent materials while being friendly to modest budgets. They compete with offerings produced by Cobra, Cleveland, and Tour Edge.
Most of the irons feature a massive club face that offers plenty of forgiveness so you can easily launch the ball off the ground.
Also, they're made from lightweight titanium and feature a smart back cavity in their design. The focus of these irons seems to be lowering the center of gravity, so the ball is sent flying on impact.
In addition, beginners will appreciate the consistent ball speeds you get whether you mishit or strike the center of the club face. The ball's launch angle is similar in either instance, which is a huge confidence booster if you're still getting into the swing of things (pun intended).
If you're on a budget, you can buy them used on Amazon.
Moreover, the club face's acoustics will provide all the feedback you need for better shots.
The 845 irons feature a hollow design that aims to provide greater face flex with a particular focus on impacts lower on the face.
What We Like About Armour Golf Clubs
Many features make the Tommy Armour 845 Irons an excellent purchase for beginner and veteran golfers.
First, these clubs sound and feel good. Of course, we chalk that down to their high-end construction, which features a stainless steel body and vibration dampening tape. The high-quality acoustics mean you can tell the difference between a clean hit and a dud, no matter where club face and ball meet.
That's necessary for building striking proficiency.
Second, the 845 Clubs are highly forgiving. They lift the ball in the air and provide a reasonable trajectory, so golfing newbies can build confidence with these bad boys. Whether you find yourself in the sand or grass, you can depend on these irons.
Third, the Tommy Armour 845 Irons are a steal. You'd be wrong to think the agreeable price tag means you're getting a lower quality product.
Dick's threw everything plus the kitchen sink into their design in terms of quality engineering materials, resulting in a well-constructed set of clubs.
Finally, these clubs offer ambidexterity. So you can use them whether you're a right-handed or left-handed player.
What We Don't Like About Armour Golf Clubs
Of course, it's not all sunshine and rainbows with these clubs, and the 845s fall short in two areas: distance and shaft material. 
The most prominent drawback to the 845s is how much they sacrifice distance for forgiveness.
Yes, you can send the ball into the air at a steady trajectory, but don't expect it to go super far. 
Also, we weren't too fond of the graphite shafts on these irons. Make no mistake, they're excellent for long irons, but these might feel too soft for serious golfers.
We would've preferred if Dick's went with steel shafts, as they're more durable and give the irons a bit more weight.
However, this is a minor gripe, considering the 845's target audience.
Pros and Cons
| | |
| --- | --- |
| Pros | Cons |
| Beginner-friendly clubs with high forgiveness | Clubs don't offer a lot of distance |
| High-quality construction yet affordable | The graphite shafts may be too soft for some golfers |
| Audible club face communicates center strikes and mishits | |
What's Included?
Unlike other beginner irons, the 845s aren't sold as a complete set of fourteen irons and a golf bag.
Instead, you're free to purchase the clubs you want, whether a wedge, hybrid, driver, or fairway, among others. 
Technical Specifications
| | | | | |
| --- | --- | --- | --- | --- |
| Model | Lie | Loft | Length | Swing Weight |
| 5 Iron | 61.5" | 22" | 38.25" | D2 |
| 6 Iron | 62.0" | 25" | 37.625" | D2 |
| 7 Iron | 62.5" | 29" | 37.00" | D2 |
| 8 Iron | 63.0" | 33" | 36.50" | D2 |
| 9 Iron | 63.5" | 38" | 36.00" | D2 |
| PW | 64.0" | 43.5" | 35.50" | D2 |
| AW | 64.0" | 49" | 35.25" | D3 |
Features
Toe-weighted golf clubs increase forgiveness on off-center strikes
L-Cup face shape and variable face thickness produce faster ball speeds
Pre-worn leading edge improves turf interaction no matter the lie
Soft and solid feel courtesy of vibration dampening tape and stainless steel body combo
Hollow body design lowers the center of gravity, resulting in an excellent launch
Final Breakdown
9.5
If you're looking for improvement irons that won't break the bank, consider the Tommy Armour 845 irons.
Dick's Sporting Goods offers these clubs at an affordable price yet doesn't sacrifice build quality to meet your wallet halfway.
The resulting product is a highly forgiving set of irons that provide speed, trajectory, and lift to get your balls out of any lie and into the green. 
Moreover, you can significantly improve your game by relying on the feedback the 845s club heads provide, paving the way for more center strikes while keeping mishits to a minimum.
We can't recommend them enough.
Last update on 2022-12-01 / Affiliate links / Images from Amazon Product Advertising API