If you need a push cart for your golf bags, look no further than Bag Boy's Nitron. This is the ultimate tool for a seamless, flawless game and an excellent replacement for a caddy or a golf car.
Bag Boy isn't among the most popular golfing brands, but it's definitely among the best. Their golfing accessories are available to golfers of all skill levels and can help them improve their game significantly.
Nitron was introduced in 2019 and immediately met with rave reviews because of how easily it folded and opened. It has an auto-opening system and Nitro-Piston technology that compresses it so well that it can be a part of any storage.
Here's a Bag Boy Nitron review for all golfing enthusiasts.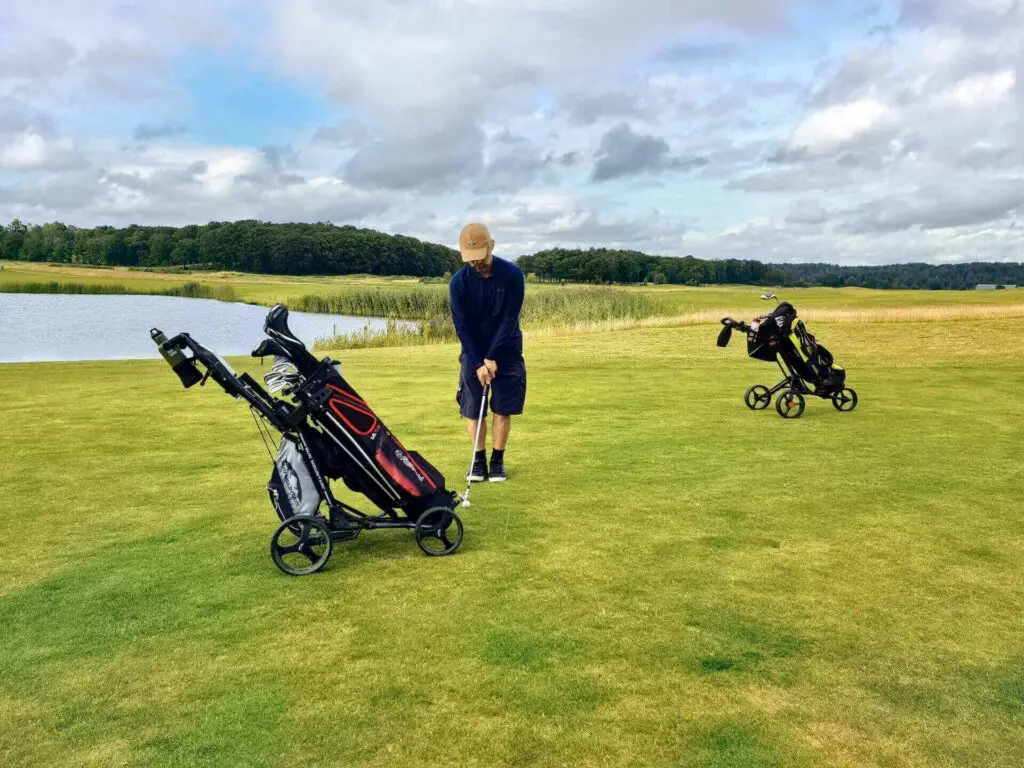 Is Bag Boy Nitron Golf Push Cart For You?
This is one of the best push carts that was meant for everyone. Every golfer, amateur or professional, would love the feel and look of the Nitron, compared to other brands. It's a simple yet very efficient golf equipment carrier with new Top-Lok and Nitro-Piston technology.
There's also a compartment for golf ball storage, mobile device and beverage holders, and an integrated scorecard console. It's the best kind of help for those that like to stay on the greens for longer periods (which is most golfers), and most importantly, it takes a big load off one's shoulders.
Budget-wise, this carrier is currently discounted on the official website and comes in eight different color schemes. You can also find it for a similar price on Amazon, along with more customer reviews. It's in the lower three-digit zone, so you won't spend all your savings on it.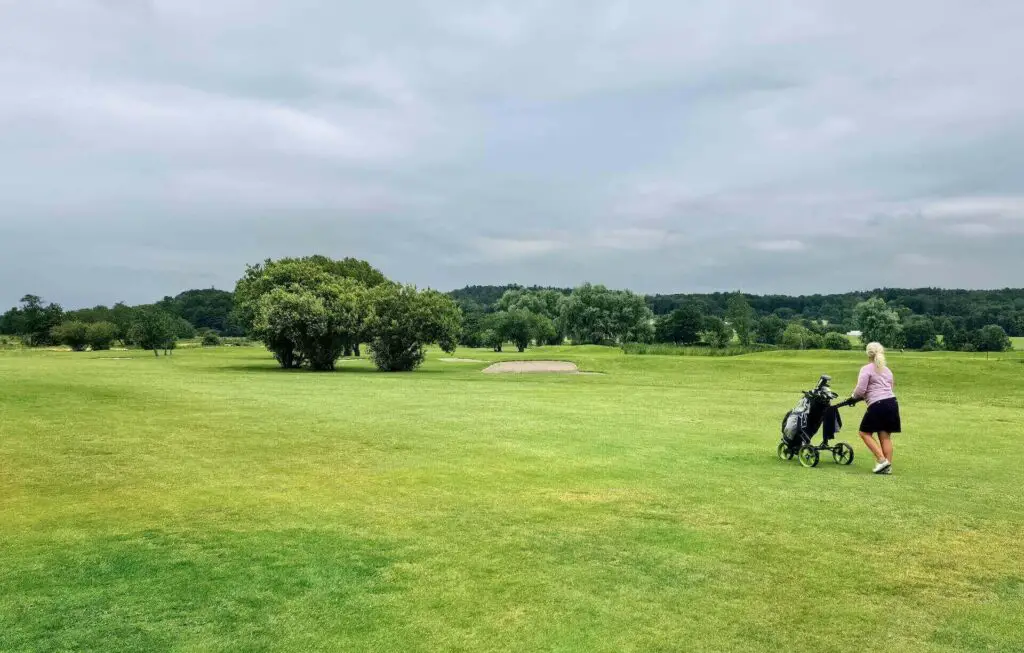 What We Like About This Product
There's a lot we like about this push cart, but the best thing about it is its new, easy-open technology, which is the best in the class. With just a push of a button, it will unfold and be ready to carry pro and beginner golfing clubs, which you'll see in many other reviews of this product.
Its weight is around sixteen pounds, which is incredibly lightweight for golfing carts. When it folds and unfolds, it uses the Nitro-Piston technology, which works within seconds.
When folded, the carrier is 19 by 22 inches, making it possible to store anywhere. It won't take up too much space in your garage, especially the trunk of your car. Besides that, the carrier sports a full-fledged scorecard console with a golf ball department and holders for beverages and mobile phones.
It's apparent that this carrier was made with modern requirements in mind. Investing in it won't be a mistake.
What We Don't Like About This Product
The one disadvantage of the carrier is that European models vary in features, which is a disclaimer on the official website. Still, if someone from Europe sees the ad and wishes to order one of the carts, they may not get what was advertised.
The first few times with it might be hard to handle since the auto opening and closing technology is a bit sensitive. While it's effortless to use, it won't be completely effortless to learn how it works; stay patient, and you'll finally have an excellent new carrier.
Some people don't want to remain patient with such carts, so it's understandable why someone might get frustrated by this. Its biggest advantage is also a disadvantage in some situations, but it won't be bad every time you use it.
The front wheel isn't easily maneuverable, as it's a little more fixed than flexible. Still, this doesn't ruin the experience and can still be managed because of its lightweight design. You can always research if you prefer three or four-wheel carriers.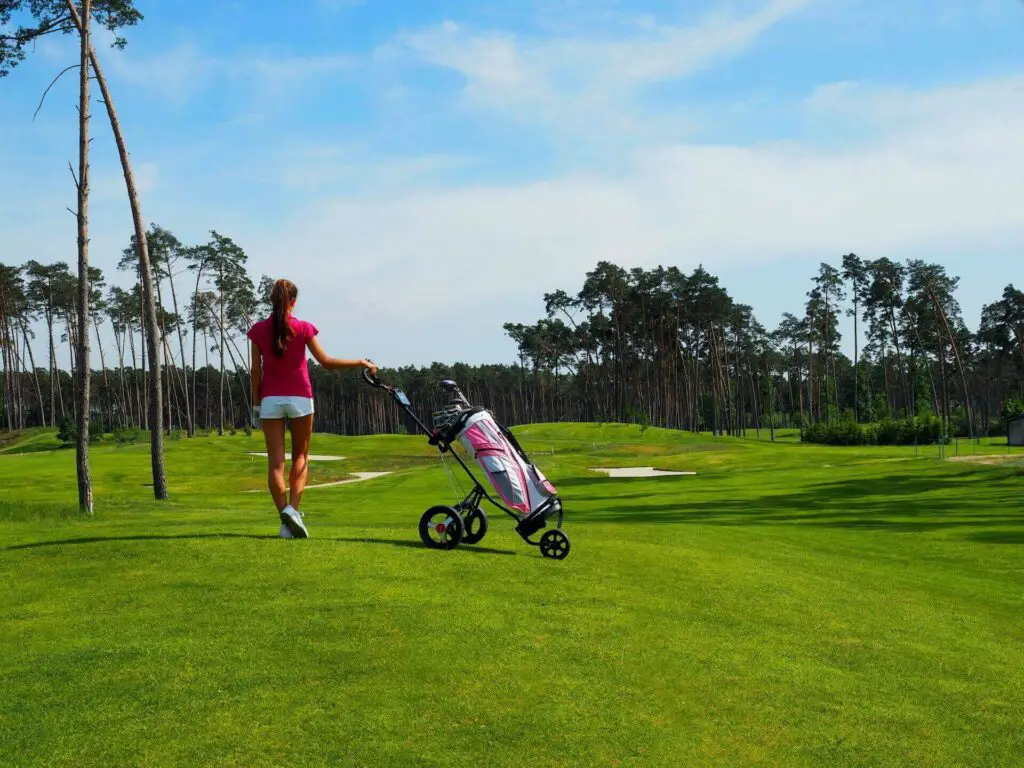 Pros & Cons 
| | |
| --- | --- |
| Pros | Cons |
| Nitro-Piston easy open and fold technology | Fixed front wheel |
| Folds to 19 x 13.5 x 22 inches | Not the same features for European market |
| Lightweight design | |
| Top-Lok technology for gripping golf bags | |
| Fully featured scorecard | |
| Beverage and mobile phone holder | |
| Easy to use | |
What's Included?
Folded Bag Boy Nitron cart,
Warranty paper,
Use instructions.
The push cart was delivered new and in perfect condition, in a 23 x 16 x 12-inch package; it came with use instructions and a 1-year manufacturer warranty that begins from the purchase date. The fixed handle is located in a very convenient place, making the carrier easy to pick up and carry around.
Technical Specs
36 x 13 x 10 inches when open, 19 x 13.5 x 22 inches when folded
16.7 pounds
Wheel Diameter: 9.5 inches (front), 11 inches (rear)
Top-Lok bag-to-cart attachment technology
Nitro-Piston auto-open technology
Extra large accessory compartment for storage
Fully featured scorecard console
Golf ball storage space
Integrated beverage and mobile phone holder
Handle-mounted parking brake
Bungee straps to secure golf bags
Features
This carrier's features are excellent. It provides advanced technology and plays a perfect primary role in ball carrying. While it's a simple push cart, it's the most unique you'll encounter.
Here are all the features of these carts:
Ultra fast auto-open Nitro-Piston technology,
Top-Lok bag-to-cart attachment technology,
One-step open,
Lightweight frame,
Scorecard console,
Golf ball storage area,
Extra-large accessory compartment for other items,
Beverage and mobile phone holder,
Bungee straps for securing bags.
Final Breakdown
10
Despite the minor flaw in the front wheel, there's nothing else these carts lack. Even with that, it's forgivable as maneuvering the carrier is still effortless, so you don't have to look at other brands – maybe just better golfing bags for the carrier. All the compartments are big enough for many items, and all the extra holders free up the storage space even more.
You might struggle with handling the cart for the first few times you play, but it'll get better and easier with each use since it's best to push your clubs. Hopefully, this review will convince you that investing in the Bag Boy Nitron is a great idea you definitely won't regret.