Shapland Golf Bags Reviews
Many Shapland golf bags reviews are positive, with only the best words of praise for them. But are they really that good? We'll take a closer look at them today.
Shapland is a relatively new and small golfing bag manufacturer founded by Henry Rowland, a native Chicago golfer who grew up with dreams of going pro. His idea for golfing bags was to provide lightweight, essential carriers for serious and playful golfers.
The company's name comes from H. S. Colt, one of the most influential course designers in the history of sport; the S in H. S. stands for "Shapland," and the company's logo was based on Colt's first ever designed course, Rye Golf Club.
Surely enough, these golf bags bring a lot of storage and compartments and display great attention to detail. Here is more information and the pros and cons of these fantastic carriers.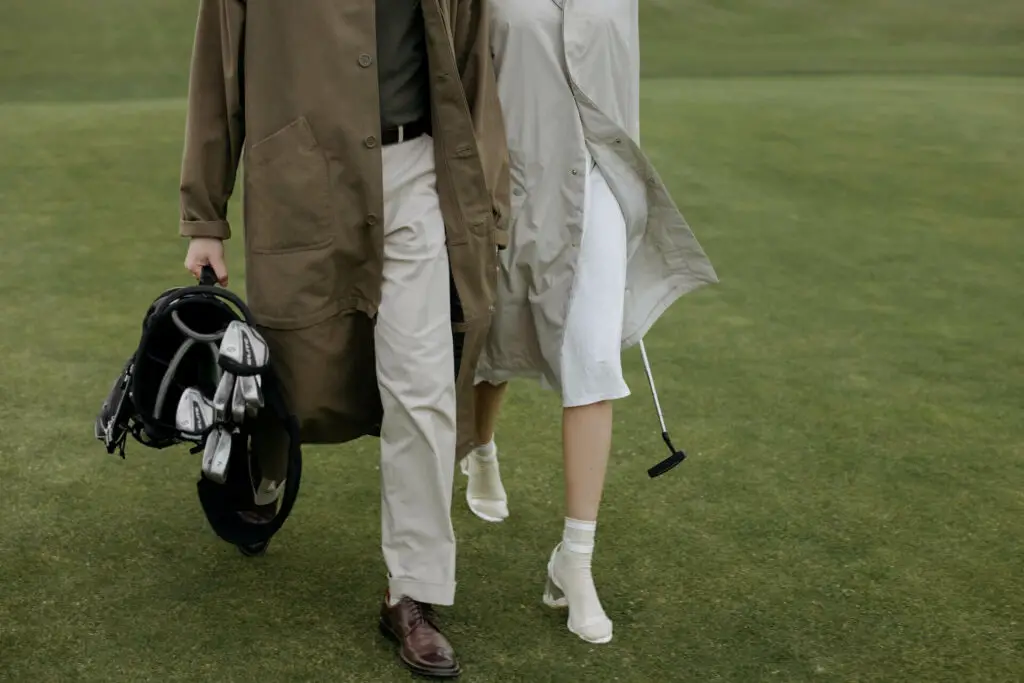 Are the Shapland Golf Bags for You?
Shapland golf bags are basically for everyone. Their material, quality, and sustainability are second to none. Whether you get the Sunday or the stand bag, you'll get the most out of your money.
They're not for people who aren't interested in making the most of their golfing experience and practicing their GHIN handicaps whenever possible. And why not? Because investing in them will cost a bit, spending money on something you don't intend to use very often would be a waste.
However, Shapland's products are the ideal choice if you're interested in finding the best storage for push carts or those that can fit your set of irons. All that's left is to get fitted for some clubs and jumpstart your golfing career.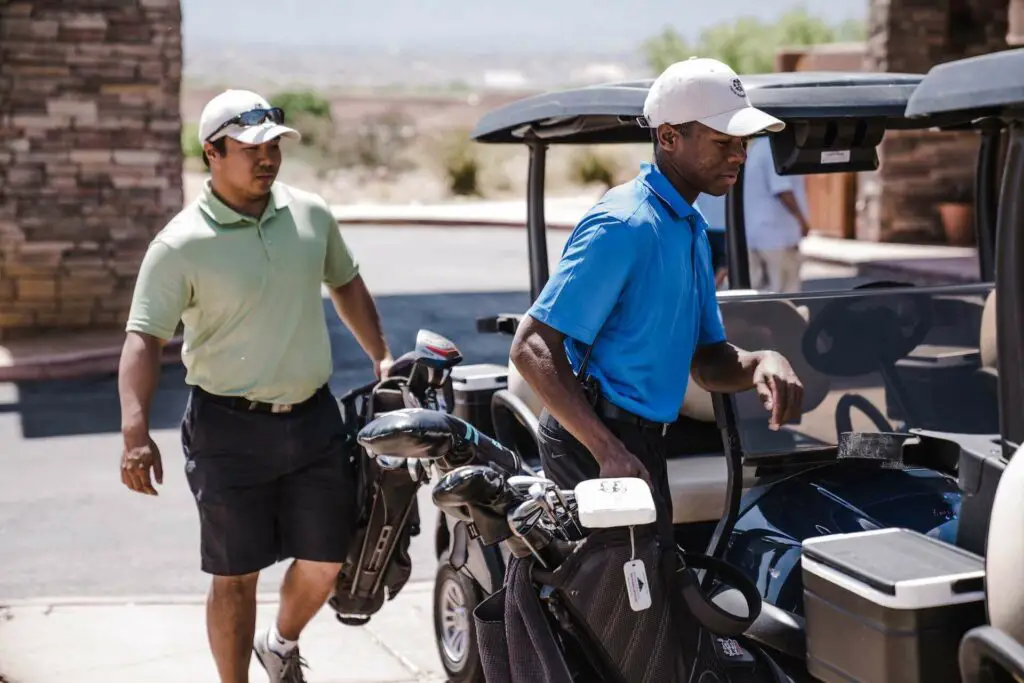 What We Like About the Product
What we don't just like but love about this golfing bag is its incredible quality. The material is water-resistant polyester mixed with leather and metal details, like hooks, shoulder straps, and the logo. Golfers can order an embroidered version with a uniquely made carrier around the greens.
Both versions have numerous pockets for accessories and main equipment, including a four-way divider in the main compartment to organize clubs better. There's an outer pocket that can fit at least a dozen golf balls and a beverage pocket that can hold most water bottles.
The stand bag is only 5,5 pounds, while the Sunday version is around four. These are some of the lightest and most comfortable carriers on the market. The straps are cushiony and almost pillow-like, and the Sunday version even has a small pillow on the side for the walking golfer.
What We Don't Like About the Product
The apparent disadvantage of Shapland's products is the cost. However, this is a relatively new and small company, and its product distribution isn't as large-scale as Ping or Callaway, for example.
While these carriers won't exactly break the bank for you, they may reduce your golfing budget by a significant amount. The difference between the stand and Sunday versions is $100, so you can decide which one you need more.
Additionally, some users claimed that in older versions of the stand bags, the dividers didn't go all the way to the bottom, but this seems to have been fixed in the new versions, and most shoppers are pretty satisfied with their purchases.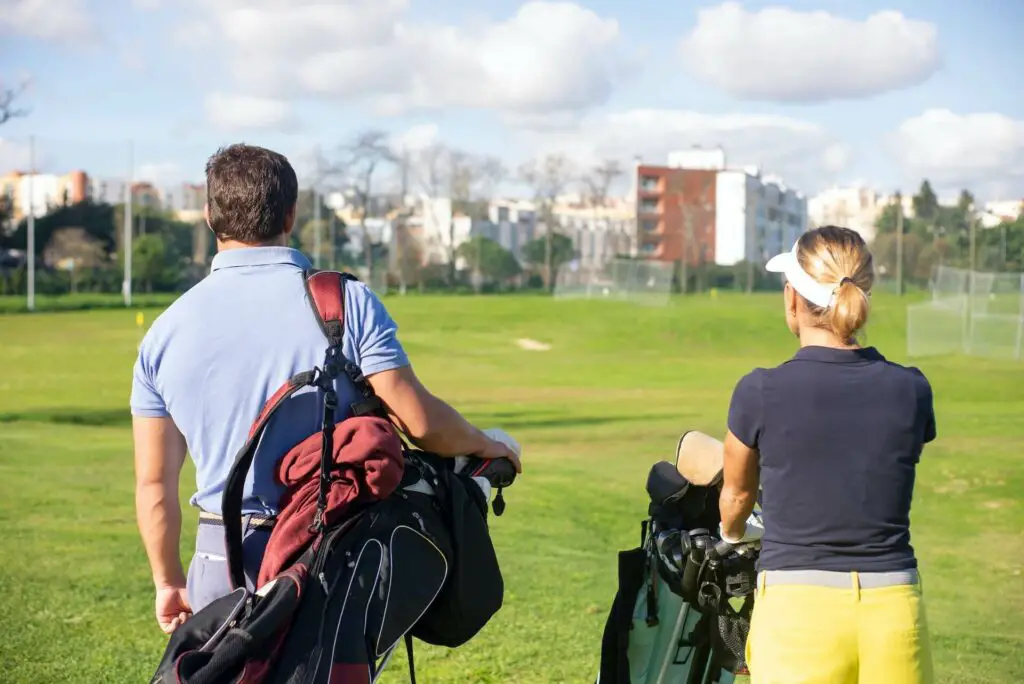 Pros & Cons
| | |
| --- | --- |
| Pros | Cons |
| The numerous deep pockets | Might be expensive for casual golfers |
| Leather and metal details | Can be heavy to carry if overloaded |
| Cushiony and removable shoulder straps | Isn't meant to be overpacked |
| 4-way divider in the main pocket | The partition doesn't go to the bottom in some models |
| Comfortable feel on the shoulders | |
What's Included?
Shapland's golfing carriers come in a well-sealed cardboard box and are packed into an encompassing plastic bag. There's a paper bill in the packaging, and the carrier is easy to take out of the plastic and ready to use immediately. The package is of excellent quality, undamaged, and easy to handle.
So, to summarize, when you order a Shapland bag, what's included is:
Sealed cardboard box,
One Shapland carrier in plastic packaging,
Warranty paper,
Wrapped stand legs,
An extra rain cover in the largest pocket.
Technical Specifications
5,5 lbs (4 lbs for the Sunday Bag)
4-way divider top (6-inch x 8-inch)
Waterproof, UV-resistant canvas with a matching rain cover
Adjustable (and removable) shoulder straps
Premium leather trim
Antique brass finishes on hardware
A valuables pocket with a ring clip
Personalized/embroidered monograms
Pocket for GPS or Rangefinder
Umbrella holder
Mesh glove pocket
Hard plastic bottom
Water bottle sleeve
Features
A UV and water-resistant material with leather trim accents and brass hardware,
Equipped with numerous pockets and compartments,
Has a beverage compartment, and an umbrella holder,
Comes with a rain cover,
Personalized carriers with name embroidery are available,
Lightweight,
Has stand legs (or the option to buy extra for the Sunday version),
A four-way divider with an eight-inch diameter,
Cushiony, adjustable (and removable) straps for single and double-shoulder carrying,
Fashionable, stylish, and minimalist design.
Final Breakdown
Shapland's bags aren't too widely accessible or as well-known as some global manufacturers. Still, their quality is worth the investment if you're a serious golfer looking for a comfortable, lightweight equipment carrier.
Their sleek and minimalist design will make you the most fashionable golfer on the fairway, but they aren't simply meant to be eye candy. These carriers are incredibly functional and comfortable. The Sunday version even has cushioning on the sides, so you don't feel discomfort while carrying it.
The only downside would be the cost, even though small distributors have the right to charge more for high-quality production. The money you'd give on a Shapland carrier is almost well justified, as this equipment will last you for a long time.