Boomers is an entertainment park and center where people of all ages can come and enjoy time off with family. Games like mini golfing, go-karts, bumper boats, and so much more are giving people the joy of their lifetimes. But what is the Boomers golf price? Check out the list here.
The park only has a mini golf course, and the daily pass for the course is $15,99. With this ticket, visitors can also go to a single-use attraction, but if you're a golfing enthusiast and want to do some putting with friends and family, the ticket for that is much more useful. There are other excellent offers, too, from a few hours to all-day passes.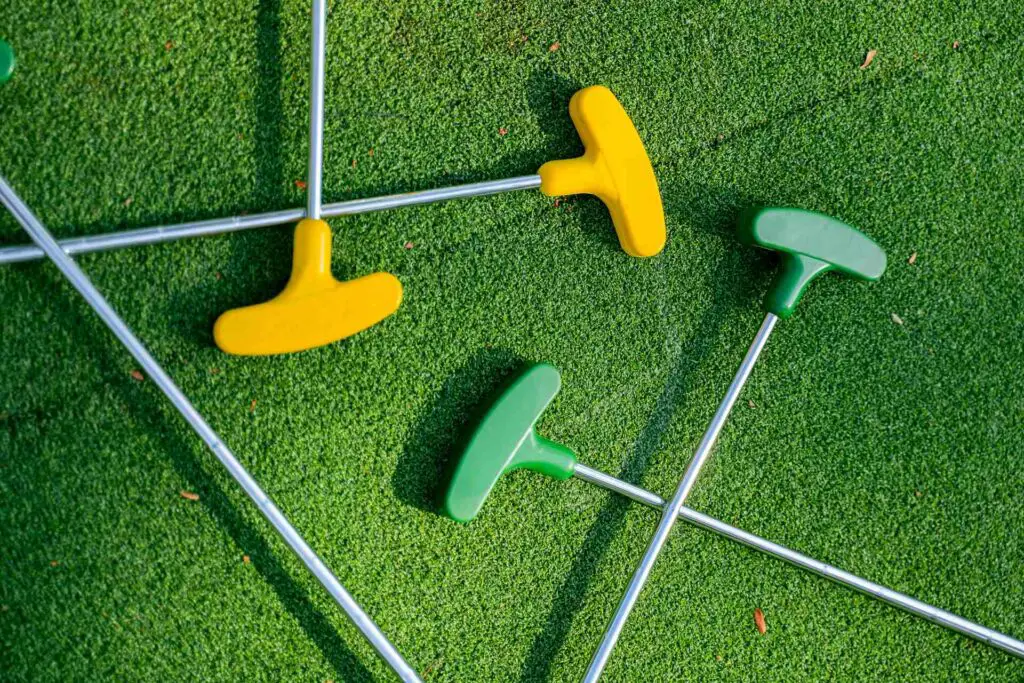 Boomers Golf Price – Tickets List and Offers
If you're a golfing beginner and want to have some fun outside, why not go to Boomers? This entertainment center has so many awesome attractions for people to do with friends and family.
In accordance with that, they have special pricing and offers for all types of groups. You can find the most suitable tickets and packages, practice your handicap and work on finishing four golf holes in record time.
Here are the offers and tickets you can get at this fun entertainment center.
| | |
| --- | --- |
| Miniature golfing – one game | $12,99 per game |
| Two hours unlimited golfing + rides | $21,99 (online) |
| Four hours unlimited golfing + rides | $29,99 (online) |
| All day unlimited golfing + rides | $36,99 (online) |
| Irvine mini golfing pass (or one single-use attraction) | $15,99 |
What Is Boomers? A Prime Source of Entertainment for Kids
Boomers is a chain of family entertainment parks and centers. These centers include play areas for very small children, from carousels to kiddie swings, and more adult types of entertainment such as go-karts, boat bumpers, miniature golfing, and arcades.
This center was founded in 1998 and has eight locations across the country. It's under the ownership and management of Apex Group and Palace Entertainment. Next to the current eight operating parks, there are eleven which were closed down.
Some got closed during COVID-19, while others were sold and later rebranded.
Where Is it Located?
The first-ever Boomers was founded in Boca Raton, and that one still stands today. Except for that one in Florida, all the other parks are scattered throughout California. Here are their locations:
Boca Raton, Florida
Irvine, California
Livermore, California
Los Angeles, California
Modesto, California
Santa Maria, California
Palm Springs, California
Vista, California
What Attractions Are There?
The list of attractions in all parks is slightly different, although they all promise great family entertainment. The original center in Boca Raton currently has the following attractions to offer:
Miniature golfing – beats a golfing club membership,
Thunder road go-karts – for lovers of high-octane fun,
Rookie go-karts – for juniors that like to race,
Bumper boats – as the park's website says: "Just think of it as Demolition Derby on the high seas,"
Spin Zone bumper cars – the all-time favorite entertainment,
Lazer Tag – the cyber version of paintball,
Arcade – a huge space with various games,
Batting cages – for lovers of baseball that don't need beginner's golf clubs.
How Is It Playing Golf There?
If you want an authentic golfing experience, this entertainment center may not be the best place for it. That's mostly because the park doesn't have any courses besides miniature golfing ones. These are great for fun and to take your family on a nice day off, but for someone looking to test out their fitted clubs, this may be too childish. You may have a better time at Top Flite.
Still, if you're into having some good old fun and swinging some clubs around, then this park is the right place for you. Make sure you leave your competitive spirit behind – there's a lot more fun involved here.
What Kind of Courses Exist at Boomers Mini Golf?
According to the Vista site, there are two themed miniature golf courses with eighteen holes. What makes them mini is the small-scale course, although eighteen is exactly the number of holes on a professional course.
One of the courses is called Pirate's Cove. It looks like a cove, and it's styled with various obstacles. There are waterfalls, caves, and other obstructions that make it difficult to hit a hole in one and provide some entertainment value along the way.
The other course is called King Arthur's Royal Course. This one's more royally themed and contains obstacles in the form of hills, waterspouts, and bridges. There's also a pit stop called The Castle, where you can rest and relax with the kids while on the course.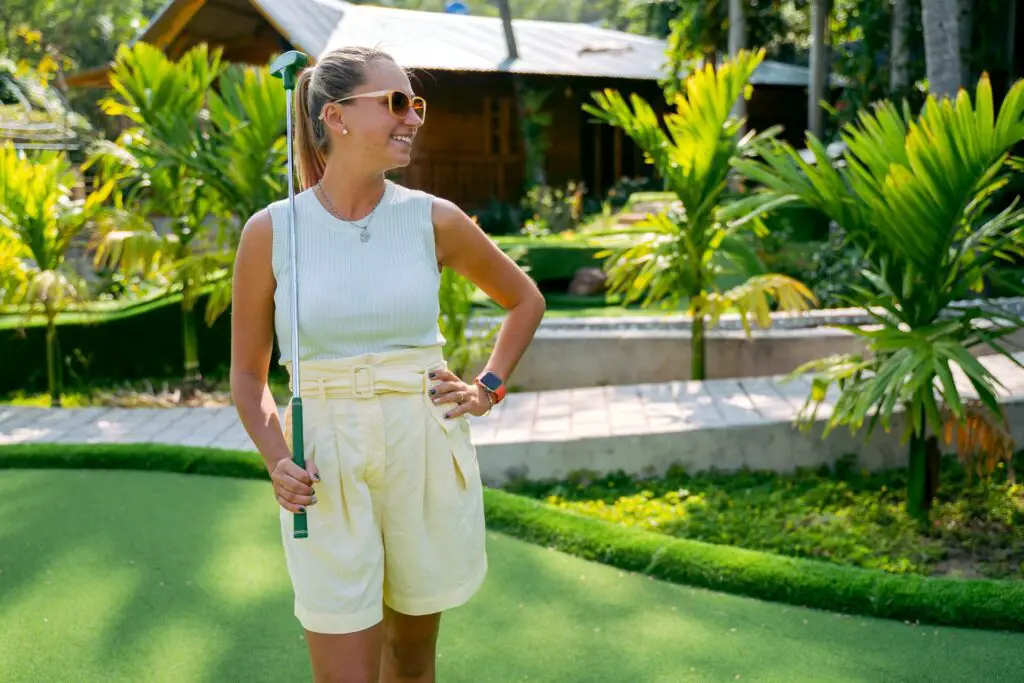 Reviews and Recommendations – Irvine Location
There are numerous reviews of the park's miniature golfing experience, and most can be found on TripAdvisor. Overall, the park has a solid rating, but people who've played miniature golfing were the most thrilled with the experience.
One frequent visitor with a seasonal pass has recommended the miniature golfing courses as the main source of entertainment. Most reviews say that the attraction is lots of fun, and according to overall reviews, it was the best thing about the place.
To read more reviews in detail, you can visit this TripAdvisor page and check out the comments for yourself. Note that this page only provides the Irvine location reviews, so if you're closer to other locations, you can search for that, too.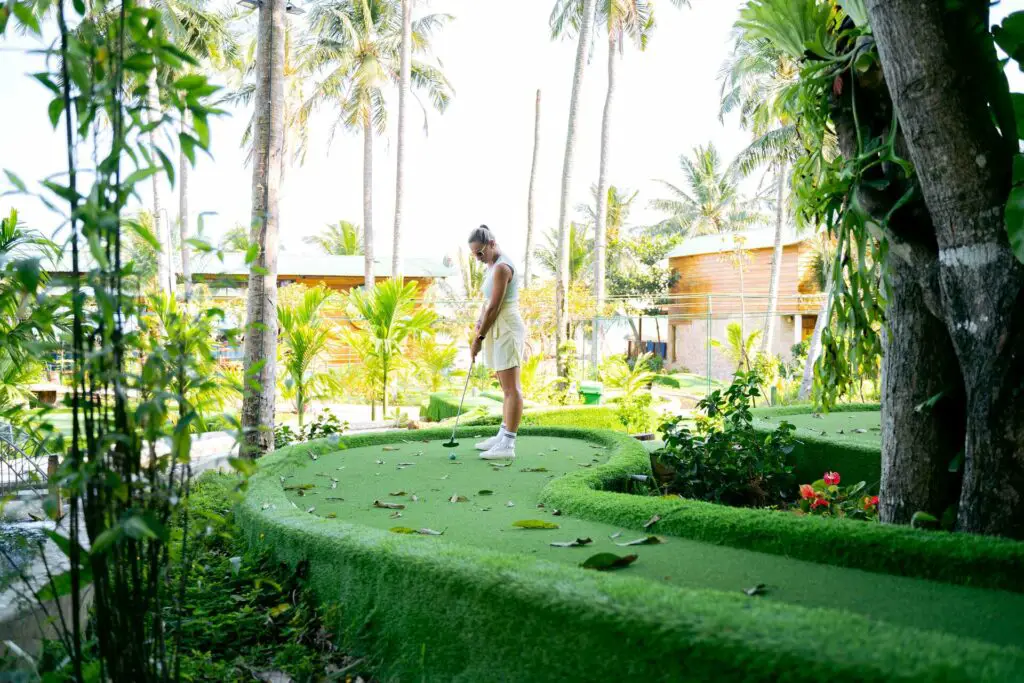 Boomers Is an Excellent Family Golfing Spot
Whether you like it or not, miniature golfing is the right way to take advantage of a nice day out. If you also have a day off, spending it outside with kids, family, and friends is the best. For the ultimate miniature golfing experience, this entertainment center is a pretty great place to start.
Many reviews claim this to be their favorite thing about the entertainment center, and most are quite happy with the conditions on them. Combine that with excellent tickets and pricing, and your weekend has basically planned itself.