Caddytek Superlite 4-Wheel Push Golf Cart Review
Golf equipment, especially push carts, reached peak performance with the Caddytek V8 Superlite model. This golf bag carrier is made to last, is suitable for amateur and professional golfers, and is easily portable.
Caddytek is a famous golfing equipment manufacturer that primarily produces push carts and golf bag carriers. Reviews of their products are always highly positive, with an emphasis on ease of use and an abundance of features.
The V8 4-wheel push cart was released in 2019 and quickly became a fan favorite. Golfers of all skills invested in the Explorer and left rave reviews, primarily focused on the lightweight and feature-rich nature of the product.
Here's a Caddytek Superlite 4-wheel push golf cart review for anyone interested in buying it.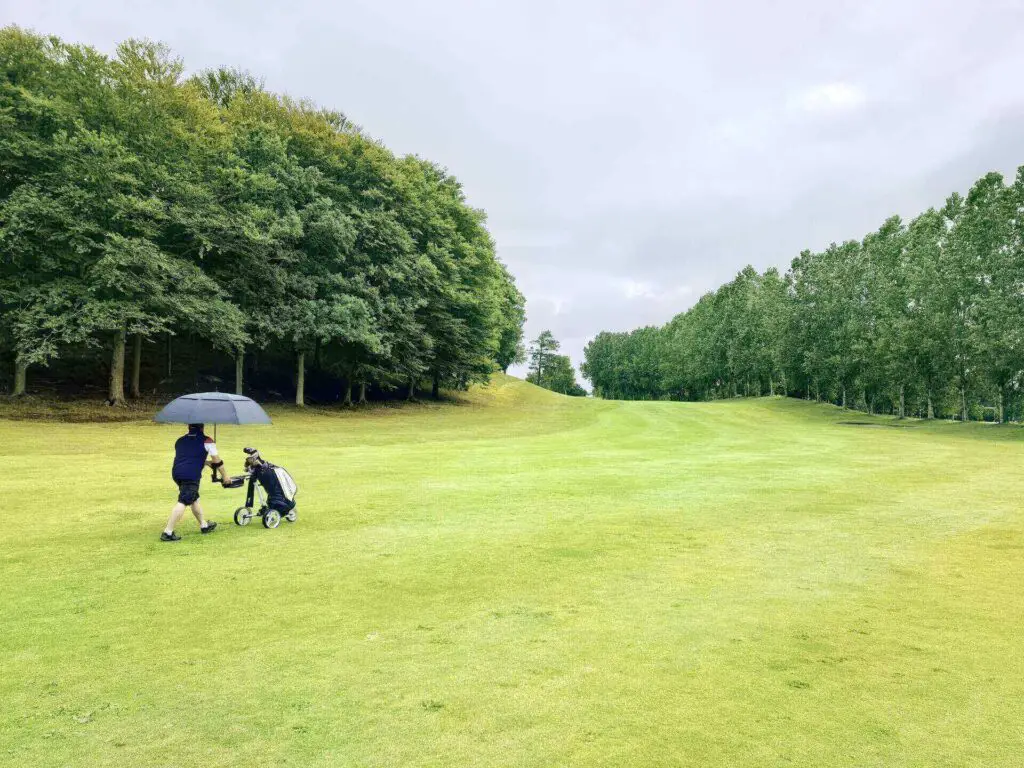 Is Caddytek Superlite 4-Wheel Push Golf Cart for You?
This is one of the highest quality golf push carts on the market. It's designed for amateurs and professionals, especially those who enjoy high-quality golfing carriers with modern features. It has an aluminum frame and weighs less than fifteen pounds.
The cart can be folded into an easy-to-carry package that can fit any type of storage and trunk. You won't have to worry about where and how to fit one of these carts when heading out to the fairways.
Price-wise, this is one of the most affordable high-quality carriers on the market; its price doesn't designate its quality, so you don't have to worry about it being affordable – it may seem too good to be true, but it's true nonetheless!
You can find it for a nice price on Caddytek's official website and, of course, on Amazon, where you can also read additional reviews.
Your golfing club membership will be worth it with this piece of equipment.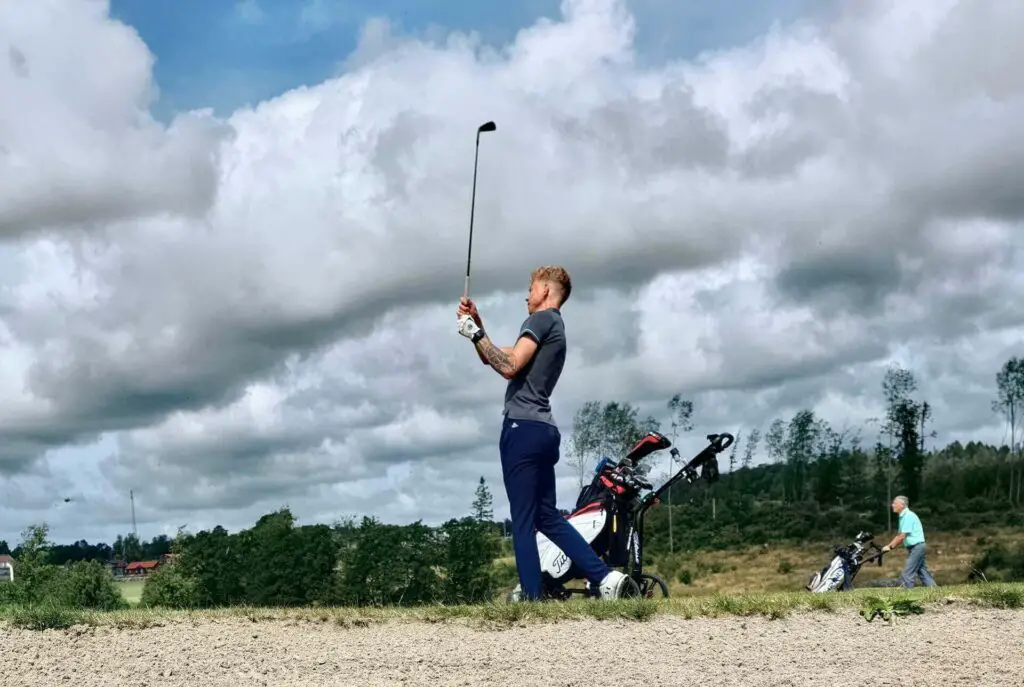 What We Like About This Product
The Explorer has everything a golfer might need on the greens – it's lightweight and easy to move and transport; there's a scorecard, mobile phone, and beverage holder, and a mesh net for storage. And that's not all – it has a basket with an integrated cooler for miscellaneous stuff.
Another awesome thing about the Explorer is the foot brake and the adjustable width between the two front wheels. It can be adjusted between 11.5 and 12.5 inches to fit variously sized golfing bags, making it more accommodating for different trips and purposes.
Additionally, the width isn't the only adjustable thing – you can also adjust the handle to the preferred height when transporting the cart across some stairs or long distances.
Overall, the cart is an essential piece of equipment for any serious golfer and a better replacement for renting a golf car; it's a more affordable version of moving around the fairway and getting the needed results.
What We Don't Like About This Product
The Explorer is one of those carriers that can be hard to move around because of its lightweight design; if you overload it with accessories, it can be tough to maneuver, but luckily, the wheels work well on rough terrains.
A review or two mentioned that this product sometimes looks obviously made in China. Some parts were loose-fitting or wonky upon delivery, labels were scraped off, and the accessory bag wasn't always reliable.
Unfortunately, this depends on the delivery process and the quality of the packaging. It's not an exact reflection of Caddytek as a manufacturer, but considering the price, every customer expects to get what they paid for.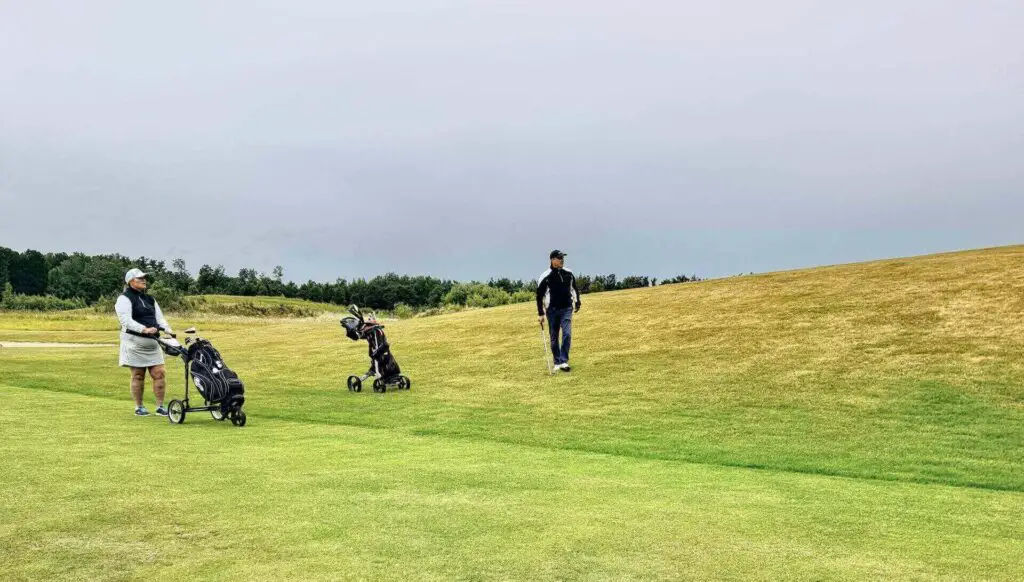 Pros & Cons of the Caddytek Explorer V8 Superlite
| | |
| --- | --- |
| Pros | Cons |
| Four wheels | Hard to maneuver sometimes |
| Lightweight design (14.8 pounds) | Delivery sometimes faulty or flawed |
| Folds into a compact, easy-to-carry package | Some holders don't hold properly |
| Adjustable width between the front wheels | |
| Foot brake | |
| Accessory bag | |
| Basket with a built-in cooler | |
| Beverage, mobile phone, and scorecard holder | |
| Adjustable handle | |
What's Included?
Folded Caddytek Explorer V8 Superlite cart,
1-year manufacturer's warranty,
Equipment for other accessories (mesh bag, carriers, and holders)
Use instructions,
The delivery of the product was great; there were no issues with the packaging, labels, or holders, as an occasional review suggested. It could have been packaged better in terms of protecting additional features, but it was brand new, compact, and easy to unpack.
Technical Specifications
25.5 x 16 x 12.5 inches (folded), 42 x 25.4 x 45.1 inches (open)
14.8 pounds
10.5 inches rear and 9.5 inches front wheels
One-size
Two-step folding mechanism
Four wheels
Foot brake
Aluminum and plastic
Features
Four wheels,
Lightweight and compact aluminum frame,
Adjustable width between the two front wheels,
Adjustable handle height,
Extra balance and stability with the front wheel alignment system,
Perfect traction for all sorts of terrain,
Foot brake,
Two-step folding system,
Scorecard, mobile phone, and beverage holder,
Umbrella holder,
Basket with a built-in cooler,
Mesh net.
Final Breakdown
10
The Caddytek Explorer V8 Superlite 4-wheel golf push cart is the ideal companion for every golfer. No matter the skill set or equipment, you can use the best golf bag for your carrier and take your beginner golfing clubs to victory.
It's easy to fold, unfold, and carry around, and the adjustable features make it appropriate for different heights – which is fantastic for junior and shorter players. It's better to have a four-wheel push cart, and this one is one of the best carriers in the game.
Neglecting that sometimes some parts can be ill-fitted or wrongly placed upon delivery, those aren't unfixable things. Still, they can impact customer satisfaction a lot, so if you're bothered by this, you might not want to risk it with this one.
If you need a fully-equipped carrier that can get you around the greens effortlessly, investing in the Caddytek Explorer will be worth the money. It's also one of the most affordable carriers on the market, so it's a steal in many ways.
Last update on 2023-01-17 / Affiliate links / Images from Amazon Product Advertising API